Our Changing World for Thursday 3 March 2011
Bioblitz
The Mana Bioblitz comes to an end this weekend, after a month-long survey of the biodiversity of Mana Island, Titahi Bay and the surrounding coast and sea. Scientists and the general public have been involved in collecting and identifying as many species as possible, ranging from fish to invertebrates and birds. Alison Ballance joins Te Papa botanists Leon Perrie, Antony Kusabs and Barbara Polly on Mana Island as they look for naturalised plants and lichens, talks with Bioblitz organiser Allie Burnett, and finds out from Department of Conservation ranger Sue Caldwell about the 'value' of the Bioblitz to Mana Island.
It is not too late to get involved - midday on Sunday 6 March is the deadline for collecting, and identification will continue during that afternoon at the Old Cable House next to Titahi Bay. There is also a full schedule of fun family events planned for both days of the weekend - click here to find out more about the Bioblitz closing weekend.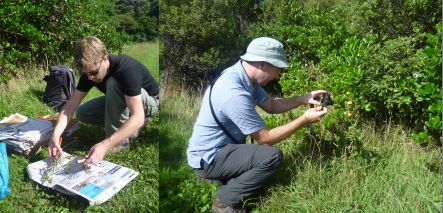 Antony Kusabs (left) and Leon Perrie collecting naturalised plants on Mana Island (images: A. Ballance)
Full Body Vibration Plate
American grid iron players use them on the side lines to stay warmed up, stroke victims use them for rehabilitation, and some people even use them to lose weight.
Called full body vibration plates, they're the focus of Darryl Cochrane's research.
Ruth Beran went to Massey University in Palmerston North to see whether these machines are beneficial, finding that they do increase flexibility and muscle temperature, making them good for rehabilitation and for sports people before a game. However, it is unlikely that using them would result in weight loss, although vibration plates may be useful for people who are just starting an exercise regime.
Sir Anthony Leggett and the Chemistry Variety Show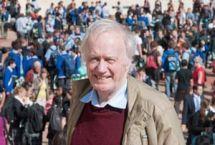 Nobel Prize-winner Sir Anthony Leggett(left) was one of the speakers at a Chemistry Variety Show, held at the Michael Fowler Centre in Wellington on Friday 11 February for an audience of 1400 enthusiastic high school students. He was in Wellington as one of the delegates at the Fifth International Conference on Advanced Materials and Nanotechnology, held at the same venue in February.
Our Changing World was there to record Sir Anthony Leggett's speech in which he described his career path and the fortuitous events that lead to him winning a Nobel Prize. Richard Blaikie, Director of the MacDiarmid Institute kicked off the proceedings.

Speakers at the Chemistry Variety Show, from left to right: Richard Blaikie, Sir Anthony Leggett, John Watt and Kerstin Lucas (images: VUW Image Services)
Chemisty Variety Show - web-only feature
The rest of the Chemistry Variety Show is also available to listen to, including presentations by John Watt on nanotechnology and Victoria University of Wellington's Kerstin Lucas about colouring wool with gold nanoparticles. In addition, Ruth Beran had a quick chat with some students afterwards to find out what they thought of the show.
Microbes in Thermal Soil on Mount Erebus
Alison Ballance under the Blue Dome in Hut Cave, on the upper slopes of Mount Erebus (image: A. Ballance)
Waikato University's Craig Cary is a microbiologist with a special interest in 'extremophile microbes'. His work has taken him to deep sea vents, and more recently to the Dry Valleys and Mount Erebus in Antarctica. Mount Erebus is an active volcano with a lava lake at the summit (3794 m), one of just three such lava lakes in the world. Craig Cary is in the second year of a Marsden-funded project to determine microbial biodiversity in thermally heated soils at Tramway Ridge, where soils are 65ºC, and in ice caves closer to the Lower Erebus Hut where the soil temperature is a cooler 10ºC. Alison Ballance hitches a helicopter ride up the mountain, and talks to Craig Cary about his work during a visit to Hut Cave, an ice cave with a spectacular 'blue dome' ice roof. You can lisen to a previous interview with Craig Cary in the Dry Valleys here.
Tall ice towers formed above steam vents on the upper slopes of Mount Erebus (left), and the microbe team outside Lower Erebus Hut with the summit of the volcano above (images: A. Ballance)
Web-Only Feature - Culturing Erebus Microbes
Master of Science student Chelsea Vickers is part of the team working with Craig Cary on Mount Erebus soil microbes. Alison Ballance catches up with her at Scott Base to find out about her project to culture the microbes under different conditions in the lab.