Our Changing World for Thursday 1 July 2010
Sex Lives of Stick Insects
Mary Morgan-Richards and Ted Trewick, with a green stick insect Acanthoxyla (image: Steve Trewick)
When it comes to the sex life of stick insects, it seems that males are becoming increasingly redundant, and 'virgin births' are all the rage. There are species of New Zealand stick insects in which no male has ever been found, and in which the females are busy producing female stick insects, all identical to their mother.
Alison Ballance heads to Palmerston North to meet Massey University scientist Mary Morgan-Richards, who is intrigued by the puzzle of the 'obsolete males', and finds that stick insects are great study animals.
Tour of a Clinical Trials Facility - Part 1
Before a medication can get onto our pharmacy shelves, it first needs to go through a series of human clinical trials to show that it's effective and safe for people to use. These trials are conducted at facilities like Primorus Clinical Trials, a new research unit based 200 metres from Christchurch Hospital which can take up to 12 in-patients.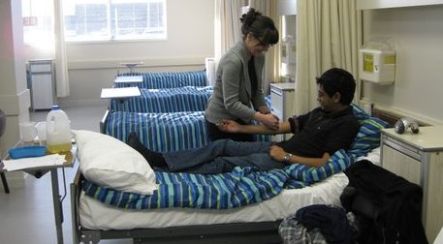 To see what goes on inside a clinical trials facility, Ruth Beran meets Medical Director Alison Luckey (pictured above), who takes her on a tour, and Jo Kepple who shows here how a spirometer is being used in an upcoming asthma trial. And if you want to take part in the asthma trial mentioned in this story, click here.
Bio-archaeology
Sian Halcrow exacavating a child and an infant at Ban Non Wat in Thailand (images: Nancy Tayles, left, and Nigel Chang, right)
Sian Halcrow is a post-doctoral fellow in the Department of Anatomy and Structural Biology at the University of Otago. She is a bio-archaeologist with a particular interest in the study of infant and child health and disease in prehistoric Southeast Asia, most recently at Ban Non Wat. She researches the effects of agricultural intensification, which has been well studied in temperate wheat-based cultures, but is an exciting new area in rice-based tropical cultures.
The University of Otago, under the leadership of anthropologist Charles Higham, has a strong history of research into pre-historic cultures in South East Asia, and Sian Halcrow's work falls under the umbrella of this work. She collaborates with Nancy Tayles, also in the Department of Anatomy and Structural Biology, and Nancy Beavan Athfield at GNS, whose work on radio-carbon dating Cambodian human remains featured on Our Changing World recently.
Titration Competition
A chemistry lab seems an unlikely place for a battle, but that's where 40 secondary school students sweat it out over burettes and pipettes to see who'll win the annual Titration Competition, hosted by Victoria University of Wellington and the Wellington Branch of the Institute of Chemistry.
As Victoria University's chemistry outreach co-ordinator Suzanne Boniface explains, a titration is a practical chemistry technique for determining the unknown concentration of a known reactant. During the competition, Ruth Beran follows the progress of students Thomas Scheckter from Scots College, Sarah Bull and Olivia Wyatt from Kapiti College, as well as Chantelle Dollimore and Kathy Quin from Queen Margaret College, and waits to find out who the winners are.