Our Changing World for Thursday 24 June 2010
New Zealand Sea Lions on the Otago Peninsula

The neoprene patches on the backs of the two pale gray females mark where the satellite tags were positioned and will fall off when the sea lion moults, and a curious pup comes to investigate a microphone (images: Danica Stent)
New Zealand sea lions have just had their threat status increased from 'range restricted' to 'nationally critical', putting them in the ranks of the country's most endangered species. The species' main population in the Auckland islands has declined markedly over the last few years, following several seasonal disease outbreaks. As well, satellite tracking of feeding and diving behaviour indicates that animals have to make very long, deep foraging trips to find enough food, and are operating at their physiological limits. A similar satellite tracking study of the very small sea lion population on the Otago Peninsula, however, shows that females in the mainland population are in much better condition - they weigh significantly more than the subantarctic females, and are making much shorter, shallower feeding trips.
Alison Ballance joins University of Otago PhD student Amelie Auge, and Department of Conservation marine mammal scientist Louise Chilvers on the Otago Peninsula on a mission to retrieve the last satellite tags from this year's research project, and finds out how the fledging population, which was founded by a single female, the matriarch 'Mum', is faring.
The New Zealand Sea Lion Trust has lots of information about sea lions on the Otago Peninsula, including Mum's family tree. Louise Chilvers talked about the 2008-2009 breeding season on Enderby Island in Our Changing World last year. DoC advises members of the public to avoid disturbing sea lions on mainland beaches by staying at least 10 metres away from them.
Team of scientists temporarily restraining a female sea lion to remove a satellite tag; a second VHF tag is visible on the animal's lower back (image: Andy Maloney)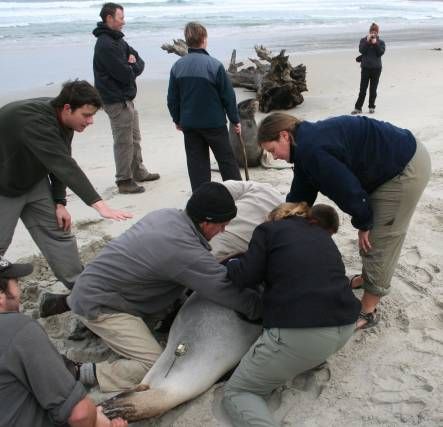 Age-related Nuclear Cataract

Julie Lim and a microscope image of a lens
On 25 May, University of Auckland scientist Julie Lim won the 2010 Zonta Science Award. Presented every two years, the prize is given to an emerging scientist who is a role model and advocate for women in science, and includes international airfares, a cash prize of $10,000, and a gold and silver medal.
Julie Lim is working on a treatment to prevent age-related nuclear cataract, which is the world's leading cause of blindness and currently treated with surgery. She's going to use the award to develop a hyperbaric oxygen model of nuclear cataract in the laboratory at the Department of Optometry and Vision Science.
Zonta is an international organisation of executive and professional women working together to advance the status of women worldwide.
Gough Island and Killer Mice

Graham Parker on one of the highest peaks on Gough Island, and meeting a wandering albatross (all Gough Island images: Kalinka Rexer-Huber and Graham Parker)
Kiwi biologists Graham Parker and Kalinka Rexer-Huber, who both featured in Our Changing World last year talking about bush robins and frozen frogs respectively, are working on Gough Island for a year. Gough Island, in the South Atlantic Ocean, has been described as 'the most isolated inhabited place on earth'. It is home to six weather station personnel as well as the two biologists, and is visited by just one ship a year.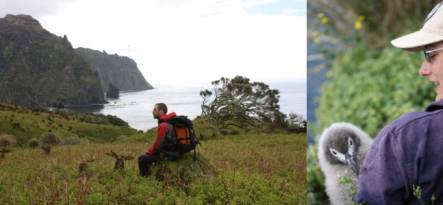 Graham Parker on Gough Island's Serengeti Plain, and Kalinka Rexer-Huber with a sooty albatross chick
Gough Island is infamous for its super-sized killer mice, which are killing large numbers of albatross chicks. Kalinka and Graham are employed by the Royal Society for the Protection of Birds in the UK, and their job entails seabird monitoring, as well as investigating the possibility of a mouse eradication. Alison Ballance rang them on the satellite phone to find out how the pair are surviving midwinter, and to hear more about the island and the mice. The bird calls that feature in the story were kindly supplied by Peter Ryan from the University of Cape Town, in South Africa, who is a project advisor.

Lunch break on Gough Island, and snowy view from South Peak
Genes and Smell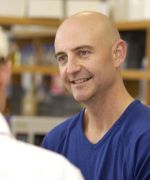 At the Molecular Sensing Laboratory at Plant and Food Research's Mount Albert site, Richard Newcomb (right) is trying to determine if variation in odour receptor genes changes our sense of smell, taste and flavour. He demonstrates how sensory trials are conducted and Jeremy McRae explains how the participants' DNA is extracted, analysed and used in cell assays to "see" smell. If they find a connection between genes and smell, then future foods could be targeted at certain parts of the population based on this genetic information. (image: Plant and Food Research)