Our Changing World for Thursday 25 February 2010
Beneficial Fungi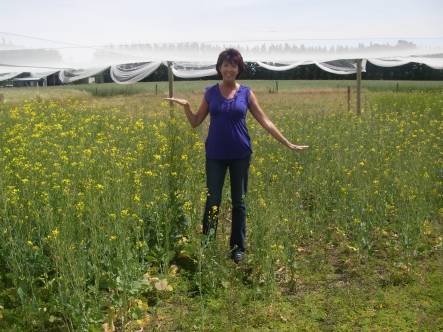 Alison Stewart demonstrating improved growth in oil seed rape grown with Trichoderma fungi (left) and without (right). (Image: A. Ballance)
Alison Stewart, from Lincoln University, is Director of the Bio-Protection Research Centre, one of eight New Zealand Centres of Research Excellence. Her area of research focuses on Trichoderma, a large genus of soil fungi that is proving to have significant beneficial effects when used in association with crops as varied as rye grass and pine trees. The benefits of the fungi include disease prevention and enhanced growth and, in the case of rye grass and clover, it reduces the need for applications of nitrogen fertiliser. Alison Stewart shows Alison Ballance an experimental crop of oil seed rape being grown with and without an application of Trichoderma, and explains the process for tailoring specific fungi to benefit particular crops.
Millipedes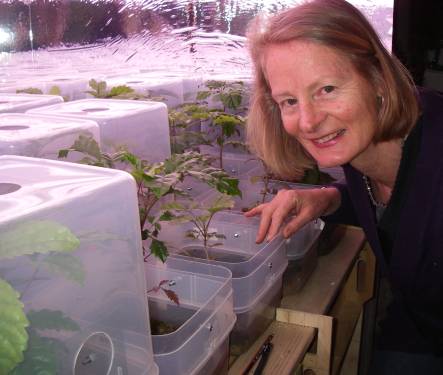 Anne Tomlinson surrounded by her experimental microcosms (Image: A. Ballance)
Anne Tomlinson is a PhD student in the School of Biological Sciences at the University of Auckland, and her research focuses on millipedes, and the role they play in nutrient recycling in native forests in the Auckland area. To test how one species of native millipede, and one introduced species of millipede interact with each other, and with leaf litter and soil layers, she has set up a large ecological experiment … in her small suburban garage. The experiment features puriri seedlings grown under grow lights, featuring various replicates, with and without millipedes. Anne Tomlinson's supervisor Jacqueline Beggs takes Alison Ballance to see the experiment and meet some millipedes.
Earthquakes and Geothermal Energy
The San Andreas Fault Observatory at Depth (SAFOD) experiment is a long-term study of earthquake physics, aimed at trying to understand what actually happens before, during and after an earthquake. On 28 September 2004, the experiment recorded an earthquake that occurred in the vicinity of the little town of Parkfield, California.
Peter Malin worked on the SAFOD project and Ruth Beran visits him at the University of Auckland where he plays the sound recordings of the Parkfield earthquake, recorded on a geophone installed deep underground, to a group of visiting scientists.
He also explains how the Institute of Earth Science and Engineering, which he heads, is involved in research into geothermal resources.
Stroke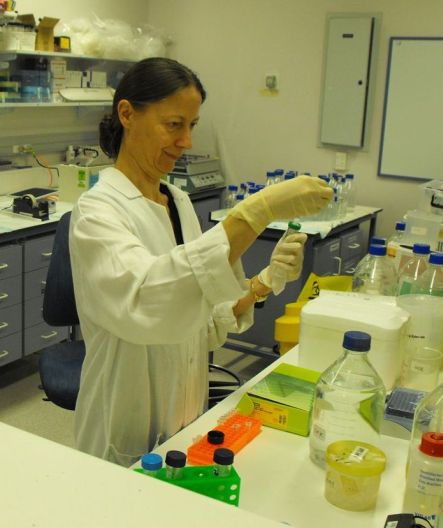 (image: Vincent Stewart)
The University of Auckland's Maggie Kalev-Zylinska (above) is analysing the blood of people who've suffered strokes, as well as healthy volunteers, to determine if our own immune system could lead to a novel treatment for the disease. She is specifically looking at antibodies in the blood which interact with both platelets and neurons to see if a therapy could be developed, not only to assist after a stroke, but potentially prevent some of the symptoms in the first place.
To understand her research, Ruth Beran takes you on a journey inside someone who's had a stroke.