Our Changing World for Thursday 21 August 2008
It can talk. It can pollinate. It has flashing blue lights, a number of emergency stop buttons and a not at all human-looking hand. Weighing a ton and with myriad eyes (or cameras) to help it navigate, this kiwi fruit picking robot is one of the most sophisticated fruit pickers in the world. Amelia Nurse visits the robot at Massey University's School of Engineering and Advanced Technology and talks to Rory Flemmer about what this machine can do and the future of mechanised labour in New Zealand.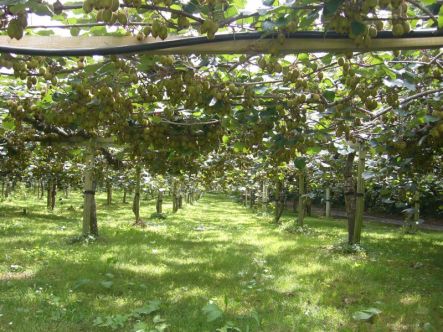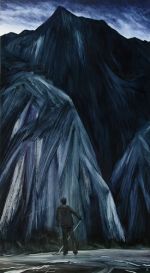 Harold Wellman was one of New Zealand's most influential geologists. He had trained as a surveyor but was forced to dig for gold on the West Coast during the Depression years. It meant that he got to know the landscape very well, and he later became the first to recognise the giant fault line that cuts through the South Island. The discovery of the Alpine Fault and other scenes from Wellman's life have inspired a series of paintings by Wellington artist Bob Kerr, whose exhibition opened this week. Veronika Meduna meets Bob Kerr and Simon Lamb, a documentary maker who has also profiled Wellman's life, at the gallery for a preview - and to find out why Wellman's character is such a good subject for an artist.
Above left: Sunrise from Gillespies Beach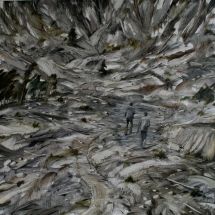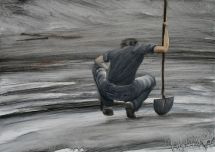 Above right: Hairy Mary Creek
Above left: Keeping a close eye out for gold.
Bob Kerr's exhibition continues at Wellington's Bowen Gallery until September 6. On Saturday, August 23, Simon Lamb will give a floor talk about Harold Wellman's life and geology at 11am.
At the end of the road to Makara Beach on Wellington's west coast is a windswept, flat and barren-seeming patch of coastal land, marked with a sign and a low chain-link fence. On closer inspection, a visitor will see that the coarse sand and gravel inside is covered with springy, ground-hugging mat plants and tufts of silvery sand grass. This is the tiny Makara Foreshore Reserve, the result of nearly a decade of hard work from two tireless plant enthusiasts, Barbara Mitcalfe and Chris Horne (pictured below). The pair have just been given the 2008 Lifetime Achievement award from the New Zealand Plant Conservation Network. They took a break from their weeding to show Dacia Herbulock how the reserve's native plants are rewarding their efforts, and explained why coastal ecosystem restoration is so important.