Our Changing World for Thursday 28 August 2008
On this programme
People have been making wine for thousands of years - using the naturally occurring microbes in the grape juice to do the fermenting. One of these microbes, a yeast called Saccharomyces cerevisiae, has caught the attention of evolutionary and ecological biologist Matthew Goddard at the University of Auckland. Saccharomyces cerevisiae makes up only a small proportion of the mix of yeasts that live on grapes, but it comes to dominate the fermentation process by producing alcohol and heat and thus poisoning its competitors.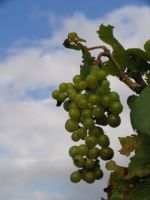 Mate's Vineyard
Matthew Goddard has teamed up with Kumeu River Winery to monitor the winemaking process and to study how the yeast engineers its environment to gain an advantage. While the idea of environmental engineering, or niche construction, goes back to Charles Darwin, Matthew Goddard's research is the first to quantify the benefits of the strategy.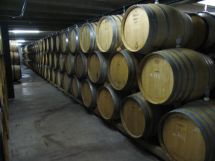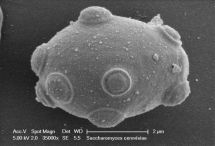 Left: Mate's Vineyard
Right: the yeast Saccharomyces cerevisiae
Pictures by Matthew R Goddard
Got a zit? Maybe you should put some dog spit on it. Or so says William McVeigh, just one of nearly 500 intermediate and secondary students who took part in the Wellington Regional Science and Technology Fair. Amelia Nurse goes to the fair and talks to two boys who find out what renewable energy source is best for their school, some girls who can manipulate the colour of fire, and the overall winner about how homemade diodes can make a rudimentary radio work.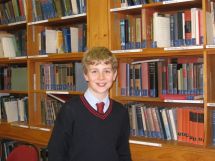 Left: Bradon McCaughey and Ben Murton, Year 8 at Paremata School, with Chief Judge Gillian Turner.

Right: Oliver Pooke, Year 8 at Hutt International Boys School, who won the Royal Society of New Zealand Wellington Branch prize for best overall exhibit as well as best in his class.
In an isolated group of islands such as New Zealand, invasive species represent one of the biggest threats to native flora and fauna. Conservation efforts often involve direct intervention to help the recovery of threatened species and to reduce the threat of pests. Mick Clout, a conservation ecologist at the University of Auckland, is this year's Charles Fleming lecturer and he's touring the country for the next few weeks to talk about how science can help to make conservation more successful. He tells Veronika Meduna how science managed to boost the number of female kakapo chicks, and how a rat used to study pest re-invasions became a character in a children's book.
Lectures:
Rotorua: Tuesday, 2 September, 7.30pm
Rimu Room, Scion Campus, 49 Sala Street, Rotorua
Canterbury: Wednesday, 3 September, 8pm
C3 Central Lecture Theatre Block, University of Canterbury, Christchurch
Otago: Thursday, 4 September, 7pm
St David's Lecture Theatre, University of Otago, Cumberland Street, Dunedin
Auckland: Wednesday, 10 September, 7pm
Auckland Museum Auditorium, Auckland Domain, Parnell, Auckland
Jenny Martin of the University of Melbourne studies the sex life of possums. She has spent her career investigating the mating habits of the mountain brushtail possum, or bobuck. Unusually among mammals, these possums mate for life and are strictly monogamous. At least in certain populations. Just down the road, the same possums indulge in rampant promiscuity. So, what's going on? She tells Dacia Herbulock that, surprisingly, the answer appears to be intimately connected to human disturbance of the possums' natural environment.