One In Five for Sunday 26 September 2010
7:06 PM.Paying a visit to IHC's oldest client, and Pablos makes the move to its new accessible art-space. Audio
Growing old in style
It's an ordinary house in an ordinary street. And it's home to the Holmes brothers - David age 77 and his older brother Walter who's 86 years old. Which makes Walter Holmes reputedly the oldest person in IHC's accommodation service. Walter is a man of few words, so it falls to support worker Freda Jones to fill in some of the back story. When the brothers - three at that time - were found, they were in the back of beyond. Real backwoodsmen living in a house without electricity, beards down to their knees. Younger brother Ivan would ferret about with a torch, a handy device that stayed with him long after it was needed. Sadly, he's passed away leaving brothers David and Walter sharing their IHC house in Huntly, with older sister Mary living in a resthome round the corner.

86-year-old Walter Holmes, with best mate Jack.
...and out with the old
Pablos Art-space has recently moved into a ground level, accessible premises. It's much cause for celebration amongst the artists. Particularly for Gypsy Blue, whose Parkinsons condition means he relies on a walking stick to move around. Not much cop when Gypsy says he had to climb the stairs in the old place. But not only is the new space accessible, its open, airier environment has other benefits too. Which, all-in-all according to new Pablos coordinator Gaelen MacDonald, makes the move well worth it.

Opening Night at Roar Gallery's new street front location.

Pablos artist and co-exhibitor, Athena Moisa.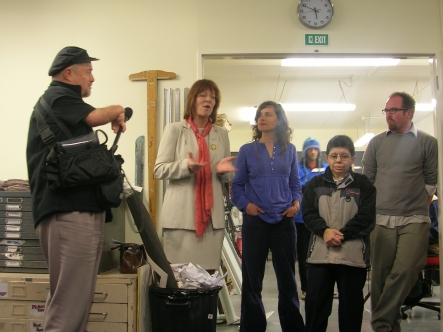 Opening plaudits from Councillor Celia Wade-Brown.