Glamorgan Learning Maori

Glamorgan Karakia as prinicpal, Janet Pinchen looks on
Te Reo Maori may be on an international endangered list, but in a new teaching scheme in Auckland, six thousand North Shore children are now learning to speak it. Audio
The kids at Auckland's Glamorgan Primary School have been learning Te Reo since the beginning of last term and their young brains soak the stuff up. The entire roll of five hundred children, from five to eleven, is getting a weekly lesson in Maori culture, Maori words and phrases.
Raewyn Harrison is the coordinator of the Te Reo Tuatahi programme, which now helps six thousand children learn in twenty two North Shore schools. She has a group of assistants who aren't trained teachers but can speak Maori fluently, working through most of the schools each week.
In each class, the room teachers stay on to watch and learn Te Reo as well. And then the teacher's job is to enhance on what they've been learning till the next lesson. 
Glamorgan Principal, Janet Pinchen says the school's Board of Trustees agreed to pay for the lessons from the school general operating fund for just two terms. She believes the scheme should be continued after that.
Picture: Glamorgan School Te Reo Tuatahi coordinator Raewyn Harrison hongis with student
In 2012 Trade Minister Tim Groser revealed he thought Maori should be compulsory in primary schools. He said that would make it easier for children to learn other languages later and better understand the concept of biculturism.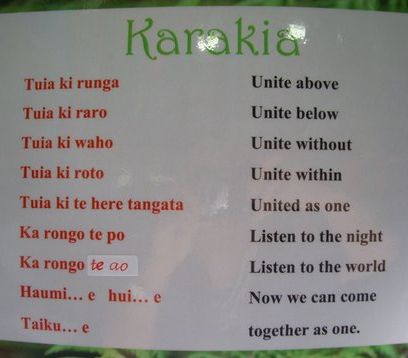 That was the catalyst Raewyn Harrison needed. She says now there is growing interest from schools in Christchurch, Taupo, Hastings and Hamilton and there's no reason why her scheme can't be adapted for other parts of the country.
New Zealand's latest Census figures show that despite years of promoting Te Reo in schools the number of Maori able to hold a conversation in their own language has dropped. That's down from a quarter of Maori in 1996 to just a bit more than a fifth in 2013. There's concern at the continuing loss of the old native speakers and lack of trained teachers to teach Te Reo.
But on Auckland's North Shore they've been thinking laterally, and got the kids talking!
Picture: Glamorgan School Karakia
Some facts and stats
From Statistics New Zealand - 2013 Census
In 2013, 125,352 Māori (21.3 percent) could hold a conversation about a lot of everyday things in te reo Māori, a 4.8 percent decrease from the 2006 Census.
Of the Māori who could hold a conversation in te reo Māori in 2013:
26.3 percent were aged under 15 years – down 6.2 percent from 2006
23.3 percent were aged 15 to 29 years – down 8.2 percent
40.6 percent were aged 30 to 64 years – down 5.0 percent
9.8 percent were aged 65 years and over – up 11.0 percent.