Nine To Noon for Wednesday 8 July 2015
09:05 News and current affairs
09:20 A global reach through online education
The New Zealand online course, helping aspiring writers around the world to tell the stories of their own cultures to young readers.
Five thousand learners worldwide have enrolled in the past month to learn, for free, online from New Zealand children's writers David Hill and Maria Gill. It's called a MOOC - or a Massive Open Online Course, delivered on a platform also used by high profile universities including Duke University, John Hopkins, Stanford, Columbia, Brown and the University of Melbourne.
Sue Watson is the chief executive of At Summit Asia Pacific, which set up and organised the MOOC; and Libertad Pantoja is a PhD student at National Autonomous University of Mexico who is participating in the MOOC to compliment her academics studies.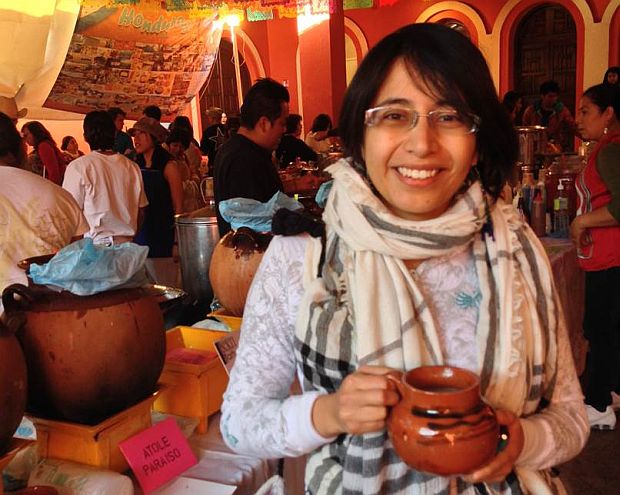 Libertad Pantoja
09:45 Australia correspondent Karen Middleton
Karen Middleton reports on the Australian Government is cracking down on foreign investors circumventing Australian law to buy up property.
10:05 Foster child, state ward turned social worker
Social worker, Daryl Brougham grew up in a range of foster homes as a ward of the state, experiencing horrific neglect, abuse and maltreatment. Earlier this year he received an apology and compensation from the Ministry of Social Development which runs Child Youth and Family.
He has bachelor degree in social work practice and is a passionate advocate for children in state care.
10:35 Book review: 'Passport to Hell' by Robin Hyde
Published by Auckland University Press, RRP $39.99. Reviewed by Louise O'Brien, co-editor of the quarterly review, New Zealand Books.
10:45 The Reading: 'I Am Not Esther' by Fleur Beale, read by Hana Pomare
The tale of a teenager's battle for identity after her mother sends her to live with relatives in a closed religious sect (3 of 10, RNZ).
11:05 Marty Duda's artist of the week: The Allman Brothers Band
After several false starts, Duane and Gregg Allman formed the Allman Brothers Band in Jacksonville, Florida in 1969. Originally inspired by blues-rock bands of the day such as Cream and The Jimi Hendrix Experience, the Allman Brothers Band incorporated elements of jazz, Southern soul, country and blues into what would eventually be known as Southern Rock. Led by the stunning dual guitars of Duane Allman and Richard Betts, driven by the double drumming of Jai Johanny Johanson and Butch Trucks and fuelled by the soulful vocals of Gregg Allman, the band became one of the most musically adventurous of the early 70s, jamming for hours at rock palaces such as the Fillmore East. Duane Allman was killed in a motorcycle accident in 1972 and bassist Berry Oakley suffered the same fate a year later. Guitarist Dickey Betts then led the band with country-tinged songs such as mega-hit Ramblin' Man. Drugs, alcohol and the road eventually caught up with them and they disbanded in the mid-70s only to return a few years later. Since then many band members have come and gone and a lot of miles have been travelled. The band finally called it quits in 2014.
11:30 Law commentator Dean Knight
The Magna Carta was sealed 800 years ago. What is its significance today? Dean Knight, Victoria University Senior Law Lecturer and Associate Director, New Zealand Centre for Public Law.
11:45 Science commentator, Siouxsie Wiles
Siouxsie Wiles discusses the discovery of a circulating protein in the blood linked with memory loss and why exercise may help with work productivity.
Music played in this show
Marty Duda's selection:
Artist: Allman Brothers Band
Song: Trouble No More
Composer: McKinley Morganfield
Album: The Allman Brothers Band (1969)
Label: Atco
Artist: Allman Brothers Band
Song: Melissa
Composer: Steve Alaimo-Gregg Allman
Album: Eat A Peach (1972)
Label: Capricorn
Artist: Allman Brothers Band
Song: Jessica
Composer: Richard Betts
Album: Brothers And Sisters (1973)
Label: Capricorn
Artist: Allman Brothers Band
Song: Good Clean Fun
Composer: Gregg Allman-Richard Betts-Johnny Neel
Album: Seven Turns (1990)
Label: Epic