Nine To Noon for Monday 25 May 2015
09:05 Getting funding for independent science research is getting tougher
Kate McGrath is the director of the MacDiarmid Institute. 
09:20 Martin Xuereb, MOAS director, and Malta's former Chief of Defence
A DIY team of sea rescuers has launched its second season of migrant relief missions in the Mediterranean, bracing for the spiralling humanitarian crisis to get even worse.              
Martin Xuereb is Malta's former Chief of Defence and the director of MOAS, the Migrant Offshore Aid Station.
MOAS fears this year could be one of the only SAR vessels patrolling the waters near Libya in 2015.
09:30 Australian farmers take class action against ANZ Bank
A group of farmers in Australia have launched a class action suit against ANZ Bank, which they accuse of kicking them off their land after forcing new loan agreements on them. 
In 2009, at the height of the global financial crisis, ANZ bought the entire 2.4 billion dollar loan book of the Australian Wheat Board - which at the time was wholly owned by wheatgrowers and was a major rural lender through its subsidiary, Landmark Operations Limited. 
ANZ then revised the loan repayment schedules for borrowers, including 10 thousand agribusinesses - in some cases bringing the loan repayment dates forward by 20 years.
Sydney barrister Peter King is representing farmers in Tasmania, Queensland, Western Australia and Victoria in the class action suit against ANZ Bank.
09:45 Middle East correspondent, Kate Shuttleworth
10:05 Hekenukumai Busby, Master Waka Carver
Hekenukumai Busby, known as Hec, is a Master Waka Carver, a Maori leader and an authority on Polynesian and Maori celestial navigation. He's crafted more than 30 waka, and was awarded an MBE in recognition of his role in the revival of ocean voyaging and navigation using traditional Polynesian double hull canoes. From humble beginnings in the Far North, Hec was inspired to build waka after a childhood visit to Waitangi. Now 82, he's the subject of a new book by Jeff Evans, called Heke-nuku-mai-nga-iwi Busby: Not Here by Chance.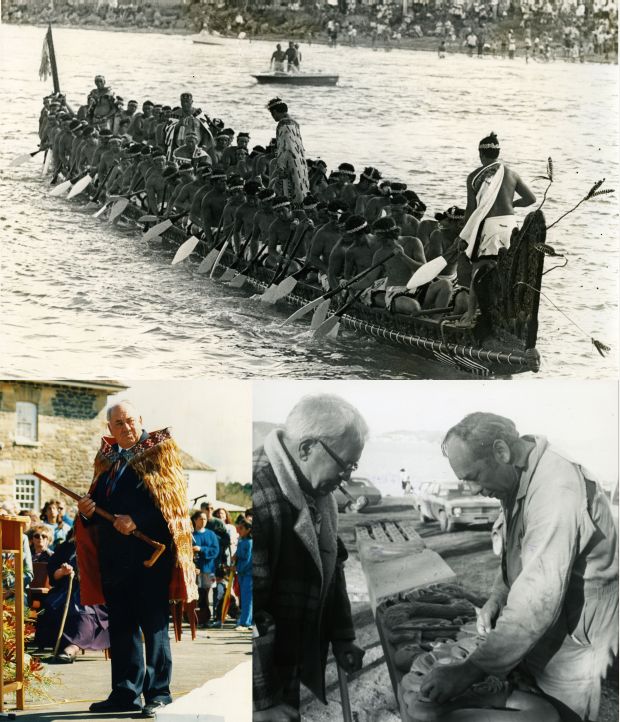 Top: 33 Nga Toki 1974, Hec amidships, Walter front right. Bottom left: whaikorero at Kerikeri stone house. Bottom right: With Dan Whiu, carving canoe house
10:30 Book review: 'The Reader on the 6.27' by Jean-Paul Didierlaurent             
Published by Macmillan RRP$34.99. Reviewed by Gail Pittaway
10:45 The Reading: Before I Forget, by Jacqueline Fahey
The second volume of memoirs by well-known painter, feminist and writer Jacqueline Fahey. (1 of 5, RNZ)
11:05 Political commentators Mike Williams and Matthew Hooton
11:30 Growing Chinese tea in Waikato
Traditionally business people in Asia drink tea after dinner. When Tzu Chen arrived here from Taiwan, he couldn't find a good tea - but saw lots of camellias in Waikato.
In 1996, Tzu and his son Vincent, with the help of the local mayor, imported 1500 tea seedlings from Taiwan. They were left with only 130 after a rigorous quarantine from New Zealand's Ministry of Agriculture.   Apparently he drove a big truck to collect it all - but when he got there he found he didn't need it. But Gigi says it wasn't all bad because they ended up with the strong bushes which has made them so  successful. In 2003 the first four hectares of oolong were planted.
Now after nearly 20 years of hard work, tears and careful propagation they have 1.5 million lush sweet tea bushes, which spread over 48 hectares. Gigi Crawford is the GM of Zealong Tea, she says lots of people would have given up a long time ago but the founder didn't have a tea background, he just had an idea, and a love of tea.
11:45 Urbanist Tommy Honey
Housing affordability is in the news daily here but sometimes we forget that it is, if not a global issue, then at least an issue globally. While here in NZ the issue is (currently) focussed on the unaffordability of owning, elsewhere it is about the impact on renting.
Links:
The Deep Roots of America's Housing Affordability Crisis, CityLab
With London's Affordability Crisis, a New Breed of Activism, CityLab
Where Working Households Are Struggling the Most to Pay Their Rent, CityLab
Generation Rent
'Horror and pity' for Gen Rent, NZ Herald
Music played in this show
Artist: Hello Sailor
Song: Gutter Black
Composer: McArtney
Album: Hello Sailor
Label: NZ On Air kiwi gold disc
Time: 09.36am
Artist: Lawrence Arabia
Song: Lick Your Wounds
Composer: Milne
Album: The Sparrow
Label: Honarary Bedouin
Time: 10.35am
Artist: Bob Dylan
Song: Corrina Corrina  
Composer: Dylan  
Album: The Freewheelin Bob Dylan
Label: CBS
Time: 11.30am
Artist: Don McGlashan   
Song: On My Way to You
Composer: McGlashan
Album: Lucky Stars
Label: Private
Time: 11.44am