Nine To Noon for Thursday 30 April 2015
09:05 Christchurch City Council considers underwriting private rents to house homeless
The Christchurch City Council is considering dipping into its social housing fund, by paying for private rental properties for the homeless over winter.
The council has two million dollars set aside to begin work on up to eight units at Opawa. The Deputy Mayor, Vicki Buck wants that money used instead to underwrite private rentals so that many of the city's homeless do not have to spend another winter living rough.
09:30 Insurance watchdog calls for law change over non-disclosure
The Insurance and Savings Ombudsman is calling for a law change to protect insurance customers who accidentally leave out information when applying for a policy. Karen Stevens says 10 percent of claims to her office are from people who've had claims denied because they omitted to declare information, most commonly pre-existing medical conditions and criminal convictions.
She says the law should recognise the difference between deliberate and accidental non-disclosure. Peter Neilson is the Chief Executive of the Financial Services Council.
09:45 UK correspondent, Iain MacWhirter in Scotland
Iain MacWhirter discusses the rise of the Scottish National Party, which is expected to take most of the Scottish seats in the UK general election, and may also hold the balance of power.
10:05 Muslim women's rights, headscarves and hymens with Mona Eltahawy
Mona Eltahawy's essays on Egypt, women's rights and the Islamic world have been published in the Washington Post, The Guardian and the New York Times. In November 2011, Mona Eltahawy came to worldwide attention when she was assaulted by police during the Egyptian Revolution. She responded by writing a controversial piece in Foreign Policy entitled Why Do They Hate Us; 'they' being Muslim men, 'us' being women. In 2012 Newsweek named her as one of its 'Fearless Women'. Although born in Egypt, Mona Eltahawy has spent many years living in the West, she has now returned to her homeland to fight for women's rights. Her book, Headscarves and Hymens is described as a passionate manifesto decrying misogyny in the Arab world. It draws on her years as a campaigner and commentator on women's issues, and also explores what is ahead for women in the Arab world following the Arab Spring. The book's subtitle is Why the Middle East needs a sexual revolution.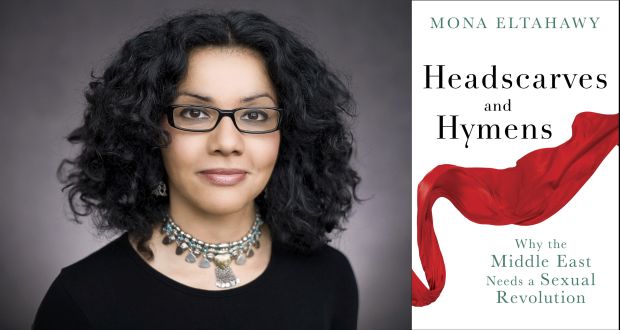 10:25 Book review: 'Very Good Lives' by J K Rowling
Published by Little Brown. Reviewed by Charlotte Graham.
10:45 The Reading: 'Touchstones' by James McNeish
We continue the memoir of James McNeish, about the people in his life who shaped his perspective: "a gallery of people – rebels, outsiders, romantics, enlightened misfits and illiterates – who have touched me in life." (Part 9 of 15, RNZ).
11:05 New technology commentator Erika Pearson
New technology commentator Erika Pearson on using drones to track wandering Alzheimer's patients, using your "ear print" to unlock your phone and private companies exploiting Europe's right to be forgotten law to cover up bad publicity.
11:30 How to keep even non-sporty kids active
Julz Darroch has worked for 20 years in the fitness industry. She has been a fitness trainer, gym owner, and has worked in community organisations in education and training. She's also been a contributor to parenting magazines and websites.
11:45 TV Review Regan Cunliffe
Regan Cunliffe discusses how TV ratings are collected and questions whether they really give an accurate picture of what people are watching.