Nine To Noon for Wednesday 17 December 2014
09:05 Taliban attacks school in Pakistan, over 100 children killed
The BBC Urdu editor, Aamer Ahmed Khan is in Islamabad; and  Al Jazeera journalist Kamal Hyder is in Peshawar.
09:20 Global shortage of cancer drug impacts NZ patients 
A global shortage of a treatment for bladder cancer has been impacting on patients here with some having their doses cut, and questions remain over security of supply for next year. Gitti Harre is an Auckland patient who has had her dosage of the drug cut due to the shortage; and Urologist Dr Stephen Mark is a spokesperson for the Urological Society of Australia and New Zealand.
09:45 Australia correspondent Karen Middleton
Karen Middleton reports on the debate raging over how the gunman, Man Haron Monis who took 15 people hostage at a Sydney cafe was out on bail when he'd been charged as an accessory to the murder of his ex-wife and separately faced 40 sexual assault charges. 
10:05 Big Year Interview: Costa Condoria salvor, Captain Nick Sloane
Captain Nick Sloane is the man who masterminded the refloating of the Costa Condordia earlier this year - the most expensive salvage effort in history. The Italian cruise ship ran aground and capsized in 2012 off the Tuscan island of Giglio and 32 people died. Nick Sloane lived on the island for two years, managing a team of over 500 people, who eventually rolled the enormous ship upright, attaching external flotation tanks in order to refloat it and tow it away to be scrapped. The salvage cost nearly 1 billion dollars.
Nick Sloane is based in South Africa, but travels to marine disasters around the world  including New Zealand where he worked for a time on the Rena wreck.

Costa Concordia by Soerfm CC BY-SA 3.0
10:35 Book review: 'Wolf in White Van' by John Darnielle
Charlotte Graham reviews the debut novel by cult indie musician John Darnielle of The Mountain Goats. He's expert at narrative songs with detailed portraits of characters, and lyrics that plumb the depth of human despair and the journey out to the other side. Darnielle's fans once started a petition to have him named US Poet Laureate. How does his new, suspenseful novel compare with his much-loved music?
10:45 The Reading: 'An Alternative' by Mark Chamberlain
Alex dreams of recreating the New Zealand pioneer spirit and writing great literature. (RNZ)
11:05 Marty Duda's artist of the week: Jethro Tull
Jethro Tull began life as a blues-rock outfit in 1968 with the distinct difference of having a front man, Ian Anderson, whose main instrument was the flute. The first version of the band dissolved relatively quickly, giving way to the group who would go on to produced such classic rock albums as Aqualung, Thick As A Brick and Benefit. Later in the 70s the band began exploring English folk music and they continued in one version or another until 2003 touching on electronica, hard rock and folk. Their final album was 2003's Christmas album, although Ian Anderson continues to record and tour under his own name. Anderson arrives in New Zealand this week for a 3-city tour beginning on Thursday.
Tracks:
1. A Song For Jeffrey – Jethro Tull taken from 1968 album, 'This Was' (Island)
2. Cross-Eyed Mary – Jethro Tull taken from 1971 album, 'Aqualung' (Chrysalis)
3. Songs From The Wood – Jethro Tull taken from 1977 album, 'Songs From The Wood' (Chrysalis)
4. God Rest Ye Merry Gentlemen – Jethro Tull taken from 2003 album, 'The Jethro Tull Christmas Album' (EMI)
11:30 Law with Dean Knight - The Privy Council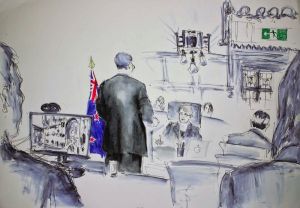 Victoria University Law Lecturer, Dean Knight looks at the workings of the Privy Council, including the recent hearing of the Teina Pora appeal. New Zealand abolished appeals to the Privy Council at the end of 2003 when it introduced the Supreme Court, however any cases heard by the Court of Appeal before 2004 can still go to the Privy Council in London. The Teina Pora case may be one of the last New Zealand appeals to be heard there.
Image: Sketch from the Teina Pora appeal hearing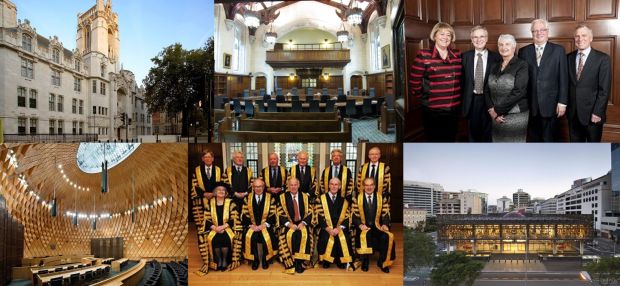 11:45 Arts commentator Courtney Johnston
Metro magazine's nomination of Michael Parekowhai's light house sculpture as a 'best is yet to come', and art books for Christmas.
Links:
Michael Parekowhai's Light House for Auckland - Auckland Council
Michael Parekowhai's Queens Wharf sculpture is worth celebrating - Metro
Books for Christmas: all new in 2014
Herve Tullet's Mix It Up, Chronicle Books
Robert Leonard, Yvonne Todd: Creamy Psychology, Victoria University Press
Damian Skinner & Kevin Murray, Place & Adornment: A History of Contemporary Jewellery in Australia and New Zealand, University of Honolulu Press