Nine To Noon for Wednesday 12 November 2014
09:05 How the fugitive Phillip John Traynor went through the entire justice system under an alias
The Ministry of Justice says it is the responsibility of any prosecuting agency, in this case the Police. Nine to Noon asked the Police Commissioner Mike Bush to answer some key questions, including why birth certificates are not checked, and why police prosecuted Phillip John Smith under a name that was not his legal name. He declined to appear on the programme.
The president of the Criminal Bar Association Tony Bouchier
09:20 Why Russia wants to control more of the Arctic
As global warming opens up new shipping routes in the Arctic Russia pushing to boost its military powers in the Arctic region. Russia is restoring disused soviet military bases in the Arctic and is believed to be building a new military base on Wrangel Island just north of the boundary between Russia and Alaska. Russian officials also plan to file an official claim with the United Nations to take over about 463,000 square miles of Arctic territory. Alexander Sergunin and Rob Huebert discuss.    
09:30 How to best prepare for your GP appointment
The Health Quality & Safety Commission has developed a new resource to help patients prepare for doctor appointments and find out more about their medicine at pharmacies. Dr. Chris Walsh is the Commission's Director of Partners in Care.
Australia correspondent Peter Munro
10:05 A journey around the country's marae with Robin and Sam Walters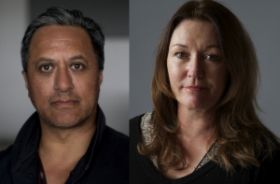 A  journey around the country's marae with Robin and Sam Walters who've spend three years visiting the major and more humble meeting houses for their photographic book, Marae. 
Gallery: Images from Marae
Robin is a photographer and film-maker and he's the son of well-known Anglican Minister, Bishop Muru Walters. Sam is also a photographer and together they've produced a hardback book with detailed shots of carvings, panels in the meeting houses, the interiors and the exteriors. They've captured the huge variety of architecture at marae thorughout the country, the more ornate meeting houses, and some that are not so intricate. There are stories from a range of characters they've met during their travels.
10:35 Book review: 'How to Be Both' by Ali Smith
 
Reviewed by Carole Beu. Hamish Hamilton RRP$37.00
10:45 The Reading: 'The Life and Loves of Lena Gaunt' by Tracy Farr
The story of Dame Lena Gaunt: musician, octogenarian, junkie. Told by Lorae Parry (Part 11 of 12)
11:05 Marty Duda's artist of the week: Mariah Carey
She's the best-selling female artist of the 90s and, with a few notable failures, has kept that success running through the 21st century. Armed with a five-octive voice that would put any canine on notice, Mariah Carey is due to make her New Zealand concert debut on Thursday at Auckland's Vector Arena. The New York-based vocalist started by singing straight pop but she spread her musical wings in the late 1990s by venturing into R&B and hip-hop, a move that coincided with her split from husband and Sony Music boss Tommy Mottola. Mariah's latest album is the exclamatory, and highly-punctuated, "Me. I Am Mariah…The Elusive Chanteuse.
Tracks:
1. Vision Of Love – Mariah Carey taken from 1990 album 'Mariah Carey' (Columbia)
2  I'll Be There – Mariah Carey taken from 1992 album, 'MTV Unplugged' (Columbia)
3. Honey – Mariah Carey taken from 1997 album, 'Butterfly' (Columbia)
4. You Don't Know What To Do – Mariah Carey ft. Wale taken from 2014 album, 'Me. I Am Mariah…The Elusive Chanteuse' (Def Jam)
11:30 The new breed of email scams targeting lawyers and clients
The New Zealand Law Society is warning lawyers and clients of lawyers to be extremely careful with taking and issuing instructions by email. This follows recent instances where a law firm or client's email system has been hacked and false instructions issued by the hackers - which can lead to a loss of clients' money. The Society's Financial Assurance Manager Jeremy Kennerley explains how lawyers and clients can avoid being scammed over email.
11:45 Science commentator, Siouxsie Wiles
Siouxsie Wiles discusses the dangers of a type of breast implant, cockroaches as biobots, and art in the dark.
Music played in this show
Artist: Hirini Melbourne
Song: Purea Nei
Composer: Melbourne
Album: Te Kuraroa
Label: Kia ta Mai
Time: 10:35
Artist: Ezra Vine
Song: Braver than Most 
Composer: Ezra Vine
Album: single
Label: Kiwi Hit Disc
Time: 10:06