Nine To Noon for Wednesday 6 August 2014
09:05  Economic impact of plunge in global dairy price  
Overnight, dairy prices dropped 8.4 percent at the Global Dairy Trade auction. This follows a fall of almost 9 percent a fortnight ago. Economists believe Fonterra will further cut its payout to farmers - it currently stands at 6 dollars per kilo of milk solids, already down from an earlier forecast of 7 dollars. Prices are now 41 percent lower than in February,
ANZ Rural economist Con Williams, and Jacqueline Rowarth, Professor of Agribusiness at Waikato University.
09:20 Senior Australian Labour Senator on future of the party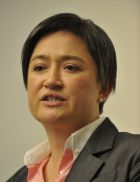 Penny Wong is a former Labour finance minister under Kevin Rudd, and Climate Change Minister under Julia Gillard.
She was the first Asian-born member of an Australian cabinet, also the first openly lesbian member. Penny Wong has been outspoken about what she says were sexist and misogynistic attacks on Julia Gillard while she was Prime Minister. In the end, though, she says she felt it was in the best interests of the Labour Party for her to vote with Kevin Rudd, thereby ending Ms Gillard's time as Prime Minister.
Picture: Penny Wong by Kate Lundy
09:45 Australia correspondent Karen Middleton
New sweeping counter-terrorism laws and the ongoing controversy over Baby Gammy, a young boy with Downs Syndrome born to an Australian couple via a Thai surrogate.
10:05 Australian Children's Laureate Jackie French
Jackie French tackles youth literacy in her new book I Spy a Great Reader. She is a passionate advocate for literacy and knows first hand what a struggle reading can be. Jackie French is dyslexic, and has spent decades researching and helping kids read and find the books they love. She has written I Spy a Great Reader to help parents and teachers identify and overcome reading difficulties while showing kids how rich the world of books can be.
Jackie is an award-winning writer, wombat negotiator and the Australian Children's Laureate for 2014-2015. She is regarded as one of Australia's most popular children's authors, and writes across all genres - from picture books, history, fantasy, ecology and sci-fi to her much loved historical fiction. In her capacity as Australian Children's Laureate, 'Share a Story' will be the primary philosophy behind Jackie's two-year term.
Jackie French will be in New Zealand for events at Word, Christchurch Writers Festival and Storylines Auckland on 30 and 31 August.
Book: I Spy a Great Reader, by Jackie French, published by Harper Collins, RRP $24.00
10:35 Book review: When the Farm Gates Opened
When the Farm Gates Opened: The Impact of Rogernomics on rural New Zealand by Neal Wallace. Reviewed by Harry Broad, published by Otago University Press, $RRP30.00
10:45 The Reading: The Bright Side of My Condition by Charlotte Randall (Part 12 of 12)
11:05 Marty Duda's artist of the week: Shihad
Shihad is one of New Zealand's most successful and longest-running bands, with a history that dates back to the late 1980s. Their first album, Churn, was produced by Killing Joke frontman Jaz Coleman and released in 1994. From there, they put out three more classic hard rock albums to close out the 90s. The band ran into trouble when they changed their name to Pacifier in 2002 in a failed attempt to crack the US market. They realized the error of their ways a couple of years later and went back to Shihad. Their new album, FVEY - due out this Friday - is also produced by Jaz Coleman and is considered to be a brutal return to form.
Music Details:
'Stations' by Shihad taken from the 1994 album Churn (Wildside)
'Home Again' by Shihad taken from the 1996 album Shihad (Wildside)
'One Will Hear The Other' by Shihad taken from the 2008 album Beautiful Machine (Warner Brothers)
'Think You're So Free' by Shihad taken from the 2014 album FVEY (Warner Brothers)
11:20 Tax evasion and welfare fraud in the justice system
Legal commentator Lisa Marriott discusses financial crime.
11:45 Science commentator Siouxsie Wiles
The search for a cure for Ebola
Music played in this show
Artist: Nick Cave and the Bad Seeds
Song: Breathless
Composer: Cave
Album: Abbatoir Blues/The Kyre of Orpheus"
Label: Mute
Time: 9:25
Artist: Justin Townes Earle
Song: Ain't No Waiting
Composer: Earle
Album: Harlem River Blues
Label: Bloodshot
Time: 10:05