Nine To Noon for Thursday 7 August 2014
09:05 Foreign ownership of New Zealand farms
Chris Kelly is the former CEO of state-owned Landcorp,which is in a joint venture with Chinese company Shanghai Pengxin, running the former Crafar farms.
Murray  Horton is secretary/ organiser of the Campaign Against Foreign Control of Aotearoa (Cafca).
09:20 The brother of Al Jazerra Journalist Peter Greste, in prison in Egypt, on prospects for his appeal being successful
Today marks 221 days since Australian journalist Peter Greste – Nine to Noon's former Africa correspondent was jailed in Egypt along with two colleagues also working for Al Jazeera, Baher Mohamed and Mohamed Fahmy. The trio were accused and convicted of spreading false news and of supporting the ousted Muslim Brotherhood and sentenced to seven years in prison. Mike Greste and his family have been working towards lodging an appeal with Egypt's highest court.
09:45 UK correspondent Dame Ann Leslie
10:05 Abraham Naim a.k.a. Medulla Oblongata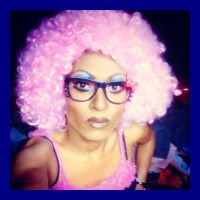 Abraham Naim feared for his life in the strictly Muslim island nation - The Maldives. The 28 year old was granted refugee status by New Zealand late last year. Back home in the Maldives his safety was in danger as an openly gay man, gay rights activist and an atheist.
He suffered homophobic abuse and he has friends who have been attacked for turning their backs on Islam, and for being gay. He is now carving out a life for himself in Wellington, having  previously spent some years studying in New Zealand. Abraham Naim is also known by his drag name  Medulla Oblongata and recently won the Miss Capital Drag pageant.
See a gallery of Abraham Naim a.k.a. Medulla Oblongata
10:30 Book review: Courting Trouble by Kathy Lette
Reviewed by Louise O'Brien, published by Bantam Press, RRP$36.99, to be released in NZ on 18 August 2014.
10:45 The Reading: The Below Country by Nicholas Edlin
Mae discovers the truth about what her father did in South Korea in the 1950s. (Part 1 of 12)
11:05 New technology commentator Erika Pearson
11:25 Parenting: the benefits of children being around animals
Ellie Laks is the owner of more than 170 rescued animals and author of a new book My Gentle Barn.
11:45 Film reviewer, Dan Slevin