Nine To Noon for Thursday 31 July 2014
09:05 Latest from Commonwealth Games in Glasgow
New Zealander Mike Hooper is the Chief Executive of the Commonwealth Games Federation.
09:20 Impact of urban planning on housing affordability
Alain Bertaud is a senior research scholar at the NYU Stern Urbanization Project. His main area of research is the impact of markets, transportation, and regulations on urban form. Bertaud previously held the position of principal urban planner at the World Bank, where he worked on urban policy and urban infrastructure development mainly in South Asia, in transition economies such as China, Russia, and countries of Eastern Europe. Previously, he worked as a resident urban planner in a number of cities around the world: Bangkok, San Salvador, Port au Prince, Sana'a, New York, Paris, Tlemcen, and Chandigarh.
09:30 Noble Keelan, co-founder of the Eastern Knights Chess Club
Noble Keelan founded Gisborne's Eastern Knights Chess Club with Genesis Potini, the subject of the critically acclaimed New Zealand film The Dark Horse starring Cliff Curtis.
The Film opens in cinemas on Thursday 31st July.
.

Actor Kirk Torrance and the man he plays in The Dark Horse, Noble Keelan supplied by Trigger Marketing.
09:45 UK correspondent Jon Dennis
10:05 Modern day life in Tehran, with Iranian born author Ramita Navai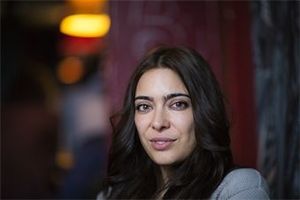 Ramita Navai is a freelance British-Iranian journalist and writer. She has worked as a reporter for Channel 4's foreign affairs series, Unreported World. She has reported from over 30 different countries, including Sudan, Afghanistan, Egypt, Nigeria, El Salvador and Zimbabwe. She was awarded an EMMY for her undercover report from Syria. She has also worked as a journalist for the United Nations in Pakistan, northern Iraq and Iran, and was the Tehran correspondent for The Times from 2003 to 2006. Her first book, City of Lies -  Love, Sex, Death and the Search for Truth in Tehran (published by Hachette NZ) was awarded the Royal Society of Literature Jerwood Prize for Non-Fiction in 2012. It is based on interviews and research after she returned to the city of her birth, to look at the day to day lives of people living there. A snapshot of modern day Tehran - despite living in a repressive regime and an exploration of what is going on in the underbelly of the city. Among the characters in the book are a porn star, an assassin, and a police officer undergoing a sex change.
10:35 Book review: Lost and Found by Brooke Davis
Reviewed by Anne Else, published by Orion
10:45 The Reading: The Bright Side of My Condition by Charlotte Randall (Part 8 of 12)
11:05 New technology with Sarah Putt
Digital Technology on a par with English and Maths; domain name hijacking; and Apple and Amazon are re-inventing the book.
11:25 Parenting with Nigel Latta
Nigel Latta has worked for the last two decades in Drug and Alcohol rehabilitation, Sex Offender Treatment Programmes, Family Therapy agencies, Child Youth and Family, and Probation Services. He continues to work as a clinical psychologist in private practice consulting with organizations and agencies throughout NZ, and has lectured on a number of senior courses at the New Zealand Police College. In 2012 Nigel was made an Officer of the New Zealand Order of Merit (ONZM) for services to Psychology. Nigel's particular gift is blending real world pragmatism, the latest psychological research, and humour in an engaging and thought provoking way. His specific interests include the psychology of success, dealing with difficult people, mental toughness, decision making skills, leadership, the process of change in an organisation, the 'myth' of happiness and stress management.
11:45 Film with Dan Slevin
Dan Slevin reviews offerings at the NZ Film Festival including Housebound, Everything We Loved and Begin Again.