Nine To Noon for Wednesday 30 July 2014
09:05     Balloon death families call for government to act.
David Still's daughter Alexis was one of 10 passengers who died in a hot air balloon crash in Carterton in 2012, along with pilot Lance Hopping. He says the Civil Aviation Authority failed to act despite repeated complaints about Hopping prior to the accident, and he's calling for the government to force change upon the aviation safety regulator.
09:20 Calls to improve industry training in NZ
Mark Oldershaw is Chief Executive of the Industry Training Federation. He's opening the Industry Training Federation conference at Te Papa today. Deborah Roseveare is OECD Skills Beyond School Director. She's in Wellington as the Keynote Speaker at the conference, where National, Labour, Green, NZ First, and the Maori Party spokespeople will respond to the call for an industry training shake up on election year. The Industry Training Federation (ITF) says a system change is needed to increase skilled workers and grow New Zealand's economy.
09:30 NZ renewable energy company says NZ falling behind
The Wellington based company Aurecon is working on several big renewable projects, including the Cookhouse windfarm in South Africa which will be able to supply electricity to around 100,000 homes.
But while previously half of the company's work was local, it reports that it now does almost nothing in New Zealand - because there is no political will for increasing renewable energy here and there is no way New Zealand can reach the government stated target of 90 percent renewable energy by 2025. We talk to Aurecon's global head of renewable energy, Blair Walter.
09:45 International correspondent: Peter Munro in Australia
10:05 The survivor's guide to the immune system with microbiologist Idan Ben-Barak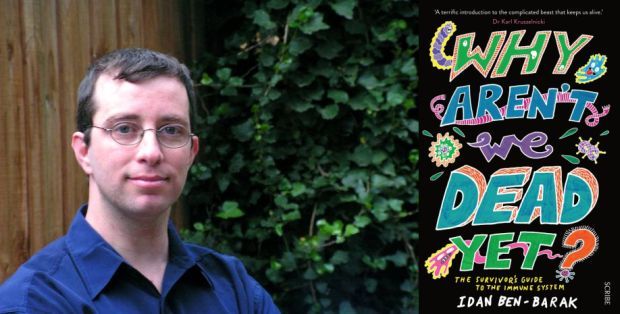 Idan Ben-Barak and the cover of his book Why Aren't We Dead Yet?
Idan Ben-Barak is the author of 'Why Aren't We Dead Yet? (published by Scribe). He explores the immune system and what keeps it running, how germs are destroyed and why we develop immunities to certain disease-causing agents, He also examines the role of antibiotics and vaccines. Idan has a Masters of Science degree in microbiology and is completing a PhD in the history and philosophy of Science.
10:35 Book review: Wayfaring Stranger by James Lee Burke
Reviewed by Harry Broad, published by Orion.
10:45 The Reading: The Bright Side of My Condition by Charlotte Randall
A  fiction which tells the story of four convicts who stowaway and then get dumped on an uninhabited Pacific Island. (Part 7 of 12)
11:05 Marty Duda's artist of the week: Nicole Atkins
Nicole Atkins is from New Jersey and released her first album, Neptune City, in 2007. She has a big, full voice, similar to Mama Cass Elliott and the production and songs on her first album are reminiscent of Roy Orbison. Nicole split with her record company after a covers EP and went the independent route heading in a more contemporary, rock-oriented style along the way. Her latest album Slow Phaser was released early 2014. She has been on tour opening for Nick Cave and the Bad Seeds, and Marty saw the show in New Orleans recently.
Tracks:
'Neptune City' (3:53) – Nicole Atkins taken from 2007 album, Neptune City (Columbia)
'Under The Milky Way' (4:17) – Nicole Atkins taken from 2008 EP Digs Other People's Songs (Columbia)
'Cry Cry Cry' (3:07) – Nicole Atkins taken from 2011 album Mondo Amore (Razor & Tie) 
'Girl You Look Amazing' (4:00) – Nicole Atkins taken from 2014 album Slow Phaser (Oh Mercy!)
11:30 Media Law with Ursula Cheer
Ursula looks back on the implications of the decision of the court to terminate the right of TV3 to film the John Banks trial.
11:45 Arts commentator Courtney Johnston
A poem for Jeff Koons, a new way of auctioning off art, and a problem with huge ships in Venice
A Shiny Poem for Jeff Koons - LA Times
http://www.latimes.com/entertainment/arts/miranda/la-et-cam-a-poem-for-jeff-koons-20140701-column.html#page=2
Gallery Auctions Off Artworks to the Highest Emotional Bidder - Hyperallergic
http://hyperallergic.com/136392/gallery-auctions-off-artworks-to-the-highest-emotional-bidder/
An Auction Based On Emotion - Kosta Boda
http://auctionbasedonemotions.com/en/
Leading museum directors and celebrities call on Italian government to ban giant ships from Venice - The Arts Newspaper
http://theartnewspaper.com/articles/Leading-museum-directors-and-celebrities-call-on-Italian-government-to-ban-giant-ships-from-Venice/33324
Music played in this show
Artist: Taj Mahal
Song: Corinna
Composer: Davis arr Mahal
Album: The Best of Taj Mahal
Label: Columbia
Time: 9:38
Artist: Sade
Song: Smooth Operator
Composer: Adu/St John
Album: The Best of Sade
Label: Epic
Time: 10:34
Artist: Mark Knopfler
Song: Behind with the Rent
Composer: Knopfler
Album: Kill to Get Crimson
Label: Mercury
Time: 11:45