Nine To Noon for Thursday 23 May 2013
09:05 Maori MP says police escape punishment for illegal actions in Urerewa raids
Maori Party MP for Waiariki Te Ururoa Flavell says the police response to the damning Independent Police Conduct Authority report is weak. The government is taking advice on whether it needs to apologise to the Tuhoe people for the illegal Urewera police raids in 2007.
09:25 Budget decision for some carers of disabled family members to be paid
Paul Gibson, Disability Rights Commissioner.
09:45 UK correspondent Matthew Parris
A man reported to be a British soldier hacked to death in London in suspected militant attack.
10:05 Jeffrey Paparoa Holman – Christchurch author and poet
Christchurch author Jeffrey Paparoa Holman on his memoir The Lost Pilot which retraces the life of his troubled father – who survived a kamikaze mission in world war II – and how it led Jeffrey himself to meet the families of the kamikaze pilots killed that fateful day.
The Lost Pilot
Published by Penguin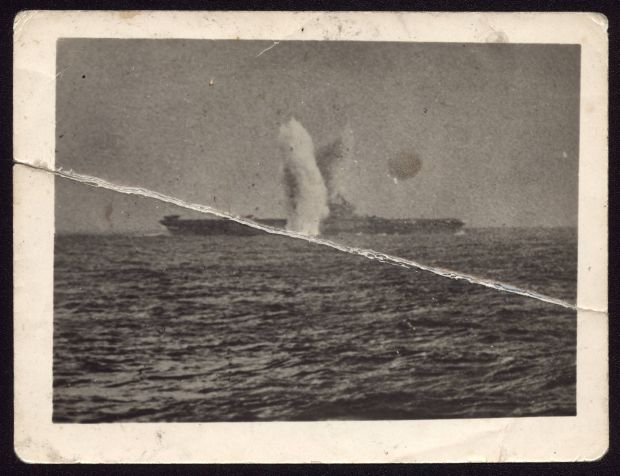 This battered old photo was the original Jeffrey's father had after the war and kept close to him. It shows the near-miss kamikaze attack on HMS Illustrious, on 6 April 1945 off the Sakashima Islands south of Okinawa.
10:35 Book review with Quentin Johnson
Inferno by Dan Brown
Published by Bantam Press
10:45 Reading: 'Whale Pot Bay' by Des Hunt read by Rob Mokaraka
(Part 4 of 10)
11:05 New technology commentator Sarah Putt
Yahoo purchasing Tumblr; the future of Universal Service in New Zealand and Microsoft unveils a new Xbox.
11:30 Mentoring young people
Emeline Afeaki-Mafile'o is the founder of Affirming Works – which is a charitable organisation specialising in mentoring young people in five South Auckland High Schools.
11:45 Film reviewer Dan Slevin discusses new New Zealand film Shopping, as well as Kon Tiki
Music played in this show
Playlist
Song: Patience
Artist: Sacha Vee
Comp: Vee
Album: Sacha Vee Ep 2010
Label: Private
Time Played: 09:22 am
Song: Mon Reve A Moi
Artist: Soha
Comp: Essertier / Soha
Album: D'ici Et D'ailleeurs
Label: EMI
Time Played: 09:42
Song: Sukiyaki
Artist: Kyu Sakamoto
Comp: Rokusuke Ei And Hachidai Nakamura
Time Played: 10.06am
Song: Marvellous Year
Artist: Don McGlashan
Comp: Mcglashan
Album: Marvellous Year (2009)
Label: Arch Hill
Time Played: 11:23am
Song: The Ghost Of This Town
Artist: That Harbour Union
Comp: Williams
Album: The Harbour Union
Label: Social End Productions
Time Played: 11:45am