Nine To Noon for Wednesday 22 May 2013
09:05 The plight of TC3 homeowners in Christchurch
TC3 homeowner Jeremy Bertenshaw, whose petition calling for an overhaul of EQC's claims management system has garnered 2,000 signatures.
09:15 Criticism of the Christchurch repair work
EQC head Ian Simpson responds to criticism of the Christchurch repair work.
09:40 Oklahoma tornado
Pastor Ben Glover, Minister at the Oakcrest Church of Christ in Oklahoma City. The church is one of the facilities in the area that has opened its doors to the victims of the tornado, which has killed at least 24 people.
09:45 Australia correspondent Karen Middleton
10:05 John Green - best-selling author of young adult fiction
John Green is the best-selling author of young adult novels. His latest book The Fault in our Stars, about a teenage couple who meet at a cancer support group has sold more than 270,000 copies and is being made into a movie. He and his brother Hank have had 200 million YouTube views of their Vlogbrothers channel weekly video exchanges to each other. The Green brothers have also launched 'CrashCourse'- an educational YouTube channel featuring teaching videos they've made on the sciences and humanities.
10:35 Book Review with Louise O'Brien
Red Moon by Benjamin Percy
Published by Hachette NZ
10:45 The Reading: 'Whale Pot Bay' by Des Hunt read by Rob Mokaraka
(Part 3 of 10)
11:05 Justin Paton – Venice Biennale  
Justin Paton is the Curator of the New Zealand Exhibition at the Venice Bienale. New Zealand's representative is light sculptor Bill Culbert and his installations will fill eight connected spaces within the New Zealand Pavilion, La Pieta; an atmospheric historical building on the Grand Canal.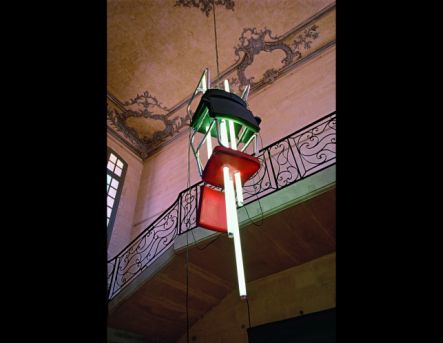 Bill Culbert, Lustre with two chairs (1997)
11:20 Marty Duda's Artist of the Week – Ray Manzarek/The Doors
Tracks:
1. The Crystal Ship - The Doors taken from 1967 album "The Doors" (Elektra)
2. Love Her Madly  - The Doors taken from 1971 album "LA Woman" (Elektra)
3. Wake Up Screaming  - Ray Manzarek taken from 1974 album "The Whole Thing Started With Rock & Roll And Now It's Out Of Control" (Mercury)
4. Soul Kitchen  - taken from 1980 album "Los Angeles" (Slash)
11:45 Family Lawyer Deborah Hollings discusses the issue of pre nuptial agreements – are the contracts necessary, and in what circumstances
Music played in this show
Playlist
10:33
Sola Rosa: 'Never Enough' from "Low and Behold, High and Beyond"
10:43
Blondie: 'Sunday Girl' from the album "Parallel Lines"