Nine To Noon for Tuesday 30 April 2013
09:05 The legacy of Labour politician Parekura Horomia
Ngahiwi Tomoana, chairman of Ngati Kahungunu and member of the Iwi Leaders Forum; Mike Williams, former Labour party president; and Hekia Parata, Minister of Education.
09:25 Health and safety in the workplace
Barrister Hazel Armstrong specialises in workplace health and safety. She's written a book called Your Life For The Job about the spate of accidents that led to the 2000 Tranz Rail inquiry – it draws parallels with the Pike River disaster in 2010 and asks why lessons were not learned.
A report by the Health and Safety Taskforce is being delivered to Labour minister Simon Bridges today.
09:40 Serious Fraud Office to make announcement on Hanover Finance
Simon McArley, Serious Fraud Office acting chief executive.
10:05 Feature guest - John Wood
Founder of Room to Read, an organisation bringing books to children who don't have any. Fifteen-thousand libraries have been founded and 12 million books distributed.
10:35 Book Review with Jane Westaway
Levels of Life by Julian Barnes
Published by Jonathan Cape
10:45 Reading: The Conductor by Sarah Quigley
Read by Peter Bland
The story of the writing and historic performance of Shostakovich's 7th Symphony during the siege of Leningrad.
11:05 Business commentator Rod Oram
NZ's trade with China; Tim Groser's failure to win the WTO director-general's job; and Air NZ as the next company in the SOE sales?
11:30 Treasures from the Turnbull collection
Fiona Oliver, published collections curator at the Alexander Turnbull Library in Wellington discusses the Body in the Library: the remarkable and murky past of Wellington's first librarian.
Gallery: Mary Taylor & Dr Robert Knox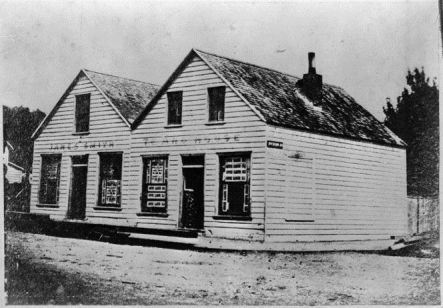 Mary Taylor's shop, corner of Cuba and Dixon streets, Wellington, 1866. At this time it was owned by James Smith (ATL ref. 1/2-003732-F).
11:45 Media commentator Gavin Ellis
Colin Craig and the satirical blog, and how a new website – allaboutauckland.com – is being used by news organisations.
Music played in this show
Playlist
10:06am
Bright Eyes: 'First Day Of My Life'
from his 2005 album "I'm Wide Awake, It's Morning" (Bright Eyes is the musical outlet of Nebraska-born Conor Oberst)
11:30am
Joni Mitchell: 'Big Yellow Taxi'
from her 1970s album "Ladies of the Canyon"