Nine To Noon for Wednesday 13 June 2012
09:05 A shakeup at the scandal-hit ACC
Grant Cameron, Christchurch barrister specialising in compensation cases.
09:30 Are we being duped into thinking we are buying free range eggs - when the term free range is simply a marketing ploy?
Juliette Banks, national accreditation and marketing manager ('SPCA Blue Tick'); and Michael Guthrie, head of Mainland Poultry.
09:45 Australia correspondent Ray Moynihan
The latest on what is happening across the Tasman including the momentous close to the extraordinary story of Azaria Chamberlain, and some reflections twenty years on from the historic Mabo decision on native title.
10:05 Zoologist Jonathan Waters - an audit of prehistoric New Zealand
Professor Jonathan Waters on his audit of prehistoric New Zealand and what it tells us about the immediate and severe  impact of human arrival.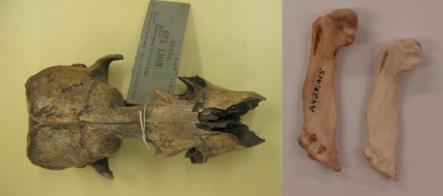 Left: Prehistoric NZ sea-lion skull from Canterbury, South Island. Humans eliminated the once widespread NZ sea-lion from mainland NZ, and the historic mainland populations are now being replaced by new arrivals from the subantarctic.
Right: Humerus bones of the yellow-eyed penguin (left) and the now-extinct Waitaha penguin (right). Ancient-DNA studies indicate that the subantarctic yellow-eyed penguin colonised mainland NZ only after the human-driven extinction of the indigenous Waitaha penguin.
10:25 Book Review with Stuart Shepherd
Banksy by Will Ellsworth-Jones
Published by Aurum
10:45 Reading: The Collector's Dream by Pierre Furlan (Part 3 of 10)
A quirky picaresque tale, tells of real life inventor Franklin Bodmin and his collector son Will.
 11:05 Marty Duda's Artist of the Week - Joe Bonamassa 
Blues man Joe Bonamassa has been playing professionally ever since he was 12 years old. The prolific guitarist (he released three albums in 2011) has played with everyone from Eric Clapton to John Hiatt. His new album is called Driving Towards The Daylight and features a track with Jimmy Barnes.
1. Ball Peen Hammer (3:27) - Joe Bonamassa taken from 2007 album, "Sloe Gin" (J&R)
2. Tennessee Plates (4:19) - Joe Bonamassa with John Hiatt taken from 2011 album, "Dust Bowl" (J&R)
3. Your Heart Is As Black As Night (5:01) - Joe Bonamassa with Beth Hart taken from 2011 album, "Don't Explain" (J&R)
4. New Coat Of Paint (4:06) - Joe Bonamassa taken from 2012 album, "Driving Towards The Daylight" (J&R)
11:30 Law commentator Mai Chen
Changes to the way New Zealand regulates foreign vessels fishing in New Zealand's Exclusive Economic Zone.
11:45 Arts commentator Courtney Johnston
Campbell Patterson's video project at the Dowse; Sol LeWitt's garden in Philadelphia; and some interesting writing on the art market.
Links:
Sol LeWitt's "Lines in Four Directions in Flowers" (with slideshow and timelapse video)
Campbell Patterson at the Dowse, Lower Hutt
How the art market thrives on inequality - New York Times
The price of being female - The Economist
Top 10 prices for New Zealand art at auction, 2011