Nine To Noon for Thursday 14 June 2012
09:05 The head of EQC reveals that it has negotiated its reinsurance
Earthquake Commission chief executive Ian Simpson talks about the commisson's recently concluded reinsurance negotiations and addresses frustration from quake-hit Canterbury residents about the frustration that many feel about the slow process of settling claims.
09:30 The 25 Percent Group
Goldman Sachs NZ CEO Andrew Barclay is the convenor of the newly-launched 25 Percent Group which is targeting 25% female participation on boards by 2015.
09:45 UK correspondent Matthew Parris
The aftermath of the Queen's Jubilee, a parade of former prime ministers before the Leveson Inquiry and Prime Minister David Cameron leaves his daughter at a pub.
10:05 Maritime historian and author Joan Druett - Captain Cook's polynesian navigator, Tupaia
Joan Druett's latest book Tupaia: The remarkable story of Captain Cook's Polynesian navigator, tells the story of the navigator that made Captian Cook's voyages possible.
Find out more about the images below.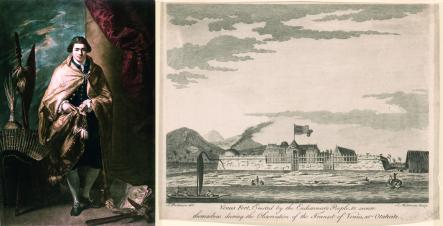 Left: Joseph Banks with South Seas souvenirs. Engraved from a portrait by Benjamin West, by J.R. Smith, 1788. From the collection of the Alexander Turnbull Library.
Right: Venus Fort, erected by the Endeavour's people to secure themselves during the observation of the transit of Venus at Otaheite. Engraved by Samuel Middiman, from a sketch by Sydney Parkinson, 1773. © National Library of Australia.
10:35 Book Review with Louise O'Brien
Come Home by Lisa Scottoline
Published by Ebury Press
10:45 Reading: The Collector's Dream by Pierre Furlan (Part 4 of 10)
A quirky picaresque tale, tells of real life inventor Franklin Bodmin and his collector son Will.
11:05 New Technology with Donald Clark
New apple stuff; the right to be forgotten on the Internet; and cyber security awareness week.
An Introduction to Cybersecurity
Rachel Taulelei
11:20 Parenting with Rachel Hansen - assumptions and experiences of gender in the preschool years
Rachel Hansen is an educator providing workshops for parents, teachers and students on body image, sexuality and gender. She has a background in education and psychology. She's also the New Zealand programme director for Enlighten Education.
11:45 Media commentator Gavin Ellis
Happy 80th birthday to the NZ Woman's Weekly; coverage of ACC versus Bronwyn Pullar and the role of The Dominion Post newspaper; plus Sir Bob Jones is back in print at The New Zealand Herald.