Nine To Noon for Tuesday 12 June 2012
09:05 Couples to be charged for using the Family Court to resolve child care issues and divide up assets
Jill Goldson has been a family court counseller since 1987, and also runs a private practice, The Family Matters Centre in Auckland. She has been undertaking research on the impact on children of family disputes; Liz Tennet, chief executive of Community Law Centres of Aotearoa; and Professor Mark Henaghan, Dean of the Faculty of Law at Otago University.
09:25 Australia's mining magnates
Dr Michael Rafferty, from the University of Sydney Business School.
09:45 US correspondent Luiza Savage
President Barack Obama's bad week and the opening it has given Republicans on the economy.
10:05 Lisa Bloom - US trial attorney, legal analyst and author
Best known for hosting her own daily talk show on Court TV for eight years, trial attorney Lisa Bloom is now a regular legal analyst on CBS News. Ms. Bloom, the daughter of Gloria Allred, the famous women's rights attorney, also runs an LA-based general practice law firm, The Bloom Firm. She is the author of Think: Straight Talk for Women to Stay Smart in a Dumbed Down World and Swagger: 10 Urgent Rules for Raising Boys in an Era of Failing Schools
10:35 Book Review with Paul Diamond
A Golden Age by Tahmima Anam
Published by Text Publishing
10:45 Reading: The Collector's Dream by Pierre Furlan (Part 2 of 10, RNZ)
A quirky picaresque tale, tells of real life inventor Franklin Bodmin and his collector son Will.
11:05 Business commentator Rod Oram
Tthe massive swing against stock market listing of companies as a corporate vehicle.
11:20 Old New World
Mary Macpherson is a photographer/poet whose book Old New World is a photographic study of the changing face of small town New Zealand.
Old New World by Mary Macpherson
Published by Lopdell House
ISBN 9780987659712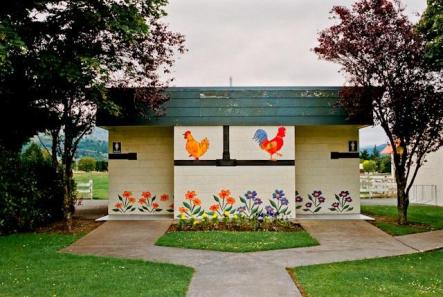 Oxford, Canterbury, 2005. Photograph by Mary Macpherson.
11:45 TV Review with Nick Grant
Hounds, NZ's Got Talent, Sunday Theatre, TVNZ On Demand vs TV One+1, and Igloo.