Nine To Noon for Monday 11 June 2012
09:05 The Warehouse founder Sir Stephen Tindall on green growth
Sir Stephen Tindall is a founding trustee of the Pure Advantage group of business leaders which is lobbying for New Zealand to have a greenier and wealthier future. Its new report, New Zealand's Position in the Green Race, says successive governments have failed to make the distinction between greening dirty industries, and creating new forms of high-value growth in a green economy.
09:30 Increasing NZ's organ donation rates
Dr Eric Crampton from the University of Canterbury is an expert on the economics of organ donation - what are some ways other countries have improved donation rates? The Government has announced it'll spend $4 million of three schemes to improve NZ rates, which are among the lowest in the Western world.
09:45 Europe correspondent Seamus Kearney
Deja vu in Europe as Spain confirms bank bailout.
10:05 Brian Evans - a principal's quest to discover the secret to Pacific boys achieving academic success
Brian Evans, the principal of Kelston Boys High School in West Auckland, has done a masters and embarked on a PhD on the topic of academic success for Pacific Island boys. He's also the coach of the NZ National women's rugby team, the Black Ferns.
10:35 Book Review with Siobhan Harvey
Skylark by Jenny Pattrick
Published by Black Swan
10:45 Reading: The Collector's Dream by Pierre Furlan (Part 1 of 10, RNZ)
A quirky picaresque tale, tells of real life inventor Franklin Bodmin and his collector son Will.
11:05 Political commentators Matthew Hooton and Mike Williams
Af a new TV3 poll that shows the Maori party holding the balance of power and further slippage for National, the projected superannuation blowout, and the u-turn on teacher ratios.
11:30 Guest chef Catherine Bell, food and travel writer and Chair of Garden to Table Trust
Recipes:
Coorong Pipi Chowder
Slow Roasted Lamb or Goat Forequarter
11:45 Off the Beaten Track with Kennedy Warne
Kennedy calls in from Ruatahuna, the cradle of Tuhoe. He has have been in Te Urewera for a week, researching a New Zealand Geographic story on Tuhoe and their relationship to the land.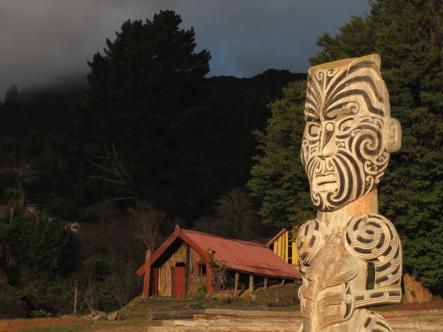 Maungapohatu, a Tuhoe settlement in Te Urewera.