Nine To Noon for Tuesday 17 April 2012
Please note that this morning's broadcast was interupted by a fire evacuation at Radio New Zealand House in Wellington.
09:30 Sky City casino boss disputes harmful impact of pokie machines
The controversial 'pokies for convention centre' deal being negotiated by SkyCity Casino and the government.
09:50 US correspondent Luiza Savage
The latest on the US Republican race to the White House.
10:05 Philip Beesley – experimental architect
Professor in the School of Architecture, University of Waterloo and principal of the Toronto design collective Philip Beesley Architecture Inc, Philp Beesley is in Wellington to give the keynote speech at the seventh annual Design Semantics Form and Movement (DeSForM) conference April 18 - 20 2012.
Philip Beesley is premiering new work at City Gallery Wellington.
Gallery: Philip Beesley – experimental architect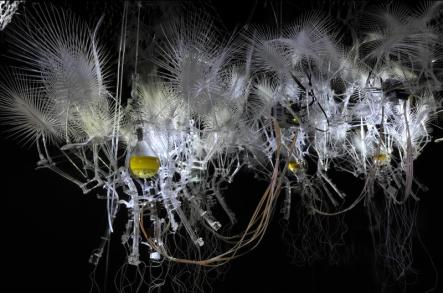 Hylozoic Ground from the Canada Pavilion for the 12th International Architecture Exhibition of the Venice Biennale.
10:25 Book Review with Jane Westaway
Helena Rubinstein: The Woman who Invented Beauty by Michele Fitoussi
Published by HarperCollins
10:45 Book Reading: Burton's Grand Tootling Tour, written and Read by Dinah Priestley
A whimsical travelogue in which the narrator and her companion Burton enjoy a 'tootling' tour through the back roads of England, Spain and India. Along the way they encounter a colourful cast of characters, visit the 'Alhambra' and buy bespoke boots in India.
Audio will be available here after broadcast.
11:05 Business commentator Rob Hosking
11:30 Massive theatre comany turns 21
Sam Scott (pictured right), founder and artistic director of Massive Company, which is 21 years old this year. Sam has a particular commitment to working with and developing emerging artists, alongside professional practitioners. She's taken shows to the UK and Europe, where they've been critically acclaimed.
Tonight (Tuesday) Massive's latest show, The Brave, opens: it's created from true confessions – baby teeth to mortgages – where eight men front up on a bare stage.
11:45 TV review with Lara Strongman
Mad Men (Soho) and Fair Go (TV1).