Nine To Noon for Monday 16 April 2012
09:05 High Court action to keep Stewart Murray Wilson under state supervision
Andrew Wilson, the lawyer for Stewart Murray Wilson, discusses the High Court action that's been launched in a bid to enforce state supervision of the sex offender long after his prison term ends. Wilson is to be released in September, after serving time for rape, bestiality, stupefying and ill-treatment of children, over a period of 25 years.
Otago University law professor Andrew Geddis on the legal moves to keep Stewart Murrary Wilson under state supervision long after his prison term expires in September.
09:30 The looming battle over performance pay for teachers
Brendan Schollum, recently retired Auckland secondary principal and teacher educator; and Paul Goulter, secretary for the primary teachers' union, the New Zealand Educational Institute.
09:45 Europe correspondent Seamus Kearney
The battle heats up a week ahead of the French presidential election; and the trial over Norway's gun and bombing massacre opens on Monday.
10:05 American oceanographer and specialist in bioluminescence Edith Widder
Edith Widder is the CEO, president and senior scientist with Ocean Research & Conservation Association (ORCA) - the organisation she co-founded in 2005. She is also a leader in helping to design and invent new instrumentation and techniques that enable scientists to see the ocean in new ways.
Gallery: Photographs by Edith Widder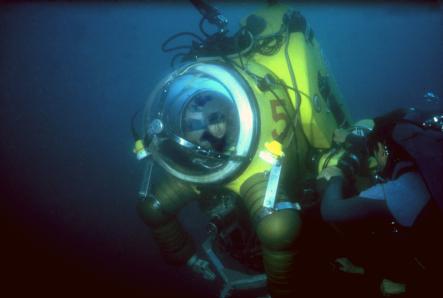 Edith Widder in the wasp deep sea diving suit.
10:35 Book Review with John King
Painter of Silence by Georgina Harding
Published by Bloomsbury
10:45 Book Reading: Burton's Grand Tootling Tour, written and Read by Dinah Priestley
A whimsical travelogue in which the narrator and her companion Burton enjoy a 'tootling' tour through the back roads of England, Spain and India. Along the way they encounter a colourful cast of characters, visit the 'Alhambra' and buy bespoke boots in India.
11:05 Political commentators Matthew Hooton and Mike Williams
Paid parental leave, mining, and lobbyists
11:30 Guest chef Paul Jobin
Recipes:
Habas a la Catalana
Bistec - Hanger Steak with Chimichurri
11:45 Off The Beaten Track with Kennedy Warne
The ecological restoration of Motuihe Island, in the Hauraki Gulf, including the release of 60 tuatara there.

Encounter with a New Zealand icon (photo by Kennedy Warne)