Nine To Noon for Thursday 15 December 2011
09:05 Milk in schools
Alan Johnson, co-director of Child Poverty Action Group, and deputy chair of South Auckland Decile 1 School Board of Trustees; and Sue Chetwin, chief executive, Consumers Institute.
09:20 Key research into the microbial community that lives with in the sea ice that surrounds Ross Island - and how this relates to bigger climate change issues.
Andrew Martin and Andrew McMinn, Sea Ice Scientists from the University of Tasmania's Institute for Marine and Antarctic Studies.
Find out more, hear an extended version of this interview, and see more photographs - Nine to Noon in Antarctica.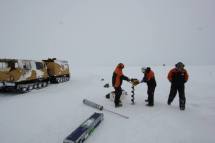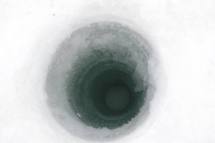 Left: Drilling the sea ice, and right: the drilled hole.
09:45 UK correspondent Jon Dennis
Why the UK is the only EU member state to refuse to sign a new intergovernmental accord designed to save the euro.
10:05 Big Year interview - Richie McCaw
Richie McCaw battled an insidious foot injury and the weight of public expectation to captain the All Blacks to their first Rugby World Cup victory in almost a quarter of a century. He discusses his recovery from surgery and future following October's nail-biting win against France.
10:35 Book review with Justin Gregory
Talking to Terrorists by Peter Taylor
Published by Fourth Estate
10:45 Reading: The Crime of Huey Dunstan by James McNeish (Part 8 of 10)
Ches cites Post-Traumatic Stress Disorder as a defence for Huey in the second trial.
Audio will be available here after broadcast.
11:05 New technology with Steve McCabe
Cellphones on aeroplanes, Google and Twitter topics of the year, and tracking Santa Claus on the internet.
11:20 Funeral director who donated his business to charity
Greg Brownless has a diverse CV, which includes school teaching, working as a Contiki tour guide in Europe, and a serving on his local city council in Tauranga. He then started his own funeral-directing business, a career which took him to Thailand after the devastating Boxing Day tsunami. More recently Greg had a stint on Christmas Island, organising the repatriation of the bodies of 30 boat people who drowned there late last year. But, after a long career as an undertaker, Greg decided to give something back. He donated his million-dollar business to charity, founding the Legacy Funerals Charitable Trust -  all the profits from his two funeral homes are given back to the Tauranga community.
11:45 TV review with Simon Wilson
SoHo's star show Treme and a look back on the best viewing of the year.