Nine To Noon for Wednesday 14 December 2011
09:05 The deal reached at the UN climate talks in Durban
Tim Groser, Minister responsible for International Climate Change Negotiations. Countries around the globe have agreed to forge a new deal forcing all the biggest polluters for the first time to limit greenhouse gas emissions by 2020. But by the time the new provisions take effect, will they have been diluted in negotiation to the point of being meaningless?
09:25 Scientists find signs of the Higgs boson
Ian Sample, author and science writer for the Guardian newspaper, and author of the book Massive: The Hunt for the God Particle.
09:45 Australia correspondent Ray Moynihan
10:05 Big Year Interview - Jane Taylor
Jane Taylor, became the face of the injured Canterbury quake survivors, her image on the front page of the newspapers, and carried around the world, in the days after the February disaster. Jane was working as the manager of a fashion store in Cashel Mall when the quake hit. She suffered a fractured neck and pelvis, a damaged lower back, crushed ribs, a broken ankle and compressed lung. Her facial injuries so bad that members of her family did not recognise her from the picture of her in the Christchurch Press.
10:35 Book Review with Mary McCallum
The Exercise Book edited by Bill Manhire, Damien Wilkins and Chris Price
Published by Victoria University Press,
10:45 Reading: The Crime of Huey Dunstan by James McNeish (Part 8 of 10)
Huey gives his testimony in his ten day trial, and Glen, the man Huey says abused him, is subpoenaed for his evidence.
Audio will be available here after broadcast.
11:05 Marty Duda's Artist of the Week
It's been 20 years since the band released its debut album, Gish, which was a big alternative rock hit at the time.
1. I Am One (4:07) - The Smashing Pumpkins taken from 1991 album "Gish" (Caroline)
2. Today (3:19) - The Smashing Pumpkins taken from 1993 album, "Siamese Dream" (Virgin)
3. 1979 (4:25) - The Smashing Pumpkins taken from 1995 album "Mellon Collie & The Infinite Sadness" (Virgin)
4. Spangled (2:29) - The Smashing Pumpkins taken from 2010 album, "Teargarden by Kaleidyscope Volume 2: The Solstice Bare" (Download)
Marty will post the band's version of Depeche Mode's Never Let Me Down Again on his website www.13thfloor.co.nz
11:30 Legal commentator Catriona MacLennan
The right to protest versus public order - at what point do the police step in?
11:45 Arts commentator Courtney Johnston
Courtney remembers New Plymouth artist Don Driver, who died last week, and looks at the new Prospect exhibition at City Gallery, Wellington.
Gallery: Prospect at City Gallery, Wellington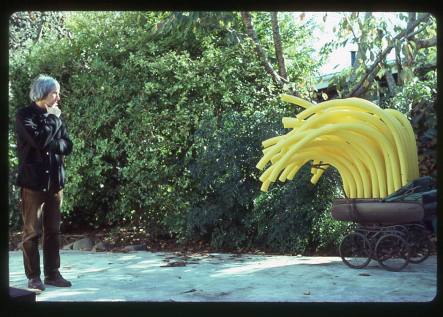 Don Driver, courtesy of Jim Barr and Mary Barr, www.overthenet.blogspot.com.