Nine To Noon for Tuesday 13 December 2011
09:05 Charter schools
Alwyn Poole, academic manager of Mt Hobson Middle School and an advocate of charter schooling.
09:35 A huge farm on the Nullarbor Plain has been infested by thousands of budgies
Barbara Brown, who lives on Arubiddy station on the Nullarbor Plain.
Gallery: Budgies on Barbara Browns farm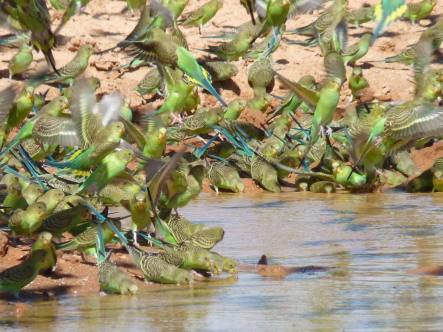 Budgies on Barbara Brown's farm.
09:45 US correspondent Jack Hitt
The rise of Newt Gingrich and the return of Fear Factor.
10:05 World renowned illusionist Paul Kieve
10:25 Book Review with Toby Manhire
Johnson's Life of London by Boris Johnson
Published by Fourth Estate
10:45 Reading: The Crime of Huey Dunstan by James McNeish (Part 7 of 10)
Ches puts his defence case to the appeal judges and nine weeks later get the verdict. A new trial is ordered.
Audio will be available here after broadcast.
11:05 Business commentator Rod Oram
The heat on Southern Cross at its AGM last week and issues facing the strike-hit Ports of Auckland.
11:20 Big Year Interview - Brett Gartrell
When the Rena cargo vessel hit the Astrolabe reef off the coast of Tauranga in October, the country watched in horror as dark globs of oily waste began washing up on local beaches. Brett Gartrell has been coordinating the wildlife response to the disaster. The Australian-born vet is the director of the New Zealand Wildlife Health Centre at Massey University.
11:45 Media commentator Gavin Ellis
The Law Commission's report on media regulation.