Nine To Noon for Tuesday 26 April 2011
09:05 ACT leadership Don Brash
Chris Simmons, President of the ACT party
09:10 The head of the Serious Fraud Office on progress on pursuing and prosecuting alleged offenders among the numerous, multiplicitous, finance company collapses of the past five years
Adam Feeley, director of the Serious Fraud Office.
09:20 Prime Minister John Key says he has seen no evidence to support the need for an inquiry into a claim that SAS soldiers have handed over prisoners to Afghanistan authorities, who could torture them
John Stephenson, investigative reporter who revealed that the SAS played a key role in arresting and transferring prisoners last year to Afghan authorities.
09:45 United States correspondent Jack Hitt
10:05 John Craig
Wellingtonian John Craig recently became the oldest person in the world to walk the Pacific Crest trail, a 4265km walking track which spans the west coast of the United States from the border with Mexico right up to the Canadian border.
See images of the trail in the John Craig gallery.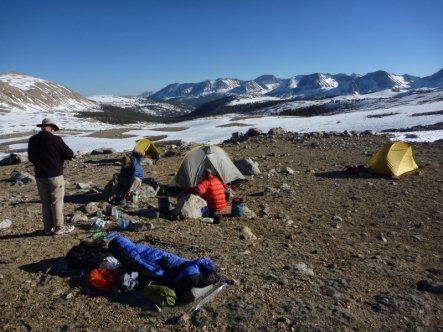 Camping at 12,200ft.
10:30 Book Review with Michael Cullen
The Churchills by Mary Lovell
Published by Little Brown
10:45 Reading: Death and the Dreamlife of Elephants
A mysterious and quirky look at the routine of urban loneliness, the essential meaninglessness of human existence, and the ways we attempt to give it meaning.
11:05 Political commentators Matthew Hooton and Sue Bradford
More on Don Brash's offer to lead the ACT party, plus the other big political issues of the past week.
11:30 Guest chef Rowan Bishop and wine commentator John Hawkesby
Moroccan Tomato Soup With Ras El Hanuot
Spice Mix - Ras El Hanout
Szechuan 'Clay Pot' Casserole
Citrus Crème Brulee
11:45 Media commentator Denis Welch
The two big media scoops - the Sharon Armstrong story, and Jon Stephenson's investigation.