Nine To Noon for Tuesday 17 March 2009
09:05 Government to scrap regional petrol tax
Mike Lee, Chairman of the Auckland Regional Council.
09:20 Private prison managers to run maximum security prisons
The NZ government is considering bringing in private prison managers to run our maximum security prisons. We look at how private prisons are run in Australia, where unions have serious concerns about staff training, and officer to prisoner ratios.
Matt Bindley, and Karen Batt.
09:30 Growing rates of liver cancer - NZ's numbers predicted to double in next 20 years
Professor Ed Gane, Auckland Hospital liver specialist
09:45 US issues with correspondent Jack Hitt
10:05 Pioneering long distance swimmer Lewis Pugh
Swimmer and environmentalist Lewis Pugh has swam some of the world's coldest stretches of water to raise awareness about the destruction of the environment.
Below: diving into the sea off Antarctica, 2005.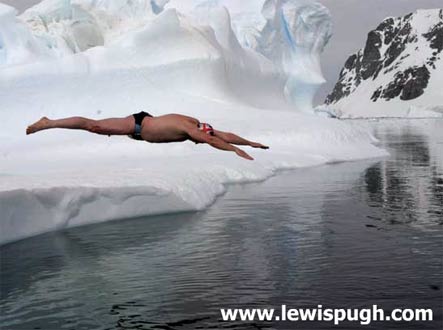 10:30 Book Review with Graham Beattie
The Girl on the Landing by Paul Torday
Published by Weidenfeld & Nicolson
ISBN 9780297855330
10:45 Reading. How To Catch A Cricket Match by Harry Ricketts
Episode 2 of 10
An entertaining exploration of that great game.
11:05 Business with Rod Oram, Business and Economic commentator
11:30 Irish author Cathy Kelly
Cathy Kelly has written 11 novels. She swapped journalism and five years as an agony aunt for writing contemporary fiction.
11:45 Media commentator Denis Welch