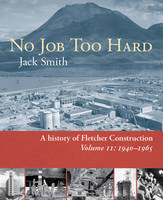 Author Jack Smith discusses the history of Fletcher Construction in New Zealand.
Jack joined the Fletcher group in 1953 and was involved as an employee and then consultant until 1998. He's two thirds of the way through writing a history of the company.
"unless someone records what happened and that gets itself on that web somehow, we're not going to learn."
No Job Too Hard: Volume Two, 1940-1965 covers the companies role through World War Two, the post-war construction of state housing, the Tasman Pulp and Paper mill, the Marsden Point power station, the construction of the Lyttelton Tunnel, Think Big and the failed plan for an aluminium smelter at Aramoana as well as other major infrastructural developments in New Zealand.
"At one stage something like about 80 % of our work was Govt work…  The government, after the war, when resources were so short, directed everything almost towards housing.

Then when the Labour Govt went out (in 1949) the National Government wanted no bar of building state houses, so they tried to run it down - and did so - to the extent they were allowed politically,  and in fact the volume of housing over the '50s gradually fell away, so by the end of the '50s… it was no longer viable for Fletchers to keep up it's big organisation that had been building houses, and they quit, totally.
Jack Smith talks to Bryan Crump.