Nights for Friday 13 February 2015
8:10 PM.BBC sports journalist Russell Fuller keeps the score court side... big dollars with the new domestic Premier League TV deal, Andy Murray's run to the Australian Open Final and the start of the 6… Read more Audio

8:59 PM.This week's conundrum answer. Audio
7:06 Sonic Tonic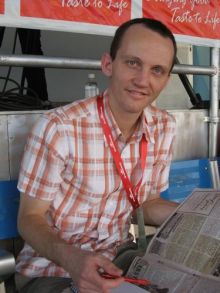 8:10 Russell Fuller - Sport UK
BBC sports journalist Russell Fuller keeps the score court side.
8:25 Wanderlust
Pitched as a "transformational festival", Wanderlust brings together yoga and music, to open hearts, minds and hip flexors.
9:06 Country Life
Rural news and features.
10:17 Late Edition
A review of the leading news from Morning Report, Nine to Noon, Afternoons and Checkpoint. Also hear the latest news from around the Pacific on Radio New Zealand International's Dateline Pacific.
11:06 The Subcontinental: Bhangra
Bhangra music began as part of harvest celebrations in Punjab but today it is influencing music in dance clubs worldwide with hotbeds of Bhangra culture springing up all over the world: from Delhi to London to Vancouver to LA. Even if you don't think you know Bhangra, I guarantee you do. The light bulb dance move? That comes from Bhangra. Plus your body probably knows the feeling of hearing a dhol drum (hint - it's a feeling that says, move, dance!), This documentary features lots of great Bhangra music plus interviews with Canadian TV personality Monika Deol; early UK Bhangra stars Apna Sangeet and Heera Group; current Bhangra sensation Jazzy B; Vancouver's fast-rising Bhangra fusion group Delhi 2 Dublin, and a behind the scenes look at the Vancouver International Bhangra Celebration Competition (F, CBC)