Nights for Monday 17 November 2014
7:15 Sports Correspondent - USA
LA Times sports journalist Helene Elliott has a penchant for fast moving competitions where pucks are hit by sticks. The start of the NBA season and the fuss that was made when LeBron James left Miami for Cleveland, except that Cleveland has gotten off to a poor start.
7:30 Insight
8:10 Windows on the World
International public radio documentaries - visit the Windows on the World web page to find links to these documentaries.
8:40 Pundit - Life and Times of the Long White Cloud
General editor of Te Ara, historian Jock Phillips on those defining moments that made New Zealand, New Zealand. Vices: the history of alcohol in NZ.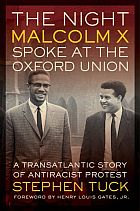 9:10 Extremism in the Defense of Liberty
What impact did an invitation to Malcolm X have on the man himself, as well as the British students who experienced his debate? Oxford Professor of Modern History Stephen Tuck explores this event on its 50th anniversary in his book: The Night Malcolm X spoke at the Oxford Union: A Transatlantic Story of Antiracist Protest.
10:00 Late Edition
A review of the news from Morning Report, Nine to Noon, Afternoons and Checkpoint. Also hear the latest news from around the Pacific on Radio New Zealand International's Dateline Pacific.
11:06 The International Americana Music Show
Featuring some of the biggest names in international Americana - artists from around the world who are household names including Mumford and Sons from England, The Band and Neil Young from Canada, Van Morrison from Northern Ireland - and The Warratahs from New Zealand (5 of 12, PRX)