Nights for Wednesday 5 March 2014
7:10 Online Collaboration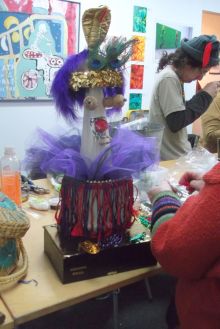 Thai-born London-based curator Chutima (Nok) Kerdpitak is the founder of the Circus Terminal Worldwide project which has harnessed technology to build and develop a global artist community.
Links:
Uncooked Culture
7:30 Spectrum
People, places and events in New Zealand.
8:15 Windows on the World
International public radio documentaries - visit the Windows on the World web page to find links to these documentaries.
8:40 Arts Ambassador - Contemporary Classical
RNZ Concert's Sound Lounge host Kate Mead strokes her bow on both contemporary classical music plus recent releases of old masters. Brooklyn Rider playing Beethoven like you've never heard Beethoven before, Neapolitan singers, Marco Beasley and a tribute to the brilliant and wonderful cellist Alexander Ivashkin
9:06 The Wednesday Drama
10:00 Late Edition
A review of the news from Morning Report, Nine to Noon, Afternoons and Checkpoint. Also hear the latest news from around the Pacific on Radio New Zealand International's Dateline Pacific.
11:06 Jazz-O-Rama - New Orleans Dixieland
King Oliver's Creole Jazz Band was one of the best and most important bands in early Jazz. The Creole Jazz Band was made up of the cream of New Orleans Hot Jazz musicians, featuring Baby Dodds on drums, Honore Dutrey on trombone, Bill Johnson on bass, Louis Armstrong on second cornet, Johnny Dodds on clarinet, Lil Hardin-Armstrong on piano, and the band's leader, King Oliver on cornet (7 of 12, PRX)