Nights for Tuesday 4 March 2014
7:10 Our Own Odysseys - The Mighty Dneiper
Last year Jenny Howarth cruised up the Dneiper River to Kiev, the capital of Ukraine.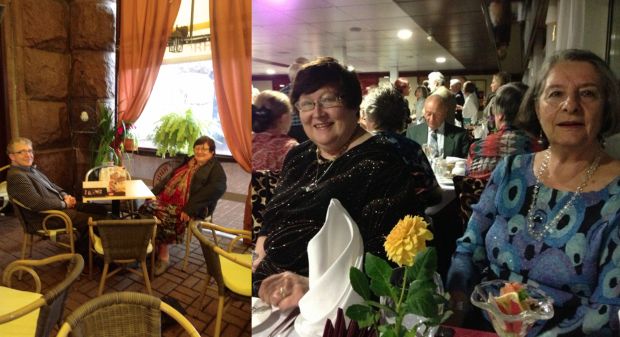 Left: In a cafe 200m from Independence Square, Kiev, Ukraine
Right: On the Fidelio – Jenny with her friend, Erika
7:30 The Sampler
A weekly review and analysis of new CD releases.
8:15 Windows on the World
International public radio documentaries - visit the Windows on the World web page to find links to these documentaries.
8:40 Global Neighbours - Senegal and Mozambique
Kate Thomas, founding member of Bushtaxi will report from either the west and east coasts of Africa, Senegal, pop. 13,567,338 (est. 2013) or Mozambique , pop. 23,929,708 (est. 2011).
9:06 The Tuesday Feature: Exchanges at the Frontier - Iain Couzin
Locust swarms devastate crops across the globe and lead to famine and economic disaster. Iain Couzin, a specialist in collective animal behaviour, has uncovered a way to trick them into eating each other rather than crops. Writer Matthew Sweet talks to him about his work in front of a live audience at Wellcome Collection in London and asks him about the huge implications of his research for global food supply and health (3 of 4, BBC)
10:00 Late Edition
A review of the news from Morning Report, Nine to Noon, Afternoons and Checkpoint. Also hear the latest news from around the Pacific on Radio New Zealand International's Dateline Pacific.
11:06 The Shed
Award winning former British broadcaster Mark Coles presents his pick of the best new music releases and demos from around the planet. A glorious mix of brand new sounds from all over the world, real conversations with music makers and tales of everyday life as seen from an English garden shed (9 of 13, MCM)