Nights for Thursday 24 October 2013
7:10 The Piper's Whim
Sarah Deters Richardson from the University of Edinburgh on taking an organologist's view when curating an exhibition of historic bagpipes from Scotland, England and Ireland – The Piper's Whim.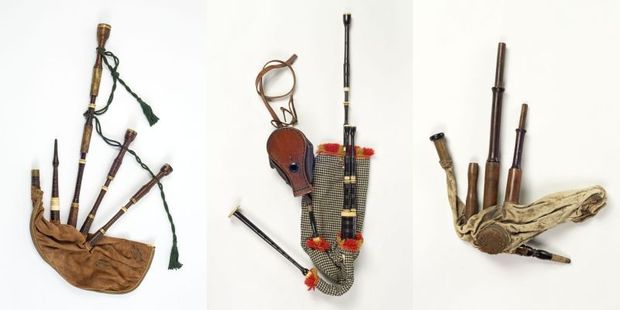 Left to right – a set of early Highland Montrose pipes owned and played by the piper to the Duke of Montrose (c 1770); a fragment of an 18th-century Lowland pipe converted to a Highland setup; and a set of Edinburgh-made Border pipes by George Walker (c 1840)
7:30 At the Movies
Films and movie business with Simon Morris.
8:15 Windows on the World
International public radio documentaries - visit the Windows on the World web page to find links to these documentaries.
8:40 Science - World weather
A day doesn't go by without some weather, explanations and implications. Tonight, as well as all the major weather events from around the globe, an explanation of jet-streams. With MetService severe weather forecaster Erick Brenstrum.
Link: Erick Brenstrum's blog
9:06 Our Changing World
Science and environment news from New Zealand and the world.
10:17 Late Edition
A review of the leading news from Morning Report, Nine to Noon, Afternoons and Checkpoint. Also hear the latest news from around the Pacific on Radio New Zealand International's Dateline Pacific.
11:06 The Music Mix
Nick Atkinson presents a contemporary music magazine with interviews and music from New Zealand and overseas artists, coverage of new releases, tours, live sessions, music festivals and events.