Nights for Tuesday 10 September 2013
7:10 Our Own Odysseys: Sewing Up the Silk Road
In 2002 Gretchen Kivell and nine other Kiwis, aged between 52 and 72, took a textile-focused tour along the historic Silk Road, starting in Beijing.
Gallery: Sewing Up the Silk Road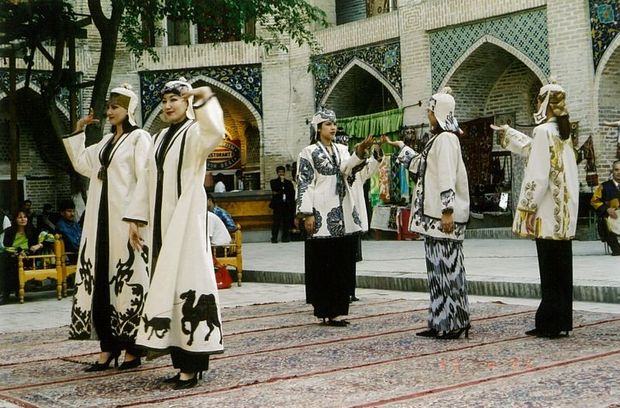 Uzbek dancing. Image courtesy of Gretchen Kivell.
7:30 The Sampler
A weekly review and analysis of new CD releases.
8:15 Windows on the World
International public radio documentaries - visit the Windows on the World web page to find links to these documentaries.
8:40 Global Neighbours - Denmark
New Zealand-born Copenhagen Post correspondent, Claire Clausen reports from the Scandinavian island nation of Denmark. Copenhagen is having a three-year trial to see whether they should legalise cannabis; the Little Mermaid is celebrating her centenary; and finally the Danish are allowed to buy crooked carrots.
Link: Claire Clausen's blog
9:06 The Tuesday Feature: The TED Radio Hour - Our Buggy Brain
A journey through fascinating ideas, astonishing inventions, and new ways to think and create (NPR) This week, our amazing brain, with all of its harmonious functions, also performs any number of peculiar actions, which we might find unexpected and counterintuitive. What tricks do our minds play when we think it's okay to lie, cheat, or steal? How in control are we of our own decisions? And why do our brains systematically misjudge what will make us happy?
10:00 Late Edition
A review of the news from Morning Report, Nine to Noon, Afternoons and Checkpoint. Also hear the latest news from around the Pacific on Radio New Zealand International's Dateline Pacific.
11:06 The Putumayo World Music Hour
Hosted by Rosalie Howarth, The Putumayo World Music Hour is an internationally syndicated radio show that takes listeners on a weekly journey through the music of many different cultures around the world.
Tonight Rosalie explores American blues and roots music, with jazz, bluegrass, blues and new folk.