Nights for Tuesday 9 July 2013
7:10 Our Own Odysseys: Up To Uzbekistan
Greg Sligo and his partner Philippa had the opportunity to spend a week in Uzbekistan last year...
Gallery: Greg Sligo in Uzbekistan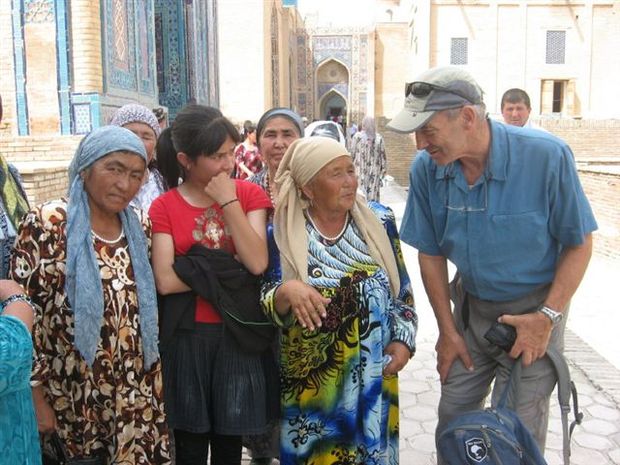 Greg Sligo in Uzbekistan
7:30 The Sampler
A weekly review and analysis of new CD releases.
8:15 Windows on the World
International public radio documentaries - visit the Windows on the World web page to find links to these documentaries.
8:40 Global Neighbours - Indonesia
Editor of Asia Calling, Rebecca Henschke, from the Republic of Indonesia – the world's fourth most populous nation with the largest population of Muslims. She discusses the controversy as managed forest fires preparing land for palm oil crops create a haze over neighbouring countries.
9:06 The Tuesday Feature: Africa Rising:  Can The Middle Class Drive Growth?
Akwasi Sarpong & Rupa Jha  host a discussion with a live audience in Accra,  exploring what the African middle class is; how fast it is growing, and what impact it is having on economies and governance.
See the BBC website for this programme
10:00 Late Edition
A review of the news from Morning Report, Nine to Noon, Afternoons and Checkpoint. Also hear the latest news from around the Pacific on Radio New Zealand International's Dateline Pacific.
11:06 Global Village with Chris Heim
An eclectic, world music-based show featuring the latest and best in world music new releases and classics along with a wide variety of artists and selections from other genres that have influences from around the world.  (KMUW)
In this final episode, we "give the drummer some", with M'Boom – the all-percussion lineup led by Max Roach, Latin jazz percussion giant Mongo Santamaria, tabla master Tanmoy Bose, and world frame drum expert Glen Velez. Plus South Africa's Soul Brothers, and Pucho & His Latin Soul Brothers.