Nights for Thursday 7 March 2013
7:10 A Quaker's View
Curator Paul Diamond on why a collection of watercolours painted from 1843 to 1845 by an English Quaker and potential colonist, is exclusively of Māori subjects – the exhibition is called 'Head and shoulders: Portraits by Isaac Coates'.
Gallery: portraits by Isaac Coates 1843 to 1845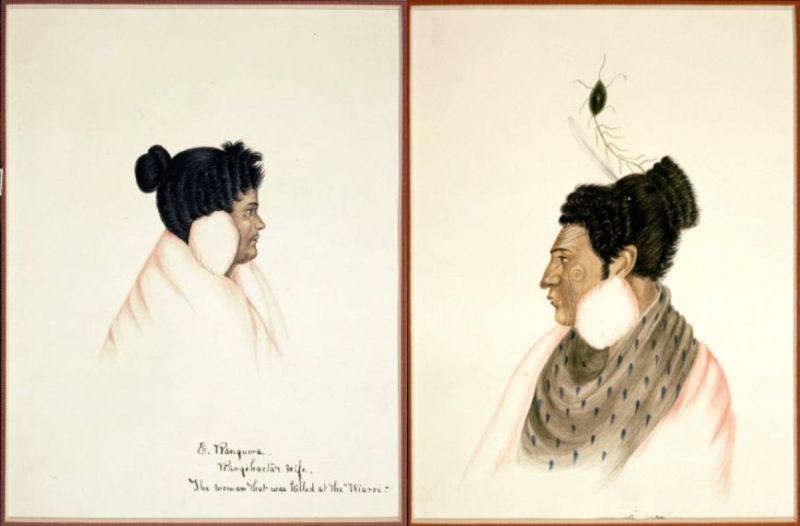 Left: Isaac Coates, E Ranguera, Rangiahaeta's wife [1843?]. Ref: A-286-015. Right: Rangihaeata, Rauparaha's fighting general. [1843?] Ref: A-286-014.
7:30 At the Movies
Films and movie business with Simon Morris.
8 pm News & Weather
8:15 Windows on the World
International public radio documentaries - visit the Windows on the World web page to find links to these documentaries.
8:40 Science - World Weather
A day doesn't go by without some weather, explanations and implications with MetService severe weather forecaster Erick Brenstrum... Australia – droughts, wildfires & crocodiles on the loose; air pollution in Beijing; and snow has been popular in the northern hemisphere.
9 pm News & Weather
9:06 Our Changing World
Science and environment news from New Zealand and the world.
10 pm News & Weather
10:17 Late Edition
A review of the leading news from Morning Report, Nine to Noon, Afternoons and Checkpoint. Also hear the latest news from around the Pacific on Radio New Zealand International's Dateline Pacific.
11 pm News & Weather
11:06 The Music Mix
Nick Atkinson presents a contemporary music magazine with interviews and music from New Zealand and overseas artists, coverage of new releases, tours, live sessions, music festivals and events.