Nights for Friday 26 June 2009
8:30 PM.How does incorporating"silent disco"into the Tate Liverpool's latest sculpture exhibition make art more accessible to youth? Audio
Happy Matariki!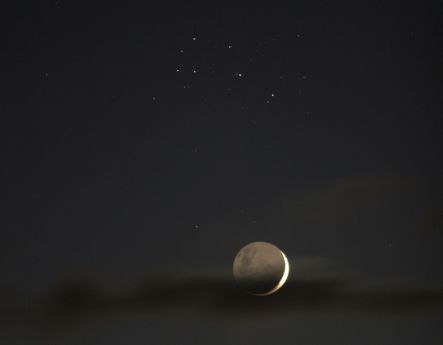 A Night's listener, Andy, took this photo of Matariki (Pleiades) rising in the early morning sky, with the last of waning crescent moon next door. Of course a New Moon is now setting in the west; the trigger for the celebration of Matariki, the Maori New Year.Why not celebrate it with us next week?
Nights for Friday 26 June 2009
7 pm News & Weather
7:06 pm Friday Night Theme
Music and fun.
7:40 pm Flash
Includes NZ Society, The Vault, Asian Report and other interesting snippets.
8 pm News & Weather
8:06 Production Music
Tony Stamp & Jose Barbosa investigate NZ's fledgling Production Music industry, and find out how it can be a handy source of additional income for musicians.
8:35 Silent Disco
Wayne Hemingway, designer, Hemingway Design.
How does incorporating "silent disco" into the Tate Liverpool's latest sculpture exhibition make art more accessible to youth?
8:50 Conundrum:
The answer and the winner's chosen song.
9 pm News & Weather
9:06 Country Life:
Rural news and features.
10 pm News & Weather
10:17 Late Edition:
A review of the leading news from Morning Report, Nine to Noon, Afternoons and Checkpoint. Also hear the latest news from around the Pacific on Radio New Zealand International's Dateline Pacific.
11 pm News & Weather
11:06 Friday Finale
Music performances and documentaries.