Nights for Thursday 25 June 2009
8:45 PM.Oceanographer, NIWA. Audio

7:15 PM.Reem Asaad, finance lecturer, Dar-al-Hikma Women's College and Naomi McGill, Australian lingerie specialist. Audio
Happy Matariki!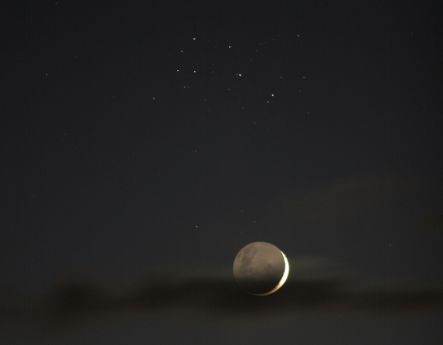 A Night's listener, Andy, took this photo of Matariki (Pleiades) rising in the early morning sky, with the last of waning crescent moon next door. Of course a New Moon is now setting in the west; the trigger for the celebration of Matariki, the Maori New Year.Why not celebrate it with us next week?
Nights for Thursday 25 June 2009
7 pm News & Weather
7:15 Lingerie In Saudi Arabia
Reem Asaad, finance lecturer, Dar-al-Hikma Women's College and Naomi McGill, Australian lingerie specialist.
In the conservative Kingdom of Saudi Arabia women in general cannot buy their lingerie from other women. However, there is a campaign beginning to bring about change to these outmoded labour laws.
7:30 Spectrum:
People, places and events in New Zealand.
8 pm News & Weather
8:15 Windows on the World:
International public radio documentaries.
8:45 Salty Water - oceans
Craig Stevens, Oceanographer, NIWA.
70.78% of our planet is covered by oceans... the Global Conveyor Belt (or Thermohaline Circulation)... the global-scaled slow circulation that cycles the oceans over 1000 year periods.
8:59 Conundrum: Clue 7
9 pm News & Weather
9:06 Our Changing World:
Radio New Zealand's science and environment programme.
9:59 Conundrum: Clue 8
10 pm News & Weather
10:17 Late Edition:
A review of the leading news from Morning Report, Nine to Noon, Afternoons and Checkpoint. Also hear the latest news from around the Pacific on Radio New Zealand International's Dateline Pacific.
11 pm News & Weather
11:06 Frank Zappa - the Radio is Broken
The Music Mix is in hiatus until Thursday 23 July, and a series on the late-great mother of invention, Frank Zappa takes its place.
In The Radio is Broken, Jim Gardner traces a personal thread through Zappa's 35 year career.
According to biographer Greg Russo, in his book 'Cosmik Debris: The Collected History and Improvisations of Frank Zappa':
"A very creative and intelligent five-part series on the musical career of Frank Zappa was created by James Gardner for Radio New Zealand Concert... With its expert editing and insightful analysis by Gardner, the program is the most definitive radio-oriented work on Zappa."