Music 101 for Saturday 23 May 2015
SJD takes us inside his West Auckland studio for a session with Sandy Mill.​

 

11:00 PM.SJD's  HQ, Faith No More's new album, Carb on Carb defend emo, and Heavy take us inside their kush mansion. Read more Audio
2–3pm
 
Emma Smith travels west to visit Auckland musicians Sean James Donnelly and Sandy Mill at Donnelly's Glen Eden home for a SJD session. This is the first in a series called Headquarters, where the RNZ Music team goes inside the homes and creative spaces of New Zealand musicians to capture them making music in situ. Featuring songs from Saint John Divine and Southern Lights.
Gareth Murphy: Cowboys and Indies
Author Gareth Murphy's new book, Cowboys and Indies: The Epic History of the Record Industry, follows the entire history of the record industry on both sides of the Atlantic. Murphy talks to Trevor Reekie about charting more than 160 years of the record labels and record label heads who shaped the history of making and selling music.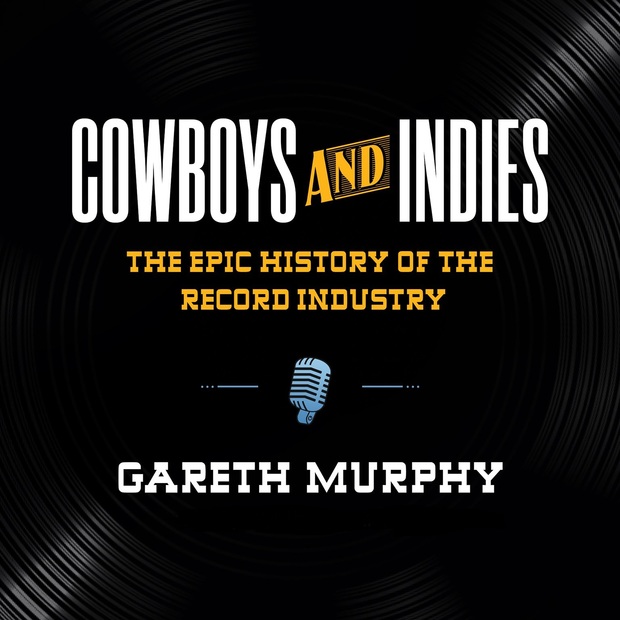 3–4pm
Faith No More
With 18 years between drinks, San Fran bizarro metal outfit Faith No More have returned with Sol Invictus, their seventh studio album, which sees the five-piece in suitably frenzied form. Sol Invictus producer and founding FNM member Billy Gould talks to Sam Wicks about the band's unlikely return.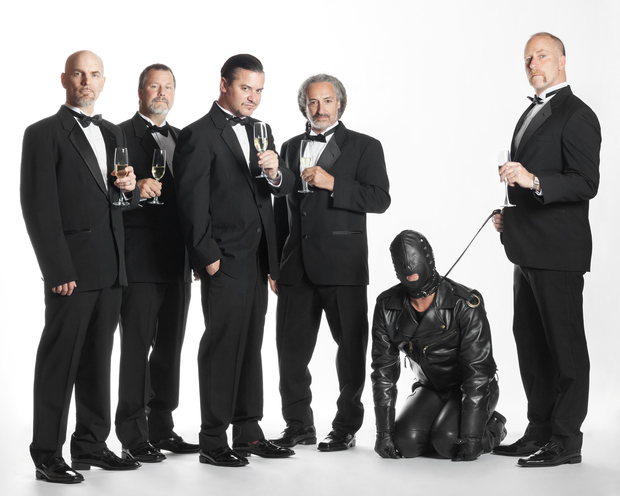 Faith No More (L-to-R: Jon Hudson, Billy Gould, Mike Patton, Mike Patton, Mike Bordin, friend and Roddy Bottum) / Photo by Dustin Rabin.
Why Remaster?
We talk remastering, shaping sound to formats and more issues in contemporary sound finessing with mastering engineer Angus McNaughton.
The Count Basie Orchestra
Nick Bollinger talks to current Musical Director, Scotty Barnhart ahead of the 80th anniversary world tour, which brings them back to New Zealand after 43 years.
Gig Guide
4–5pm
Tally Ho! Dunedin Sound Songs & Singers
On Saturday 28 February 2015, 20 iconic Dunedin songs from local musicians like The Chills, The Clean, Straitjacket Fits and The Verlaines were reworked by the Southern Sinfonia with favourite sons Shayne Carter, Martin Phillipps, David Kilgour and soprano, Anna Leese at the Dunedin Town Hall. Radio New Zealand's Andre Upston was on hand to capture their orchestral collaboration, which was arranged by Dr Graeme Downes.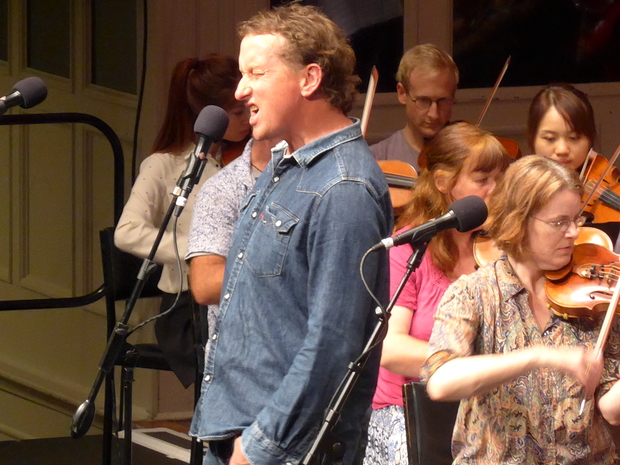 David Kilgour performing with the Southern Sinfonia / Photo by Tim Dodd.
Carb on Carb
Fresh from touring Singapore, Malaysia and Australia, we meet Auckland punk pop duo Carb on Carb, who take us through their debut self-titled long player.
The Sampler: If I was by The Staves
Nick Bollinger on the harmonies of the sibling trio.
Music played in this show
2-3pm
Artist: SJD
Song: Four Door
Composer: Donnelly
Album: Lost Soul Music
Label: Round Trip Mars
Headquarters: SJD
Artist: SJD
Song: I Want To Be Foolish, Was I Always Here, Southern Lights
Composer: S. Donnelly 
Album: RNZ Music Recording
Label: RNZ Music Recording
Interview: Gareth Murphy
Artist: Enrico Carusso
Song: Mi Par D'udir Ancora
Composer: Bizet
Album: Enrico Carusso
Label: Xelon Entertainment

Artist: Charley Patton
Song: The Spoonful Blues
Composer: Charley Patton
Album: The Best of Charley Patton
Label: Shanachie

Artist: Billie Holliday
Song: Riffin' the Scotch
Composer: Johnny Mercer, Dick McDonough, Benny Goodman
Album: Lady Day The Complete Billie Holliday
Label: Sony Music

Artist: Frank Sinatra
Song: Stormy Weather
Composer: Arlen, Koehler
Album: Sinatra
Label: Reprise

Artist: Dave Van Ronk
Song: House of the Rising Sun
Composer: Traditional – arranged by Dave Van Ronk
Album: Down in Washington Square: The Smithsonian Folkways Collection
Label: Smithsonian Folkways

Artist: The Beatles
Song: Tomorrow Never Knows
Composer: Lennon, McCartney
Album: Revolver
Label: EMI

Artist: Barret Strong
Song: Money
Composer: Gordy
Album: When the World Went Motown
Label: Tamla Records, Spite Records

Artist: Donna Summer
Song: Love To Love You Baby
Composer: Summer, Moroder, Bellote
Album: Endless Summer: Donna Summer's Greatest Hits
Label: Oasis

Artist: Michael Jackson
Song: Beat It
Composer: Michael Jackson
Album: Thriller
Label: Epic

Artist: Public Enemy
Song: Don't Believe the Hype
Composer: Riddenhout, Shocklee, Sadler, Drayton
Album: It Takes a Nation of Millions to Hold Us Back
Label: Def Jam, Columbia

Artist: Arca
Song: Xen
Composer: Arca
Album: Xen
Label:XL Recordings
Artist: Shamir
Song: On The Regular
Composer: Shamir
Album: Ratchet
Label: XL
Interview: Heavy
Artist: Heavy
Song: Nap Rap, Shrink, Double Stout, Kush Mansion ft. LVJ, Goin' In 
Composer: R. Nabhani, L. Dargaville
Album: Lock In
Label: Heavy
Artist: Ratatat
Song: Cream On Chrome
Composer: Ratatat
Album: 
Label:
3-4pm
Faith No More
Artist: Faith No More
Song: Sol Invictus, Matador, From the Dead
Composer: Gould, Patton
Album: Sol Invictus
Label: Reclamation

Artist: Faith No More
Song: Separation Anxiety, Black Friday
Composer: Bordin, Gould, Patton
Album: Sol Invictus
Label: Reclamation
Artist: Shihad
Song: Envy
Composer: Shihad
Album: Killjoy
Label: Wildside
Interview: Remastering with Angus McNaughton
Artist: Toy Love
Song: Rebel
Composer: Bathgate, Dooley, Kean, Knox, Walker
Album: Cuts
Label: Flying Nun

Artist: Frank Zappa
Song: Peaches in Regalia
Composer: Zappa
Album: Hot Rats
Label: Ryko

Artist: The Beatles
Song: Hey Jude
Composer: Lennon and McCartney
Album: The White Album
Label: Apple

Artist: Chubby Checker
Song: The Twist
Composer: Ballard
Album: Cameo Parkway 1957 - 1967
Label: Abkco

Artist: The Doors
Song: Light My Fire
Composer: The Doors
Album: The Doors
Label: Elektra

Artist: Red Hot Chilli Peppers
Song: Californication
Composer: Anthony Kiedis, Flea, John Frusciante and Chad Smith
Album: Californication
Label: Warner

Artist: Metallica
Song: The Day That Never Comes
Composer: Hetfield, Ulrich, Hammett, Trujillo
Album: The Death Magnetic
Label: Vertigo
The Sampler Interview: Count Basie Orchestra
Artist: Count Basie
Song: Jumpin' At The Woodside
Composer: Basie
Song: Moten Swing
Composer: Moten
Album: Jazz Masters
Label: EMI

Artist: Count Basie
Song: Jumpin' At The Woodside
Composer: Basie
Song: Lester Leaps In
Composer: Young
Album: Jumpin' At The Woodside
Label: Jazz Roots

Artist: Count Basie
Song: Shiny Stockings
Composer: Foster
Song: April In Paris
Composer: Duke

Artist: Count Basie 
Song: One O'Clock Jump
Composer: Basie
Album: Finest Hour
Label: Verve

Artist: Count Basie
Song: Jumpin' At The Woodside
Composer: Basie
Album: Basie In London
Label: Verve
Introducing: October
Artist: October
Song: Voids
Composer: E. Logan
Album: Voids single
Label: October

Gig Guide
Artist: 10CC
Song: I'm Not in Love
Composer: Stewart/Gouldman
Album: 10 CC's Greatest Hits 1972 -1978
Label: Mercury

Artist: Team Cat Food
Song: Anorak
Composer: Team Cat Food
Album: B. Gold In Quartz
Label: Team Cat Food
4-5pm
Tally Ho! Dunedin Songs and Singers
Artist: Anna Leese and Southern Sinfonia
Song: Flowers
Composer: The Clean
Album: RNZ Music Recording
Label: RNZ Music Recording

Artist: Shayne Carter and Southern Sinfonia
Song: She Speeds
Composer: S.Carter, Straightjacket Fits
Album: RNZ Music Recording
Label: RNZ Music Recording

Artist: Anna Leese and Southern Sinfonia
Song: Dirge
Composer: G.Downes
Album: RNZ Music Recording
Label: RNZ Music Recording

Artist: David Kilgour and Southern Sinfonia
Song: Getting Older
Composer: D.Kilgour
Album: RNZ Music Recording
Label: RNZ Music Recording

Artist: Martin Phillipps and Southern Sinfonia
Song: Submarine Bells
Composer: M.Phillipps
Album: RNZ Music Recording
Label: RNZ Music Recording
Artist: Astro Children
Song: Play It As It Lays
Composer: Astro Children
Album:
Label: Self
Interview: Carb on Carb
Artist: Carb on Carb
Song: Best Your Worse, The War on Men, Phenomenal Ladies, Not Cute Anymore, Kei Tamaki
Composer: Gaffney, Stuteley
Album: Carb on Carb
Label: self
The Sampler: The Staves
Artist: The Staves
Songs: Steady, Blood I Bled, Damn It All, Don't You Call Me Anymore, No Me No You No More, Teeth White, Sadness Don't Own Me
Composer: The Staves
Album: If I Was
Label: Atlantic