Music 101 for Saturday 16 May 2015
11:00 PM.Inside the jukebox minds of She's So Rad, Bic Runga and Hollie Fullbrook premier new songs in session and WyWy Brix putting his body on the line for music. Read more Audio

6:00 AM.New Zealand songwriting royalty, Bic Runga and Tiny Ruins, are doubling their musical powers with a nationwide tour that will see the pair debut new material, play on each other's songs, and even… Read more Audio
BB King
Local bluesman Darren Watson on the influence of the godfather of electric blues, BB King, who died this week. 
Bic Runga and Tiny Ruins in Session
New Zealand songwriting royalty, Bic Runga and Tiny Ruins, are doubling their musical powers with a nationwide tour that will see the pair debut new material, play on each other's songs, and even tackle some handpicked cover tunes. Ahead of their co-headlining run, they join Emma Smith in session.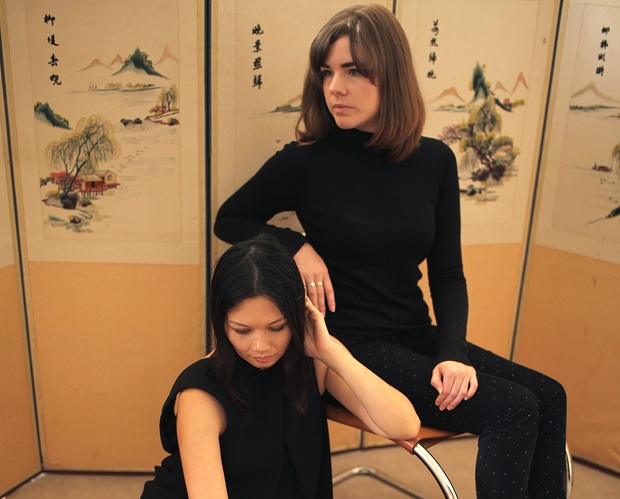 Bic Runga and Tiny Ruins / Photo by Kody Nielson.
So Laid Back Country China- With Knees of Honey in Goodbye Canyon
Michael Keane and Harriet Ferry on the difficult feelings and delicious textures on their debut album.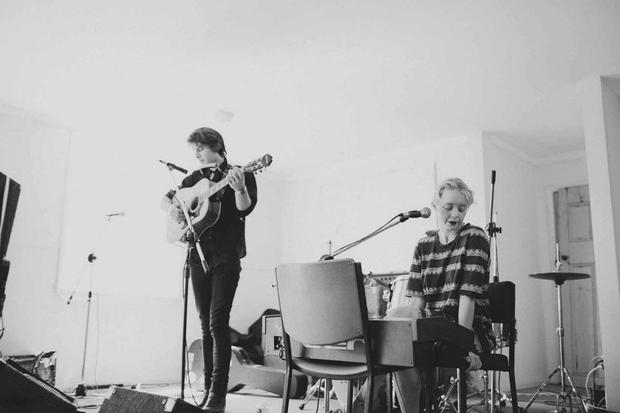 So Laid Back Country China / Photo supplied
 
3-4pm
Paul Weller
With the release of Saturns Pattern, Paul Weller is now 12 albums deep into his solo career and 40 years into an style-shifting musical orbit kickstarted by his tenure with UK punk pioneers, The Jam. The Modfather talks to Sam Wicks about his restless rock'n'roll output.  
Paul Weller and Sam Wicks / Photo by Troy Ferguson.
She's So Rad
After a brief sojourn into disco, the Auckland duo of Anji Sami (Sami Sisters) and Jeremy Toy (Opensouls) return to their shoegaze roots on their new album Tango, keeping things interesting with a few searing lead breaks and guest rap vocals along the way. Emma Smith joins them in the studio. 
 She's So Rad: Anji Sami & Jeremy Toy / Photo by Emma Smith
Wywy Brix- Clear Liquorice
Formerly known as Cartoon, Ryan Bennett discusses pushing his body to it's limits, the joys of repetition and his debut album as Wywy Brix.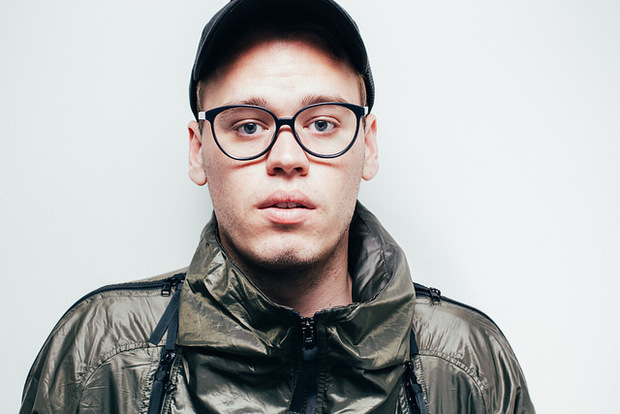 Wywy Brix: Ryan Bennett
4-5pm
Jack Body
Acclaimed Wellington composer, photographer, academic and Asian music expert, Jack Body, passed away this week, just days after receiving an Arts Foundation New Zealand Icon Award. Daniel Beban presents a collection of Jack Body's extraodinary compositions in tribute to the life and times of this tireless musical force.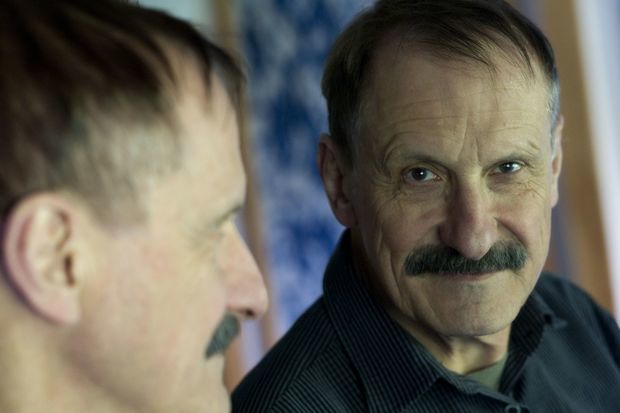 Jack Body, taken 3 September 2011 at the composer's house, Brooklyn, Wellington / Photo by Gareth Watkins.
The Labcoats
The Labcoats, Wellington's weirdest pop band, or popiest art band, only play a gig every few years and put out an album every 10 years or so – yet they are very much a band. Samuel Scott find out how they jammed, cut and sliced their way to their second album, O Potassium!, and why it is they play so rarely when they so obviously love what they're doing.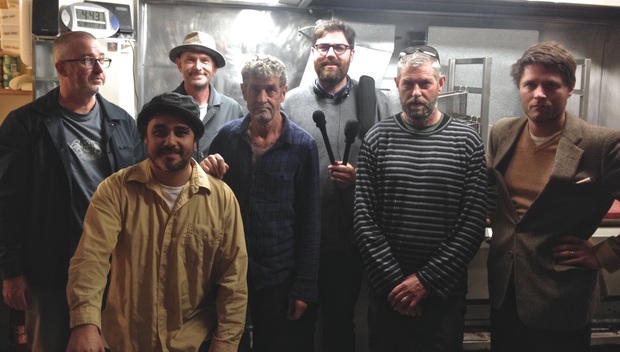 The Labcoats (L-to-R: David Long, Riki Gooch, Steve Roche, Anthony Donaldson, Samuel Scott, David Donaldson and Toby Laing) / Photo by Samuel Scott.
The Sampler: Flying Nun Reissues
Music played in this show
2- 3pm
Artist: Carnivorous Plant Society
Song: Slave Song
Composer: Carnivorous Plant Society
Album: Carnivorous Plant Society
Label: Carnivorous Plant Society

Interview: RIP B.B King
Artist: B.B. King
Song: How Blue Can You Get?
Composer: Feather, Feather
Album: Live at the Regal
Label: MCA
In Session: Bic Runga and Hollie Fullbrook
Artist: Bic Runga and Hollie Fullbrook
Song: So Long, Frank Lloyd Wright
Composer: Paul Simon
Album: Unreleased
Label: RNZ Recording

Artist: Bic Runga and Hollie Fullbrook
Song: I Dreamed a Dream
Composer: Runga
Album: Unreleased
Label: RNZ Recording

Artist: Bic Runga and Hollie Fullbrook
Song: Hurtling Through
Composer: Fullbrook
Album: Unreleased
Label: RNZ Recording
Artist: Mac DeMarco
Song: The Way You'd Love Her
Composer: Mac DeMarco
Album: Another One
Label: Captured Tracks
Interview: So Laid Back Country China
Artist: So Laid Back Country China
Song: Them/ They, Mind So Cold, Open Eyed.
Composer: So Laid Back Country China
Album: With Knees of Honey in Goodbye Canyon
Label: self
Artist: Smog
Song: Rock Bottom Riser
Composer: Bill Callahan
Album: A River Ain't Too Much Love
Label: Spunk
Artist: Prefuse 73
Song: Inside
Composer: Prefuse 73
Album: Rivington Não Rio
Label: Temporary
3-4pm
Interview: Paul Weller
Artist: Paul Weller
Song: Saturns Pattern, In the Car..., Long Time, White Sky, I'm Where I Should Be, These City Streets, Pick It Up
Composer: P.Weller
Album: Saturns Pattern
Label: Warner Music
Artist: Cocteau Twins
Song: Lorelei
Composer: Cocteau Twins
Album: Treasure
Label: Capitol
Interview: She's So Rad
Artist: She's So Rad
Songs: War, Cool It
Album: Tango
Label: From the Crate Records

Artist: My Bloody Valentine
Song: Only Shallow
Composer: Shields, Butcher
Album: Loveless
Label: Sony

Artist: PM Dawn
Song: Set Adrift On Memory Bliss
Composer: Cordes, Kemp
Album: Of The Heart, Of The Soul And Of The Cross: The Utopian Experience
Label: Vicious

Artist:Teenage Fanclub
Song: Baby Lee
Composer: Teenage Fanclub
Album: Shadows
Label: Merge

Artist: The Roots
Song: I Remember
Composer: Mateen, Trotter, Thompson
Album: Undun
Label: Def Jam

Artist: De La Soul
Song: A Roller Skating Jam Named Saturdays
Composer: Huston, Mercer, Jolicoeur, Mason, Mathews, Davis
Album: De La Soul Is Dead
Label: Rhino

Artist: Deftones
Song: Change (In the House of Flies)
Composer: Deftones
Album: White Pony
Label: Maverick

Artist: David Dallas
Song: Runnin'
Composer: Dallas,Iusitini,Iusitini, Britt, Morgan,Motzer
Album: Falling into Place
Label: Dawn Raid

Artist: She's So Rad
Songs: Say the Word (ft. David Dallas), Kick out of Life
Composers: Dallas, Sami and Toy
Album: Tango
Label: From the Crate Records
Artist: Boy Crush
Song: Flirt
Composer: Deverick
Album: Girls On Top
Label: self
Interview: Wywy Brix
Artist: Wywy Brix
Song: Solar Power
Composer: R. Bennet
Album: Clear Licorice
Label: 1080p

Artist: Cartoon
Song: DJ Turd
Composer: R. Bennet
Album: 69er On A Magic Carpet
Label: Cartoon

Artist: Wywy Brix
Song: Polydactyl, Plea, Freak Me ft. Xiao Feng, Escitalo feat. Xiao Feng
Composer: R. Bennet
Album: Clear Licorice
Label: 1080p
 
Introducing: Markdown
Artist: Markdown
Song: Remove Your Card
Composer: Markdown
Album: Boneman EP
Label: Markdown

Gig Guide
Artist: PCP Eagles
Song: The Ballad Of Stuart Young
Composer: PCP Eagles
Album:The Ballad Of Stuart Young single
Label: PCP Eagles
Artist: Boycrush
Song: Flirt Yumi Zouma/Madeira
Composer: Boycrush
Album: Girls On Top
Label: Boycrush

Artist: Shlohmo
Song: Beams
Composer: H. Laufer
Album: Dark Red
Label: True Panther Sounds
 
Artist: Bone Thugs- in-Harmony
Song: Tha Crossroads
Composer: Cowan, Henderson, Howse, Isley
Album: Greatest Hits
Label: Ruthless
 
4-5pm
Interview: Dan Beban on Jack Body
Artist: New Zealand National Youth Choir
Song: Carol to St Stephen
Composer: Body
Album: Te Roopu Rangatahi o Aotearoa 
Label: Manu

Artist: Jack Body
Song: Musik Dari Jalan
Composer: Body
Album: Cultures Electroniques I
Label: Chant du Monde

Artist: Jack Body
Song: Campur Sari (I) (New Zealand String Quartet With Budi Putra (Gamelan)
Composer: Body
Album: Pulse
Label: Rattle

Artist: Jack Body
Song: Fanfares
Composer: Body
Album: Suara: Environmental Music From Java
Label: Ode

Artist: Jack Body
Song: Intimate History no. 2: ssteve
Composer: Body
Album: Single
Label: Sounz
The Labcoats
Artist: The Labcoats
Song: Xmas In The Park, My Bed is Warm, The Friendly Headhunters
Composer: David Long, Steve Roche, Riki Gooch, Toby Laing, David Donaldson, Anthony Donaldson
Album: O'Potassium
Label: Braille

The Sampler: Able Tasmans, Sneaky Feelings, The Stones
Artist: Able Tasmans
Songs: Little Hearts, Rainbow, And We Swam the Magic Bay
Composer: Able Tasmans
Album: A Cuppa Tea and A Lie Down
Label: Flying Nun

Artist: Sneaky Feelings
Song: Not To Take Sides
Composer: Bannister
Song: Strangers Again
Composer: Durrant
Song: Throwing Stones
Composer: Pine
Album: Send You
Label: Flying Nun

Artist: The Stones
Songs: Gunner Ho, At The Café, Funky Conversations, Think About It
Composer: Batts/Anderson/Elsey
Album: Three Blind Mice
Label: Flying Nun