Music 101 for Saturday 30 May 2015
11:00 PM.Ireland's Soak on what sparks her songs, Deva Mahal returns home from NYC, Trinity Roots live, and Ross McHenry with the future of Australian Jazz. Read more Audio
2–3pm
Cairo Knife Fight
Cairo Knife Fight multi-instrumentalist Nick Gaffaney is a consummate multitasker in more ways than one – not only does he hold down the beat and sing for this NZ-born, LA-based hard rock outfit, but he's also steered the band through multiple line-up changes, recruiting a series of new guitarists to fill the shoes of former CKF mainstay, Aaron Tokona. With the release of Cairo Knife Fight's new LP, The Colossus, Gaffaney talks to Music 101 about rolling with the punches.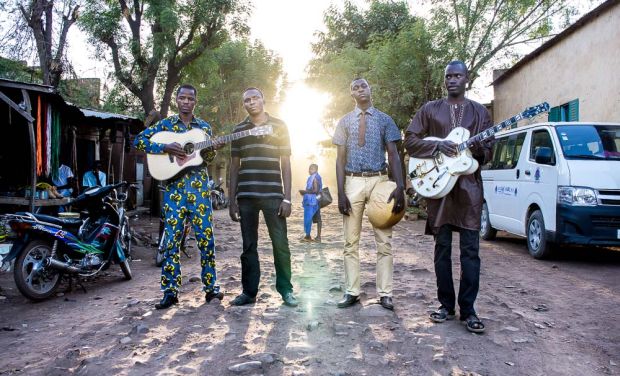 Songhoy Blues. Photo by Andy Morgan.
Nick Bollinger discovers the Malian quartet's debut album that infuses their traditional musical forms with contemporary urban and blues sensibilities.
Trinity Roots in Session
In March, Trinity Roots returned with the jazz and rock-infused Citizen, the band's first new studio recording in 11 years and their first with drummer Ben Wood behind the kit. Currently in the midst of a nationwide tour, we capture the trio in session on stage at Auckland venue, Tuning Fork.
SOAK
Picked as one of the acts to appear on the BBC Sound of 2015 long list, 19-year-old Irish musician Bridie Monds-Watson – aka SOAK – releases her album-length debut, Before We Forgot How to Dream, this month. Emma Smith has an audience with a singer-songwriter poised to do big things.
3–4pm
Deva Mahal
NYC-based soul, blues  jazz artist Deva Mahal is back in New Zealand. On this visit, the daughter of Taj Mahal has returned to the stage with her siblings, Ahmen (AKA Imon Starr) and Zoe. She's also made time to hit her old haunts with Electric Wire Hustle.  Yadana Saw talks to Deva and fellow spawn of a musical legend, Mara TK about their family dynamics and the modern business of being a musician.
Ross McHenry is on the bill of this year's Wellington Jazz festival, playing with his Future Ensemble, a band that includes New Zealand's own Myele Manzanza on drum duties. McHenry talks us through his future-shocked take on jazz music.
The Sampler: Ratchet by Shamir
Melody Thomas review the debut LP from Las Vegas native, Shamir.
4–5pm
Princess Chelsea live at The Kings Arms
On the back of the release of her second LP, The Great Cybernetic Depression, Princess Chelsea embarked on a tour that began at Dunedin's Chick's Hotel and finished up at Auckland's Kings Arms. Radio New Zealand. Radio New Zealand's Andre Upston was there to record the final show of Chelsea's five-show run.
Antagonist A.D.
Over the last 10 years Antagonist A.D. have grown a loyal and dedicated following through relentless touring on home turf and abroad. Zac Arnold joins frontman Sam Crocker to discuss their fourth album Haunt Me As I Roam and how New Zealand's hardcore scene has evolved over the last decade.
Music played in this show
2-3pm

Artist: A Hori Buzz
Song: Turnaround (Joe Revell remix)
Composer: A.Tokona, J.Revell
Album: unreleased
Label: LOOP Recordings
Interview: Cairo Knife Fight
Artist: Cairo Knife Fight
Song: Battle Damage
Composer: Gaffaney, Tokona
Album: The Colossus
Label: Warner Music 

Artist: Cairo Knife Fight
Song: All in the Game, Reality Engine
Composer: Gaffaney, Haines
Album: The Colossus
Label: Warner Music 

Artist: Cairo Knife Fight
Song: Climbing Through Ashes
Composer: Gaffaney, Lanegan, Haines
Album: The Colossus
Label: Warner Music 

Artist: Cairo Knife Fight
Song: Degrader
Composer: Gaffaney, Knapp
Album: The Colossus
Label: Warner Music
 
Artist: Songhoy Blues
Song: Nick
Composer: Songhoy Blues
Album: Music in Exile
Label: Transgressive
Trinity Roots in Session
Artist: Trinity Roots
Song: Citizen
Composer: Trinity Roots
Album: Unreleased
Label: RNZ Recording
Artist: The Congos
Song: Can't Come In
Composer: The Congos
Album: Heart of The Congos
Label: Black Art
Artist: Camera Obscura
Song: Lloyd, I'm Ready To Be Heartbroken
Composer: Camera Obscura
Album: Let's Get Out Of This Country
Label: Popfrenzy
Interview: Soak
Artist: Soak
Song: Blud, B A Nobody, a dream to fly, if everyone is someone no one is everyone, my brain, SEA CREATURES
Composer: Soak
Album: Before We Forgot How To Dream
Label:
Artist: Sun Kil Moon
Song: Cry My A River, Williamsburg Sleeve Tattoo
Composer: Sun Kil Moon
Album: Universal Themes
Label: Caldo Verde
3-4pm
Artist: Taj Mahal
Song: Leaving Trunk
Composer: Mahal
Album: Taj Mahal
Label: Columbia
Interview: Deva Mahal and Mara TK
Artist: EWH feat. Deva Mahal
Song: March
Composer: Mahal,Te Kahika, Wright,
Album: Single
Label: Private

Artist: Fredericks Brown
Songs: Can't Pretend
Composer: Fredericks Brown
Album: Glass House Mountains
Label: Fredericks Brown

Artist: Billy TK and Powerhouse
Song: Southern Man
Composer: Young
Album: Move On Up
Label: EMI

Artist: Taj Mahal
Song: Never Let You Go
Composer: Mahal, Mahal
Album: Maestro
Label: Heads Up

Artist: Electric Wire Hustle
Song: Gimme That Kinda
Composer: Manzanza, Te Kahika, Wright
Album: Electric Wire Hustle
Label: Every Waking Hour
Artist: Leon Bridges
Song: Coming Home
Composer: Bridges
Album: Coming Home
Label: Sony
Interview: Ross McHenry
Artist: Ross McHenry
Song: Distant Oceans Pt2, Across The Sky, Living On Both Sides
Composer: Ross McHenry
Album: Distant Oceans
Label: Ross McHenry
Artist: Kamasi Washington
Song: Final Thought
Composer: Washington
Album: The Epic
Label: Brainfeeder
Introducing: Jono Das
Artist: Jono Das ft. Lisa Wright
Song: Ten Things
Composer: J.de Alwis, L.Wright
Album: Illustrations 
Label: Private
The Samper: Shamir-Ratchet
Artist: Shamir
Songs: Las Vegas, Youth, On the Regular, Call it Off, Make a Scene, Head in the Clouds
Composer: Shamir
Album: Ratchet
Label: XL Recordings
4-5pm
Live: Princess Chelsea At The King's Arms
Artist: Princess Chelsea
Song: We're So Lost, Frack, Ice Reign, Cigarette Duet
Composer: C.Nikkel
Album: RNZ Music Recording
Label: RNZ Music Recording
Artist: The Chase
Song: Boomers
Composer: The Chase
Album: Paranoia
Label: The Chase
Interview: Antagonist A.D
Artist: Antagonist A.D.
Song: Coffin Keeper, Mother, Father, Old Love, Downer ft. Sam Carter, Ugly Days, Dogs Blood ft. JJ Peters, For Anyone That Hurts
Composer: Antagonist A.D.
Album: Haunt Me As I Roam
Label: UNFD
Artist: Tanned Christ
Song: No Love Ever
Composer: Tanned Christ
Album: Antipodean Sickness
Label: UNFD
Artist: Skalper
Song: Lullaby feat. Claire Duncan
Composer: Skalper
Album: The Emperor's Clothes
Labe