Music 101 for Saturday 21 February 2015
5:00 PM.We speak to Perfume Genius, Weird Together and A Place to Bury Strangers. With new cuts from Metz, Blur, Trinity Roots and Yumi Zouma. Read more Audio

Pōwhiri for manuhiri at Splore 2015, kicking off the festivities on Friday afternoon.
Music 101 (@radionzmusic) is live tweeting from Splore 2015
2-3pm
Perfume Genius
Seattle's Mike Hadreas, a.k.a. Perfume Genius is in the country for shows this weekend - Emma Smith catches up with him.
Weird Together
Globetrotting producers and DJs Nick D and Dick 'Magik' Johnson are Weird Together, a worlds-colliding collaboration that sees the production duo and their international band of players rework their favourite strains of global dance music, riffing on the sounds of Africa, South America and the Caribbean. Ahead of their World Together festival at Auckland's Silo Park on Saturday 28 February, Weird Together talk to Sam Wicks about their United Nations approach to the dancefloor.

Weird Together.
The Sampler: Father John Misty - I Love You Honeybear
Nick Bollinger reviews an album of counter-cultural confessionals from Laurel Canyon's Josh Tillman, former drummer and harmony singer for The Fleet Foxes.
3-4pm
Supermensch
Shep Gordon managed an eclectic bunch of artists that included Alice Cooper, Anne Murray, Groucho Marx, Teddy Pendergrass and many more. He's also credited with creating the 'celebrity chef' phenomenon. Gordon's career has recently been documented in a new movie directed by Mike Myers called Supermensch: The Legend of Shep Gordon. Trevor Reekie caught up with Gordon to talk about the movie and his career.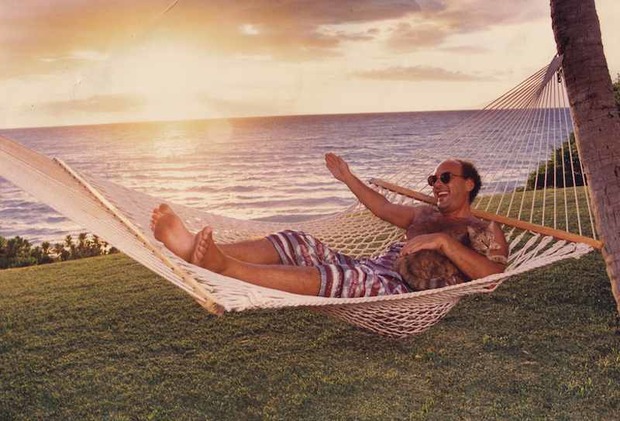 Shep Gordon relaxing at his beachfront Hawaiian home in Maui.
A Place To Bury Strangers
After The D4 disbanded in 2006, guitarist Dion Lunadon (Palmer) hightailed it to the US, finding his flow in the downtown New York rock scene. His new band, A Place To Bury Strangers have just released their fourth album, Transfixiation. Dion tells Emma Smith about pushing through thresholds of noise and chaos on this latest album.
Woodcock Festival
Founded by Austin Cunningham and his promotion company, Tauranga Music Sux, the Woodcock Festival is an annual celebration of the local D.I.Y. scene. Or is it? With the event in its third year, Frank Eggleton travelled to the festival to meet this community of musicians living behind a veil of self-deprecation and find out whether there is a ring of truth lying behind the 'Tauranga Music Sux' name.
Barracks' Jud Ipsen performing at Woodcock / Photo by Chris O'Donnell.
4-5pm
The Secret Life of Karaoke
Whether it's at a sports bar, a sibling's birthday party or in a private booth at 3am, at some point in your life you may well have grabbed a microphone, started the midi backing track and let yourself be judged by your nearest and dearest.
Music 101's Zac Arnold investigates how Karaoke has weaved its way from Japan into all corners of the globe, delving into the psychology of why we perform in front of each other, and takes to the private booths to sing his heart out.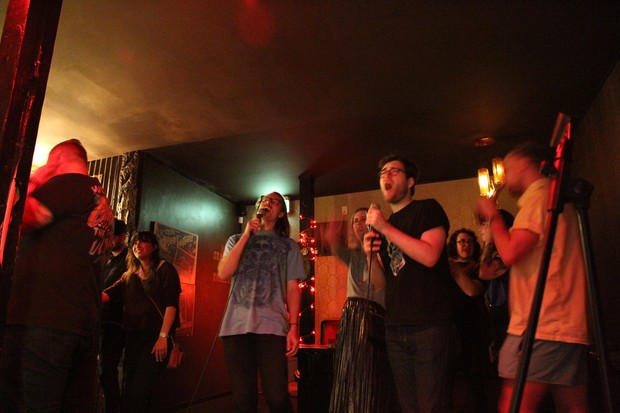 Karaoke night at Auckland venue The Lucha Lounge / Photo by Jenna Todd
Introducing: Lipgloss Slumberparty
The Sampler: Belle and Sebastian
Nick Bollinger reviews the Scottish outfit's latest release that edges towards the dancefloor.
Music played in this show
2-3pm
Artist: Spiro and Adrian Utley
Song: The Vapourer
Composer: Utley/Spiro
Album:The Vapourer
Label: Real World
Perfume Genius interview

Artist: Perfume Genius
Song: Fool, Queen, Grid, My Body
Composer: Perfume Genius
Album: Too Bright
Label: Matador
Artist: Trinity Roots
Song: El Kaptain
Composer:Maxwell, Hemopo, Wood
Album: Citizen
Label: Self Released
Weird Together interview

Artist: Weird Together
Songs: Mbira, No Compromise, Kalahari, Gban Gban Lewa, Karimas Story
Composer: N.Dwyer, D.Johnson
Album: No Compromise
Label: Soundway Records
Artist: Blur
Song: Go Out
Composer: Blur, Albarn
Album:The Magic Whip
Label:Parlophone
Artist: Sufjan Stevens
Song: No Shade in the Shadow of The Cross
Composer: Stevens
Album: Carrie and Lowell
Label:Asthmatic Kitty
The Sampler: Father John Misty I Love You, Honeybear

Artist: Father John Misty
Songs: Strange Encounter, I Went To The Store One Day, I Love You Honeybear, Bored In The USA, Nothing Ever Happens At The Goddamn Thirsty Crow
Composer: Tillman
Album: I Love You, Honeybear
Label: Sub Pop
Artist: Dan Deacon
Song: Learning to Relax
Composer: Dan Deacon
Album: Gliss Riffer
Label: Domino
3-4pm
2015 Taite Music Prize finalists

@peace – '@peace and the Plutonian Noise Symphony' (Young, Gifted and Broke)
Aldous Harding - 'Aldous Harding' (Lyttleton Records/Flying Out)
Delaney Davidson – 'Swim Down Low' (Outside Inside)
Electric Wire Hustle – 'Love Can Prevail' (EWH Ltd. / Okayplayer Records)
Grayson Gilmour – 'Infinite Life!' (Flying Nun Records)
Jakob - 'Sines' (Shoot The Freak)
Kimbra – 'The Golden Echo' (Warner Brother Records)
Tiny Ruins – 'Brightly Painted One' (Arch Hill Recordings/Spunk Records)
Mulholland – 'Stop & Start Again' (Mulholland)
Tami Neilson – 'Dynamite' (Neilson Records)
Shep Gordon interview
Artist: Alice Cooper
Song: Hello, Hooray
Composer: Rolf Kempf
Album: Mascara & Monsters: The Best Of Alice Cooper
Label: Rhino Records
Artist: Mascara & Monsters: The Best Of Alice Cooper
Song: Billion Dollar Babies
Composer: Alice Cooper, Michael, Bruce, Reggie, Vincent
Album: Mascara & Monsters: The Best Of Alice Cooper
Label: Rhino Records
Artist: Mascara & Monsters: The Best Of Alice Cooper
Song: No More Mr. Nice Guy
Composer: Alice Cooper, Michael, Bruce.
Album: Mascara & Monsters: The Best Of Alice Cooper
Label: Rhino Records
Artist: Harold Melvin & The Blue Notes
Song: If You Don't Know Me By Now
Composer: Gamble, Huff
Album: The Essential Teddy Pendergrass [Disc 1]
Label: Sony, BMG
Artist: Teddy Pendergrass
Song: Get Up, Get Down, Get Funky, Get Loose
Composer: Gamble, Huff
Album: The Essential Teddy Pendergrass [Disc 2]
Label: Sony, BMG
Artist: Gabby Pahinui
Song: Hula Medley
Composer: Gabby Pahinui
Album: The History of Slack Key Guitar
Label: Hana Ola Records
Artist: Teddy Pendergrass
Song: Life Is A Song Worth Singing
Composer: Bella, Creed
Album: The Essential Teddy Pendergrass [Disc 1]
Label:Sony, BMG
Artist: The D4
Song: Get Loose
Composer: The D4
Album: 6Twenty
Label:Flying Nun
Dion Lunadon interview (A Place to Bury Strangers)

Artist: A Place To Bury Strangers
Song: to come
Composer: A Place To Bury Strangers
Album: Transfixiation
Label: Dead Oceans
Artist: Metz
Song: Acetate
Composer: Metz
Album:Metz II
Label: Sub Pop
Woodcock Festival report
Music details to come
Gig Guide music bed
4-5pm
The Secret Life of Karaoke

Artist: Dave Dobbyn w. The Herbs
Song: Slice Of Heaven
Composer: Dave Dobbyn
Album: Footrot Flats: A Dogs Tail
Label: CBS Records New Zealand
Artist:Earthquake
Song: Ttaengbeol
Composer:
Album:
Label:
Artist: Spice Girls
Song: 2 Become 1
Composer: Spice Girls, Matt Rowe, Richard Stannard
Album: Spice
Label: Virgin
Artist: Lee Seung Gi
Song: I'll Give It
Composer:
Album:
Label:
Artist: Shaggy
Song: It Wasn't Me
Composer: Shaggy, RikRok, Shaun Pizzonia, Braun Thompson
Album: Hot Shot
Label: MCA
Artist: Red Hot Chilli Peppers
Song: Under The Bridge
Composer: Flea, Frusciante, Kiedis, Smith
Album: Blood, Sugar, Sex, Magik
Label: Warner Bros
Artist: Dragon
Song: Rain
Composer: J. Pigott, M. Hunter, T. Hunter
Album: Body and the Beat
Label: Mercury
Artist: Wilson Phillips
Song: Hold On
Composer: Chynna Phillips, Glen Ballard, additional lyrics by Carnie Wilson
Album: Wilson Phillips
Label: SBK
Artist: Weezer
Song: Say It Ain't So
Composer: Rivers Cuomo
Album: Weezer
Label: DGC
Artist: Prince and The Revolution
Song: Purple Rain
Composer: Prince
Album: Purple Rain
Label: Warner Brothers
Artist: Lauryn Hill
Song: Doo Woop (That Thing)
Composer: Hill
Album: The Miseducation of Lauryn Hill
Label:Columbia
Introducing: Lipgloss Slumberparty

Artist: Lipgloss Slumberparty
Song: SPACEVOX
Composer: Liam Pram
Album: Roland E-28 EP
Label: Turbotechno
Artist: Hot chip
Song: Huarache Lights
Composer: Hot Chip
Album: Why Make Sense?
Label: Domino
The Sampler: Belle and Sebastian - Girls in Peacetime Want to Dance

Artist: Belle and Sebastian
Songs: The Cat With The Cream, Allie, Nobody's Empire, The Party Line, The Power Of Three, Enter Sylvia Plath, Today (This Army's For Peace)
Composer: Murdoch
Album: Girls In Peacetime Want To Dance
Label: Matador
Artist: Yumi Zouma
Songs: Catastrophe
Composer: Yumi Zouma
Album: EP II
Label: Cascine

Artist: Roy Ayers
Songs:Mystic Voyage
Composer: Ayers
Album: The Best of
Label:Polydor