Music 101 for Saturday 28 February 2015
5:00 PM.Zac Arnold riffs with Rock Star Guitarist Slash; Soundgarden drummer Matt Cameron opens up about juggling stick duties; and Mani Dunlop drops in on the beachside festivities at Splore 2015. Read more Audio
2–3pm
Slash
Synonymous with a Les Paul guitar, stacks of Marshall amps and that leather top hat, guitar god Slash is one of the last of a dying breed of rock star archetypes. Zac Arnold puts his own questions and those from a series of famous New Zealand guitarists to the man behind the myth.
We last spoke to Slash in 2010.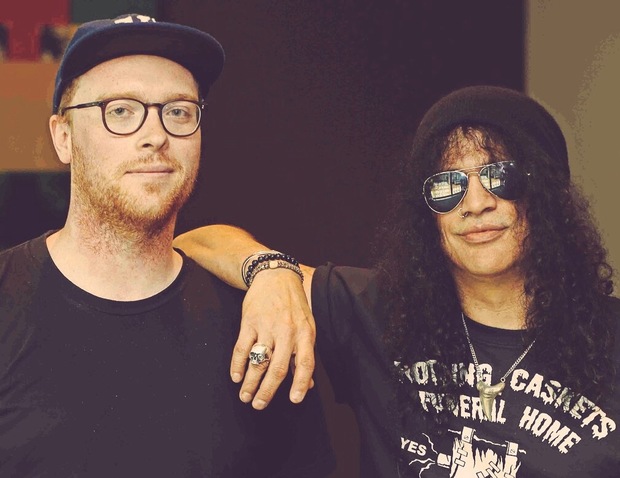 Zac Arnold and Slash / Photo by Alexander Robertson.
The Sampler: Richard Thompson
As a teenager Richard Thompson was a founder member of London-based band Fairport Convention. More than forty years on, this singer, songwriter and guitar hero is revered for his unique blend of English and Celtic folk elements in a distinctive and original style. Nick Bollinger talks to the revered folk figurehead ahead of his performance at this years WOMAD festival.
Soundgarden
Drummer Matt Cameron is a quintessential part of the Seattle rock fraternity that blossomed in the early 90s, having held down the beat for bands including Skin Yard, Bam Bam and Temple of the Dog, as well as side projects Hater and Wellwater Conspiracy. His most important gigs though are behind the kit for alt-rock behemoths Soundgarden and Pearl Jam, which he splits his time between. Soundgarden are in the country next week to play Westfest 2015 at Auckland's Mt Smart Stadium – ahead of their headlining slot, Cameron talks to Sam Wicks about pulling double duties.
Soundgarden (L-to-R: Ben Shepherd, Matt Cameron, Kim Thayil and Chris Cornell) / Photo by Michael Lavine.
3–4pm
The Pop Group
Formed in Bristol in 1977, The Pop Group was at the forefront of the post-punk movement, carving out an influential niche for themselves that has seen them name dropped by the likes of Nick Cave, Primal Scream and Massive Attack. Uncompromising and cutting edge, The Pop Group split in in 1981 but reformed in 2010, and are set to play a one-off show at Auckland's Kings Arms on 4 March. Trevor Reekie talks to vocalist Mark Stewart about the return of The Pop Group.

The Pop Group / Photo by Chiara Meattelli and Dominic Lee Web.

Introducing: Instant Fantasy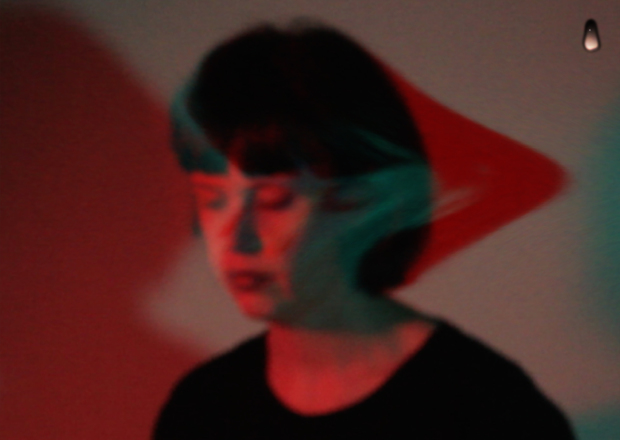 Gemma Syme of Instant Fantasy
Splore 2015
Music 101 has been heading to Tapapakanga to cover Splore since the music and arts festival first made the Auckland regional park its home in 2008. This year, Music 101's Mani Dunlop took on the sought-after assignment, checking out the music, art and culture offerings, and interviewing Splore 2015 headliners including Tinashe, Deltron 3030's Dan the Automator and The Correspondents.

Tinashe and Mani Dunlop backstage at Splore 2015.
Gig Guide
4–5pm
The Secret Life of Music Therapists
Even before birth we are attuned to the tone and rhythm of our mother's heartbeat and voice. Music and sound can move us in deeply profound ways and it is a language anyone can speak.

In the Secret Life of Music Therapists, Yadana Saw explores the power of sound by meeting music therapists and the people they work with. From toddlers with special needs to people overcoming eating disorders and palliative care patients, we learn that music is a powerful medicine in many different worlds.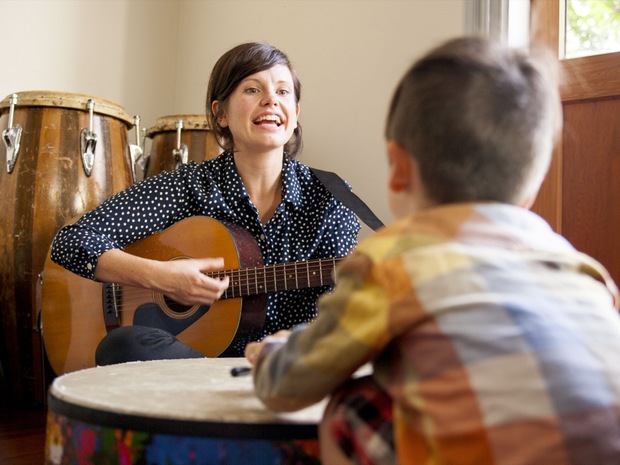 Music Therapist Pip Algie / Photo by Stan Alley.
The Sampler: The Unthanks, Mount The Air
Nick Bollinger reviews a symphonic folk opus from Northumberland group The Unthanks.
Music played in this show
2-3pm
Artist: Cream
Song: Steppin' Out
Composer: Bracken
Album: The BBC Sessions
Label: Polydor
Slash Interview

Artist: Gun N' Roses
Song: Paradise City
Composer: Axl Rose, Duff McKagan, Izzy Stradlin, Slash
Album: Appetite For Destruction
Label: Geffen

Artist: Rackets
Song: Wash My Brain
Composer: Rackets
Album: Wash My Brain single
Label: Self Released

Artist: Gun N' Roses
Song: November Rain
Composer: Axel Rose
Album: Use Your Illusion Pt. 1
Label: Geffen

Artist: Unknown Mortal Orchestra
Song: One At A Time
Composer: Ruban Nielson
Album: Unknown Mortal Orchestra II
Label: Jagjagwar

Artist: Michael Jackson
Song: Black or White
Composer: Michael Jackson, Bill Bottrell
Album: Dangerous
Label: Epic

Artist: Ladyhawke
Song: My Delirium
Composer: Phillipa Brown, Hannah Robinson, Alex Gray, Pascal Gabriel
Album: Ladyhawke
Label: Universal

Artist: Gun N' Roses
Song: Sweet Child Of Mine
Composer: Axl Rose, Slash, Izzy Stradlin
Album: Appetite For Destruction
Label: Geffen
Artist: Led Zeppelin
Song: The Battle of Evermore
Composer: Page / Plant
Album: Led Zeppelin 4
Label: Atlantic Records
The Sampler: Richard Thompson Interview

Artist: Richard Thompson
Songs: Stuck On The Treadmill, The Snow Goose, Stony Ground, My Enemy, Salford Sunday
Composer: Thompson
Album: Electric
Label: Proper

Artist: Thompson Family
Song: That's Enough
Composer: Thompson
Album: Thompson Family
Label: Fantasy
Artist: Bombino
Song: Amidinine
Composer: Moctar
Album: Nomad
Label: Nonesuch
Sound Garden - Matt Cameron Interview

Artist: Soundgarden
Song: Birth Ritual
Composer: Soundgarden
Album: Singles OST
Label: Epic Soundtrax

Artist: Soundgarden
Song: By Crooked Steps
Composer: Cornell, Cameron, Shepherd, Thayil
Album: King Animal
Label: Seven Four Entertainment, Republic

Artist: Soundgarden
Song: Birth Ritual
Composer: Cornell, Shepherd
Album: Badmotorfinger
Label: A&M

Artist: Soundgarden
Song: Birth Ritual
Composer: Cornell, Shepherd
Album: Badmotorfinger
Label: A&M

Artist: Soundgarden
Song: Fresh Tendrils
Composer: Cornell, Cameron
Album: Superunknown
Label: A&M

Artist: Soundgarden
Song: Superunknown
Composer: Cornell, Thayil
Album: Superunknown
Label: A&M

Artist: Pearl Jam
Song: You Are
Composer: Cameron, Vedder
Album: Riot Act
Label: Epic

Artist: Soundgarden
Song: Jesus Christ Pose
Composer: Cameron, Cornell, Shepherd, Thayil
Album: Telephantasm
Label: A&M, Interscope
Artist: PJ Harvey
Song:C'mon Billy
Composer: Harvey
Album: To Bring You My Love
Label: Island
Artist: J Mascis
Song:Drifter
Composer: Mascis
Album: Tied To A Star
Label: Subpop
3 - 4pm

Artist: Vic Godard & The Subway Sect
Song:Ambition
Composer: Godard
Album: Perfect Unpop: Peel Show Hits & Long Lost Lo-Fi Favourites 1976- 1980
Label: Cherry Red
The Pop Group - Mark Stewart Interview

Artist: The Pop Group
Song: She Is Beyond Good And Evil
Composer: The Pop Group
Album: Y
Label: Rhino Records

Artist: The Pop Group
Song: Colour Blind
Composer: The Pop Group
Album: We Are Time
Label: Freaks R Us

Artist: The Pop Group
Song: Don't Call Me Pain
Composer: The Pop Group
Album: Y
Label: Rhino Records

Artist: The Pop Group
Song: We Are All Prostitutes
Composer: The Pop Group
Album: Rough Trade Shops: Post Punk, Vol. 1 [Disc 1]
Label: Rough Trade

Artist: The Pop Group
Song: Trap
Composer: The Pop Group
Album: We Are Time
Label: Freaks R Us

Artist: The Pop Group
Song: We Are Time
Composer: The Pop Group
Album: Y
Label: Rhino Records

Artist: The Pop Group
Song: Don't Sell Your Dreams
Composer: The Pop Group
Album: Y
Label: Rhino Records

Artist: The Pop Group
Song: Genius or Lunatic
Composer: The Pop Group
Album: We Are Time
Label: Freaks R Us

Artist: The Pop Group
Song: Mad Truth
Composer: The Pop Group
Album: Citizen Zombie
Label: 2015 Freaks R Us

Artist: The Pop Group
Song: Citizen Zombie
Composer: The Pop Group
Album: Citizen Zombie
Label: 2015 Freaks R Us
Artist: Rip Rag and Panic
Song: You're My Kind of Climate
Composer: Smith / Springer / Sager / Algernon
Album: New Gold Dreams: Post Punk & New Romantic '79-'83
Label: Virgin
Artist: Modest Mouse
Song: The Ground Walks, With Time in a Box
Composer: n/s
Album: Stranger to Ourselves
Label: Epic
Introducing
Artist: Instant Fantasy
Song: I Don't See An Honest Man
Composer: Gemma Syme
Album: The Wet EP
Label: CMR
Splore

Artist: TrinityRoots
Song: Aotearoa
Composer: TrinityRoots
Album: Music is Choice
Label: TrinityRoots

Artist: Tinashe ft. Schoolboy Q
Song: 2 oOn
Composer: T.Kachingwe, B.Brackins, D.McFarlane, J.Redwine, B.Waters, Q.Hanley, C.Cunningham, Sean Paul Henriques, S.Marsden, D.Thomas, M. Jarrett, C. Serani-Marsh
Album: Aquarius
Label: RCA

Artist: Mr Scruff
Song: Kalimba
Composer: A.Carthy
Album: Ninja Tuna
Label: Ninja Tune<

Artist: The Correspondents
Song: What Happened to Soho?
Composer: I.Bruce, T.Cole
Album: The Rogue EP
Label: Freshly Squeezed

Artist: Deltron 3030
Song: 3030
Composer: D.Nakumura
Album: Deltron 3030
Label: 75 Ark

Artist: Filastine
Song: Drone Silences, Sixty Cycle Drum
Composer: G.Filastine
Album: Aphasia EP
Label: Post World Industries
Artist: SJD
Song: Little Pieces
Composer: Donnelly
Album: Saint John Divine
Label: Round Trip Mars
Artist: Hailu Mergia & The Walias
Song: Musicawi Silt
Composer: Mergia
Album: Tche Belew
Label: Awsome Tapes from Africa
4-5pm
Secret Life of Music Therapists

Artist: Massive Attack
Song: Teardrop
Composer: del Naja, Vowles, Marshall, Fraser
Album: Mezzanine
Label: Circa

Artist: Rihanna ft. Kanye West and Paul McCartney
Song: 4 5 Seconds
Composer: West, McCartney, Lauryen, Dean, Griffen, Longstreth, Austin, Rutberg, Goldstein
Album: Single
Label: Roc Nation

Artist: Jeff Buckley
Song: Hallelujah
Composer: Cohen
Album: Grace
Label: EMI

Artist: Engelbert Humperdinck
Song: Ten Guitars
Composer: Mills
Album: This is My Life – Greatest Hits 1967-1969
Label: London
Artist: The Staves
Song: Steady
Composer: The Staves
Album: If I Was
Label: Atlantic
The Sampler: The Unthanks

Artist: The Unthanks
Songs: Mount The Air, Madam, Died For Love
Composer: Trad.
Song: Magpie
Composer: Unthank
Song: Foundling
Composer: McNally
Album: Mount The Air
Label: Rabble Rouser
Artist: Pokey LaFarge
Song: Something in the Water
Composer: LaFarge
Album: Something in the Water
Label: Rounder
Artist: The Dancing and Drinking Social Club
Song: Remember the Days
Composer: Enright
Album: Remember the Days
Label: Private
Artist: Leornard Nimoy
Song: Music to Watch Space Girls By
Composer: Velona / Ramin
Album: Spaced Out: The Very Best of Leonard Nimoy and William Shatner
Label: Universal