Music 101 for Saturday 29 November 2014
7:30 PM.Temuera Morrison sings the hits, DIY dance with 1080p Collection and Glaswegian DJ duo Optimo Read more Audio
2-3pm
Temuera Morrison
Dr Hone Ropata, Jake Heke, Jango Fett… Temuera Morrison is best known for his film and television work, but he's now turned his attention to a set of sing-along classics from musicians like Sam Cooke, Elvis Presley and The Beatles, plus his take on classic Maori love song 'E Ipo'. Morrison tells us about how being a member of the Morrison entertainment dynasty steered his selections.

Temuera Morrison
A Day in My Mind's Mind
A Day In My Mind's Mind began last decade as a series of compilation albums focused on the local psychedelic pop of the late 60s and early 70s. Now the pick of those tracks have been released on a two-disc vinyl set. Nick Bollinger went to the launch at Auckland's Real Groovy Records, on their 33 and a ⅓ birthday, and caught up with the album's curator, Grant Gillanders, and a few veterans of New Zealand's psych-pop past.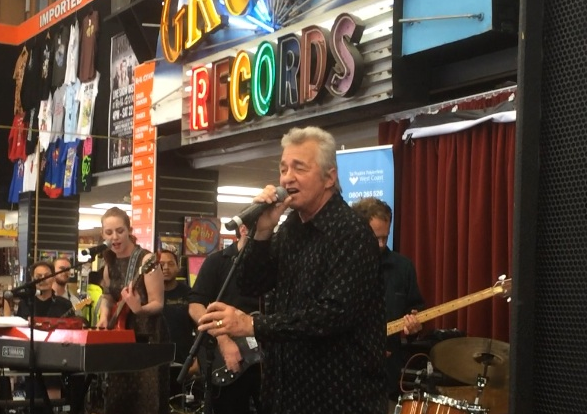 Ray Woolf and The Situations performing at Auckland's Real Groovy Records / Photo by Marty O'Donnell
Anatomy of a Song- The Bats 'Up To The Sky'
RDU's Spanky Moore gets inside contemporary New Zealand hit tunes - this week it's The Bats, with 'Up To The Sky'
3-4pm
Optimo
Glaswegian DJ duo Optimo tell Simon Wallace how they've kept the dancefloor democratic over a decade of Sunday club nights.
1080p Collection
1080p Collection is a prolific record label run by Vancouver-based New Zealander Richard MacFarlane. Henry Oliver talks with MacFarlane about experimental dance music, the joys of cassettes and the challenges of releasing new music in the digital age.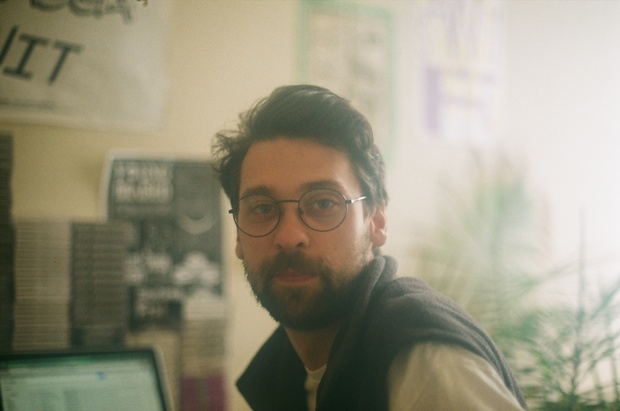 1080p Collection's Richard MacFarlane
Introducing: Angelo King and Jono Das – The Lion & The Lotus
Gig Guide
4-5pm
The Secret Life of Conductors
The most prestigious and yet misunderstood role in the orchestra must be that of the conductor. They are a lightning rod for the music, whether it was written two hundred years ago or just last week. Without the conductor the musicians might not even play a note on stage. Without the orchestra though, the conductor is just a smartly dressed person waving a stick around. Together they're capable of creating an intoxicating alchemy for the ears.
In The Secret Life Of Conductors we find out about the art of conducting from some of New Zealand's well known Maestros: Marc Taddei and Hamish McKeich, who both work with all of Aotearoa's orchestras regularly; NZ Opera musical director Wyn Davies; and up and coming assistant director with the New Jersey Symphony, Gemma New.

Marc Tadddei, photo courtesy of Orchestra Wellington.
Tyson Smith Session
Well travelled guitarist Tyson Smith and Moog aficionado Ed Zuccullo join us with songs from Tyson's new album, The Hollow Tree.
Music played in this show
2-3pm
Artist: Nick Nicholson and Neketini Brass
Song: Mehe Manuhere
Composer: Trad
Album: The Neketini Brass
Label: HMV
Temuera Morrison
Artist: Temuera Morrison
Song: Midnight Special
Composer: J.C.Fogerty
Album: Tem
Label: Sony Music
Artist: Temuera Morrison
Song: Bring It On Home To Me
Composer: S.Cooke
Album: Tem
Label: Sony Music
Artist: Temuera Morrison
Song: It's Not Unusual
Composer: G.Mills, L.Reed
Album: Tem
Label: Sony Music
Artist: Temuera Morrison
Song: I Can't Help Falling In Love With You
Composer: H.Peretti, L.Creatore, G.Weiss
Album: Tem
Label: Sony Music
Artist: Temuera Morrison ft. Dennis Marsh
Song: E Ipo
Composer: T.Teka, N.Pewhairangi
Album: Tem
Label: Sony Music
Artist: Temuera Morrison
Song: Easy
Composer: L.Ritchie
Album: Tem
Label: Sony Music
Artist: Devilish Mary and the Holy Rollers
Song: Oh Darling
Composer: A Clark
Album: Devilish Mary and the Holy Rollers
Label: Lyttelton Records
A Day In My Mind's Mind
Artist: The La De Da's
Song: All Purpose Low
Composer: Howard, Wilson
Album: A Day In My Mind's Mind
Label: Real Groovy Records
Artist: The Human Instinct
Song: A Day In My Mind's Mind
Composer: Hartstone
Album: A Day In My Mind's Mind
Label: Real Groovy Records
Artist: The Music Convention
Song: Footprints On My Mind, Bellyboard Beat
Composer:R. O'Donnell, G.O'Donnell
Album: A Day In My Mind's Mind
Label: Real Groovy Records
Artist: Ray Columbus and The Art Collection
Song: Kick Me
Composer: Columbus
Album: A Day In My Mind's Mind
Label: Real Groovy Records
Artist: The Hi Revving Tongues
Song: Elevator
Composer: Alexander
Album: A Day In My Mind's Mind
Label: Real Groovy Records
Artist: The Avengers
Song: Midnight Visitations, Everyone's Gonna Wonder
Composer: Watson
Album: A Day In My Mind's Mind
Label: Real Groovy Records
Artist: The Gremlins
Song: Blast Off
Composer: Tucker
Album: A Day In My Mind's
Label: Real Groovy Records
Artist: Strange Harvest
Song: Astronaut
Composer: Strange Harvest
Album: Single
Label: The Attic
Anatomy Of A Song
Artist: The Bats
Song: Up To The Sky
Composer: Scott/Bats
Album: At The National Grid
Label: Magicmarker
Artist: Noo
Song: No More
Composer: Noo
Album: Noo EP
Label: Optimo Music
 
Artist: Reel Houze
Song: No Difference
Composer: Reel Houze
Album: Disco Plate Two
Label: Optimo Music
 
Artist: Felizol & The Boy
Song:  Tina Weymouth
Composer: Felizol & The Boy
Album: Like Cannibal Father, Like Cannibal Son
Label: Optimo Music
Artist: Crooked Man
Song: Skink
Composer:  Crooked Man
Album: Undigitize EP
Label: Optimo Music
 
Artist: HTRK
Song: Give It Up
Composer: Standish/Yang
Album: Psychic 9-5 Club
Label: Ghostly
Artist: Trip Pony
Song: If I Gave You My Heart
Composer: P Sami
Album: Gem EP
Label: Self Released
1080p Collection
Artist: Khotin
Song: Why Don't We Talk
Composer: Khotin
Album: Hello World
Label: 1080p Collection
Artist: ATM
Song: Air Traffic
Composer: ATM
Album: Xerox
Label: 1080p Collection
Artist: MCFERRDOG
Song: Bless This Mess
Composer: MCFERRDOG
Album: Lawd Forgive Me
Label: 1080p Collection
Artist: Mango Skato
Song: Turismoc
Composer: Mango Skato
Album: I Don't Give It
Label: 1080p Collection
Artist: Tlaotlon
Song: Novodene
Composer: Tlaotlon
Album: Ektomists
Label: 1080p Collection
Artist: Angel 1
Song: Allegra
Composer: Angel 1
Album: Allegra Bin 1
Label: 1080p Collection
Artist: Dan Boden
Song: Reload
Composer: Dan Boden
Album: Soft
Label: DFA
Artist: LNRDCROY
Song: I Met You On BC Ferries
Composer: LNRDCROY
Album: Much Less Normal
Label: 1080p Collection
Artist: Matais Aguayo
Song: Rrrrr
Composer: Aguayo
Album: The Visitor
Label: Comeme
Introducing: Angelo King and Jono Das
Artist: Angelo King and Jono Das
Song: The Lion & The Lotus
Composer: A.King, J.Das
Album: The Lion & The Lotus
Label: Private
Artist: Silk Rhodes
Song: Pains
Composer: Silk Rhodes
Album: Silk Rhodes
Label: Stonesthrow
Artist: TV On The Radio
Song: Quartz
Composer: Sitek/Adebimpe
Album: Seeds
Label: Universal
Gig Guide
Artist: Neil Diamond
Song: Girl, You'll Be A Woman Soon
Composer: Diamond
Album: The Greatest Hits
Label: Columbia
Artist: Charles Bradley
Song: Golden Rule
Composer: Bradley
Album: No Time For Dreaming
Label: Daptone
Artist: Fat Freddy's Drop
Song: Bohannon
Composer: Fat Freddy's Drop
Album: Blackbird
Label: Fat Freddy's Drop
Artist: Birchville Cat Motel
Song: Lay Thy Hatred Down
Composer: Kneale
Album: Our Love Will Destroy The World
Label: Pseudoarcana
4-5pm
Artist: NZYO/Lutz Kohler
Song: Symphony No. 5
Composer: Prokofiev
Album: RNZ Concert Recording
Label: RNZ Concert Recording
Artist: NZSO/Hamish McKeich
Song: Hikurangi Sunrise
Composer: C Marshall
Album: Wild Music
Label: Trust
Artist: City Of Birmingham Orchestra/Simon Rattle
Song: Rite Of Spring
Composer: Stravinsky
Album: Rite Of Spring
Label: EMI
Artist: Berlin Philharmonic/Karajan
Song: Symphony No 5, 1st mm
Composer: Beethoven
Album: Beethoven Symphonies
Label: Deutsche Grammophon
Artist: Christchurch Symphony/Sir William Southgate
Song: Romeo And Juliet/Death Of Tybalt
Composer: Prokoviev
Album: The Southgate Archive
Label: CSO
Artist: Berlin Philharmonic/Karajan
Song: Symphony No 9, 1st mvt/3rd mvt
Composer: Beethoven
Album: Beethoven Symphonies
Label: Deutsche Grammophon
Artist: Austro-Hungarian Haydn Orchestra/Adam Fischer
Song: Symphony No 82 "The Bear" Finale, vivace
Composer: J Haydn
Album: Name Symphonies
Label: Decca
Artist: NBC Symphony Orchestra/Toscanini
Song: Symphony No. 3 in F Major – Allegro Con Brio
Composer: Brahms
Album: Great Conductors - Toscanini
Label: Naxos
Artist: New York Philharmonic /Boulez
Song: The Firebird
Composer: Stravinsky
Album: The Firebird
Label: CBS
Artist: London philharmonic/Adrian Boult
Song: the Planets – Neptune
Composer: Holst
Album: Holst – The Planets
Label: EMI Classics
Artist: Philharmonia Orchestra/Giulini
Song: Madamina, il catalogo e questo
Composer: Mozart
Album: Don Giovanni
Label: EMI
Artist: Ed Zuccullo
Song: Aotearoa Overture
Composer: Lilburn
Album: RNZ Recording
Label: RNZ Recording
Tyson Smith Session
Artist: Tyson Smith
Song: Line of Sight, Winding Our Way
Composer: Smith
Album: Unreleased
Label: Radio NZ Recording