Music 101 for Saturday 1 November 2014
7:30 PM.It's an APRA Silver Scrolls Special plus Randa at the Critics' Choice Awards and baggin' bargains at the Auckland Record Collectors' Fair. Read more Audio
2-3pm
APRA Silver Scrolls 2014
We bring you coverage of the Apra Silver Scrolls, which celebrates the art of song writing. Hear performances from the night, and interviews with the nominees.
 
NZMA Critics' Choice Award 2014
Henry Oliver talks with Randa, winner of the 2014 Critics' Choice Award, after the win.
 
Dudley Benson Deforestation
The songs on Dudley Benson's 2010 album Forest have been reimagined as part of a remix project called Deforestation - with all of the proceeds from the album going to the Ulva Island Charitable Trust to assist with their conservation work on the bird sanctuary off Stewart Island.
Three of Benson's remixers - Matmos' Martin Schmidt, Stef Animal and Barbara Morgenstern - tell of their contributions to the project.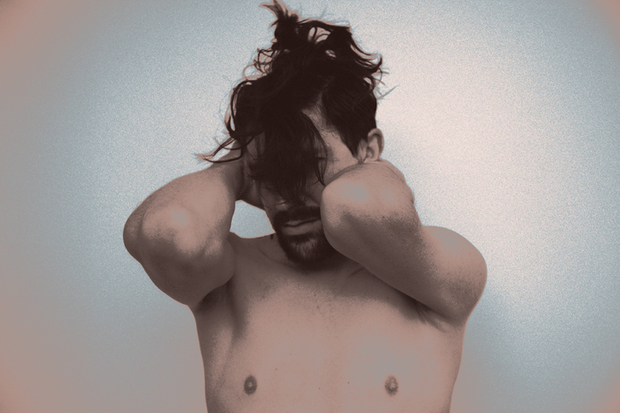 Dudley Benson - photo by Josh Thomas
3-4pm
James Burton
'Master Of The Telecaster', guitarist James Burton has played for a who's who of pop and country artists including Johnny Cash, John Denver and Gram Parsons, but it's leading Elvis's TCB band that really earned him his stripes.The TCB band are touring New Zealand this week with John Rowles on vocals. Burton speaks to Nick Bollinger about playing those Elvis songs.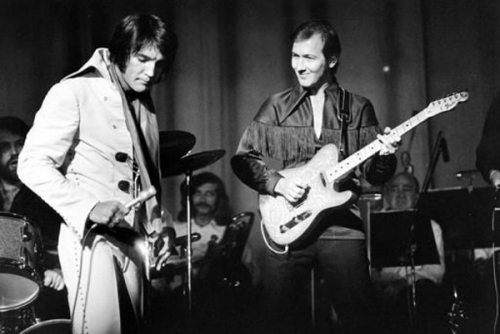 Elvis Presley and James Burton
Auckland Record Collectors Fair
After decades of collecting, Jim Pinckney, AKA Stinky Jim decided it was time to get rid of some records. He gave us a heads up that his first stop would be the Auckland Record Collectors' Fair. Anthonie Tonnon went along to meet wax heads on both sides of the table.
Gig Guide
4-5pm
50th Wellington Folk Festival
Since 1965 Wellington's Folk Festival has been bringing together musicians and audiences to share songs, tunes, stories, and a bit of homebrew. This year they reflected on those who've been before, and those who'll follow in their folkie footsteps, with a range of ages and styles.
Kirsten Johnstone collected some of the sounds on offer.

Eliza Carthy, Martin Carthy, Kirsten Johnstone - photo by Graeme Tuckett
Anatomy Of A Song: Yumi Zouma - 'The Brae'
RDU's Spanky Moore gets inside contemporary New Zealand hit tunes - this week Yumi Zouma's first release, 'The Brae'.
Music played in this show
2-3pm
Silver Scrolls
Artist: West Coast Bullies
Song: Bob Lennon John Dylan
Composer: The Phoenix Foundation
Album: Unreleased
Label: RNZ recording

Artist: Tiny Ruins
Song: Me at the Museum, You in the Wintergardens
Composer: Hollie Fullbrook, Alexander Freer and Cass Mitchell
Album: Brightly Painted One
Label: Arch Hill Recordings

Artist: Louis Baker
Song: Back on My Feet
Composer: Louis Baker
Album: Louis Baker
Label: Self released

Artist: The Phoenix Foundation
Song: Bob Lennon John Dylan
Composer: The Phoenix Foundation
Album: Unreleased
Label: RNZ recording

Artist: Broods
Song: Bridges
Composer: Joel Little / Caleb Nott / Georgia Nott
Album: Broods
Label: Island

Artist: Terror of the Deep
Song: Bridges
Composer: Joel Little / Caleb Nott / Georgia Nott
Album: Unreleased
Label: RNZ recording

Artist: Gamelan Taniwha Jaya with Johnny Marks
Song: Walk (Into Your Arms)
Composer: Tami Neilson
Album: Unreleased
Label: RNZ recording

Artist: Tami Neilson
Song: Walk (Into Your Arms)
Composer: Tami Neilson
Album: Dynamite
Label: Neilson

Artist: Rob Ruha
Song: Tiki Tapu
Composer: Rob Ruha
Album: Tiki Tapu
Label: Self-released
Dudley Benson Deforestation

Artist: Dudley Benson
Song: Tui, Tirairaka, Pipi Manu E
Composer: H.Melbourne
Album: Forest: Songs By Hirini Melbourne
Label: Golden Retriever Records

Artist: Dudley Benson
Song: Tui (Stef Animal Remix)
Composer: H.Melbourne, S.Animal
Album: Deforestation
Label: Golden Retriever Records

Artist: Dudley Benson
Song: Tirairaka Dub
Composer: H.Melbourne/B.Morgenstern
Album: Deforestation
Label: Golden Retriever Records

Artist: Dudley Benson
Song: Pipi Manu E (Matmos Remix)
Composer: H.Melbourne, M.Schmidt, D.Daniel
Album: Deforestation
Label: Golden Retriever Records
3-4pm
James Burton
Artist: Dale Hawkins
Song: Susie-Q
Composer: Burton/Hawkins
Album: The Greatest 50s Rock'n'Roll Collection

Artist: Ricky Nelson
Song: Hello Mary Lou
Composer:
Album: Greatest Hits

Artist: Ricky Nelson
Song: My Babe
Composer: Dixon
Album: 100 American Classics

Artist: Merle Haggard
Song: Working Man Blues
Composer: Haggard
Album: Down Every Road
Label: Capitol

Artist: Elvis Presley
Song: Heartbreak Hotel
Composer: Axton
Album: That's The Way It Is
Label: RCA

Artist: Elvis Presley
Song: The Promised Land
Composer: Berry
Album: Elvis At Stax
Label: RCA

Artist: Gram Parsons
Songs: Return Of The Grievous Angel, Still Feeling Blue
Composer: Parsons
Album: GP/Grievous Angel
Label: Warner Bros.

Artist: Elvis Costello
Song: Hurry Down Doomsday
Composer: Costello
Album: Mighty Like A Rose
Label: Warner Bros.

Artist: Peggy Lee
Songs: Please Send Me Someone To Love
Composer: Mayfield
Album: A Natural Woman
Label: Capitol
Artist: Erlend Oye
Song: Garota
Composer: Erlend Oye
Album: Legao
Label: Bubbles
Auckland Record Collectors Fair
Artist: Daddy Cool
Song: Eagle Rock
Composer:Ross Wilson
Album: Single
Label: Sparmac

Artist Atlanta Rhythm Section
Song: Spooky
Composer: Mike Shapiro, Harry Middlebrooks Jr., James Cobb, Buddy Buie
Album: Single
Label: Imperial
Artist: Totems
Song: Sas Attack
Composer: Totems
Album: The Dream is Over
Label: Self-released
Introducing: Racing
Artist: Racing
Song: Carnivalize
Composer: Knowles/ Pettersen
Album: Single
Label: Self-Released
Artist: Lorde
Song: Team
Composer: E Yelich O'Connor, J Little
Album: Pure Heroine
Label: Universal
Gig Guide
Artist: Foo Fighters
Song: Monkey Wrench
Composer: Foo Fighters
Album: The Colour and The Shape
Label: RCA

Artist: Mr Scruff
Song: Bass Baby
Composer: Carthy
Album: Mr Scruff
Label: Ninja Tune

Artist: Paddy Fred
Song: Waterfalls
Composer: Paddy Bleakley
Album: Laminate
Label: Self-released
4-5pm
Wellington Folk Festival
Artist: Don Milne
Song: Shaking Down the Acorns
Composer: trad N. American
Album: RNZ Recording
Label: RNZ Recording

Artist: Helena Faust, Peter Dyer
Song: Which Side Are You On?
Composer: Florence Reece
Album: RNZ Recording
Label: RNZ Recording

Artist: 2014 Wellington Folk Festival audience
Song: Where Have All The Flowers Gone
Composer: Pete Seeger
Album: RNZ Recording
Label: RNZ Recording

Artist: Ruahine Rangers
Song: Fox On The Run
Composer: Manfred Mann/Tony Hazzard
Album: RNZ Recording
Label: RNZ Recording

Artist: Martin and Eliza Carthy
Song: Queen Of Hearts
Composer: Trad/arr Carthy
Album: RNZ Recording
Label: RNZ Recording

Artist: Joseph Balfe
Song: Medley - Love Comes Back/The Claw/Saturday Night Shuffle
Composer: C Atkins/J Reid/M Travis
Album: RNZ Recording
Label: RNZ Recording

Artist: Monica Smith
Song: Patsy McCann
Composer: Trad. Irish
Album: RNZ Recording
Label: RNZ Recording

Artist: Homebrew Singers
Song: Unknown
Composer: Unknown
Album: RNZ Recording
Label: RNZ Recording
Artist: The Song Spinners
Song: Davy Lowston
Composer: Traditional
Album: Songs of the Whalers
Label: Kiwi
Artist: Ariana Tikao
Song: Kia Mataara
Composer:Ariana Tikao
Album: Single
Label: Self-released
Anatomy of a Song - Yumi Zouma - 'The Brae'
Artist: Yumi Zouma
Song: The Brae
Composer: Yumi Zouma
Album: Yumi Zouma EP
Label: Cascine
Artist: Panda Bear
Song: Mr Noah
Composer: Noah Lennox
Album: Panda Bear Meets The Grim Reaper
Label: Pawtracks