Music 101 for Saturday 25 October 2014
5:30 PM.The wild, electroacoustic sounds of Douglas Lilburn, Phoenix Foundation's 'Black Mould' uncovered and Keystone State Boys' Choir. Read more Audio
2-3pm
Douglas Lilburn
Phillip Norman, author of Douglas Lilburn's biography, talks about the life and work of this pioneering NZ orchestral and electroacoustic composer who will be honoured at the Silver Scrolls next week.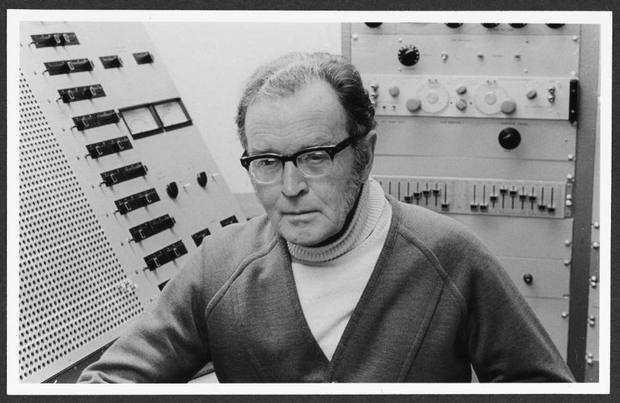 Douglas Lilburn, photographed by M.D. King in the Electronic Music Studio, Victoria University. used with permission of the Alexander Turnbull Library.
Keystone State Boys Choir
The Keystone State Boys Choir from Philadelphia is the only choir to have visited all seven continents, including Antarctica. Anthonie Tonnon spent the day with the choir on their recent trip to New Zealand and talked to Director Steve Fisher about kinesthetic learning for a multi-tasking generation.
The Sampler: French for Rabbits - Spirits
Nick Bollinger takes a listen to the quiet sighs of Wellington based duo French for Rabbits on their debut LP Spirits.
3-4pm
CMJ 2014
Arch Hill's Ben Howe brings you sounds from the annual New Zealand showcase at music industry conference CMJ, in New York. Participants this year included Chelsea Jade, Orchestra Of Spheres, Popstrangers and Doprah.
The Six Strings Of Rowland S Howard
Trevor Reekie talks with Rowland S Howard's former band mates Harry Howard and Genevieve McGuckin about the life and legacy of the late, great Australian musician, his many solo projects and bands, and how his distinctive guitar sound and songs contributed to the evolution of Nick Cave's old band The Birthday Party.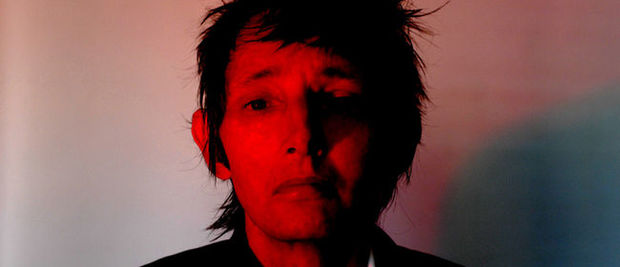 Rowland S Howard
Anatomy of A Song- The Phoenix Foundation- 'Black Mould'
We start a new series, Anatomy of A Song, which gets inside contemporary New Zealand hit tunes - this week The Phoenix Foundation unpack 'Black Mould'.
Gig Guide
4-5pm
Ladi6 Live at The Powerstation
Future-soul performer Ladi6 and her band with cuts from Time Is Not Much, The Liberation of… and Automatic, recorded live at the Powerstation in August.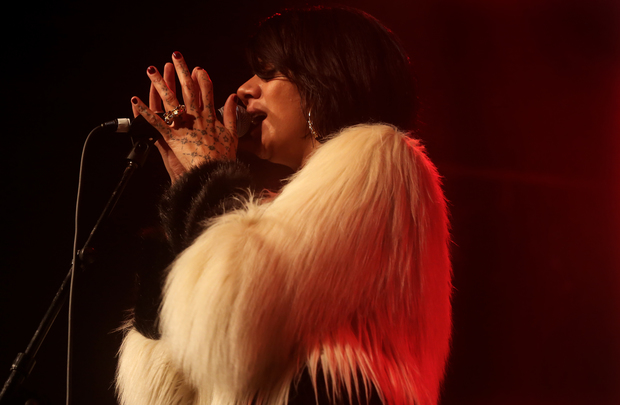 Ladi6 Live at the Powerstation, photo by Aleyna Martinez
Bohemian Nights in session
The 50th Wellington Folk Festival is happening this Labour weekend. We get a sample of some of the sounds on offer with Australian duo Bohemian Nights who bring a party-time mix of styles from around the world including Klezmer and Tango.
Music played in this show
2-3pm
Artist: Margaret Nielsen
Song: Three Sea Changes pt 2
Composer: Lilburn
Album: Sea Changes
Label: Kiwi
Douglas Lilburn 101 with Philip Norman
Artist: Douglas Lilburn
Song: Tritych
Composer:Lilburn
Album: Complete Electro Acoustic Works
Label: Atoll
Artist: New Zealand Symphony Orchestra cond. Kenneth Young
Song: Aotearoa
Composer:Lilburn
Album: New Zealand Composers
Label: Continuum
Artist:New Zealand Symphony Orchestra cond.John Hopkins
Song: A Song Of Islands
Composer: Lilburn
Album: Douglas Lilburn: A Song of Islands
Label: Kiwi
Artist: Margaret Nielsen
Song: Three Sea Changes Pt. 1
Composer: Lilburn
Album: Douglas Lilburn: Piano Music
Label: Manu
Artist: New Zealand Symphony Orchestra cond. John Hopkins
Song: Symphony no. 3
Composer:Lilburn
Album: Douglas Lilburn: The Three Symphonies
Label: Kiwi
Artist: Douglas Lilburn
Song: Carousel
Composer:Lilburn
Album: Complete Electro Acoustic Works
Label: Atoll
Artist: Douglas Lilburn
Song: Triptych
Composer:Lilburn
Album: Complete Electro Acoustic Works
Label: Atoll
Artist: Douglas Lilburn
Song:Three Inscapes 2
Composer:Lilburn
Album: Complete Electro Acoustic Works
Label: Atoll
Artist: Douglas Lilburn
Song: Five Torronto Pieces Prelude
Composer:Lilburn
Album: Complete Electro Acoustic Works
Label: Atoll
Artist: Kraus
Song: Let Me Eat Cake
Composer: Kraus
Album: Golden Treasury
Label: self release
Keystone State Boys Choir Interview
Artist: Keystone State Boys Choir
Song: Cape Cod Girls
Composer: Traditional (North America)
Album:Unreleased
Label: Radio NZ Recording
Artist: Keystone State Boys Choir
Song: St Nicholas Cantata
Composer: Benjamin Britten
Album:Unreleased
Label: Radio NZ Recording
Artist: Keystone State Boys Choir
Song: Shosholoza
Composer: Traditional (Zimbabwe)
Album:Unreleased
Label: Radio NZ Recording
Artist: Keystone State Boys Choir
Song: Thank You For The Music
Composer: Benny Andersson / Björn Ulvaeus
Album:Unreleased
Label: Radio NZ Recording
Artist: Keystone State Boys Choir
Song: Weeping
Composer: Dan Heymann
Album:Unreleased
Label: Radio NZ Recording
Artist: Guts
Song: Want it Back
Composer: n/a
Album:Hip Hop After All
Label: Heavenly Sweetness
Artist: SJD
Song: I Wanna Be Foolish
Composer: Donnelly
Album: Saint John Divine (TBC)
Label: Round Trip Mars
The Sampler: French For Rabbits- Spirits
Artist: French For Rabbits
Songs: Seafarer, Spirits, Woke Up To A Storm, Cold, Gone Gone Gone, Goat
Composer: Singer
Album: Spirits
Label: Lefse
Artist: Bond Street Bridge
Songs:Birds
Composer: Prebble
Album: Spring Summer Awesome Winter
Label: Monkey
3-4pm
CMJ Interview
Artist: Chelsea Jade
Song: Visions
Composer: Chelsea Jade
Album: Unreleased
Label: 95bFM Recording
Artist: Doprah
Song: San Pedro
Composer: Doprah
Album: Unreleased
Label: 95 bFM Recording
Artist: Rowland S Howard
Song: Shivers
Comp: Rowland S Howard
Album:
Label: Mushroom
The Music of Rowland S Howard: Interview
Artist: The Birthday Party
Song: Blast Off
Comp: Rowland S Howard
Album:Six Strings That Drew Blood
Label: Liberation
Artist: The Birthday Party
Song: The Friend Catcher
Comp: Nick Cave
Album:Six Strings That Drew Blood
Label: Liberation
Artist: Boys Next Door
Song: After A Fashion
Comp: Rowland S Howard
Album:Six Strings That Drew Blood
Label: Liberation
Artist: The Birthday Party
Song: The DIm Locator
Comp: Rowland S Howard
Album:Six Strings That Drew Blood
Label: Liberation
Artist: The Birthday Party
Song: Jennifer's Veil
Comp: Rowland S Howard
Album:Six Strings That Drew Blood
Label: Liberation
Artist: Crime & The City Solution
Song: Six Bells Chime
Comp: Rowland S Howard, Simon Bonney, Bronwyn Adama
Album:Six Strings That Drew Blood
Label: Liberation
Artist: Rowland S Howard With Lydia Lunch
Song: Some Velvet Morning
Comp: Lee Hazlewood
Album:Six Strings That Drew Blood
Label: Liberation
Artist: These Immortal Souls
Song: Marry Me (Lie! Lie!)
Comp: Rowland S Howard
Album:Six Strings That Drew Blood
Label: Liberation
Artist: These Immortal Souls
Song: Insomnicide
Comp: Rowland S Howard
Album:Six Strings That Drew Blood
Label: Liberation
Artist: Rowland S. Howard
Song: Ave Maria
Comp: Rowland S Howard
Album:Six Strings That Drew Blood
Label: Liberation
Artist: Rowland S. Howard
Song: Shut Me Down
Comp: Rowland S Howard
Album:Six Strings That Drew Blood
Label: Liberation
Artist: The Phoenix Foundation
Song: Black Mould
Comp: Buda / Callwood / O'Connor / Ricketts / Scott / Wedde
Album:Fandango
Label: Universal
Womad 2015 Run Down with Trevor Reekie
details to come
 
Gig Guide
Artist: Fela Kuti
Song: No Agrrement
Comp: Kuti
Album:Black President
Label: Universal
4-5pm
Ladi6 at the Powerstation
Artist: Ladi6
Song: People Talking
Composer: Tamati, O'Bryant
Label: Radio NZ Recording
Artist: Ladi6
Song: Ready to Fly
Composer: Tamati, Luafutu, Park, Haru
Label: Radio NZ Recording
Artist: Ladi6
Song: Jazmine D.L.
Composer: Tamati, Park
Label: Radio NZ Recording
Artist: Ladi6
Song: Call You Out
Composer: Tamati, Park, Dyne
Label: Radio NZ Recording
Artist: Fazerdaze
Song: Zero
Composer: Murray
Album: Fazerdaze EP
Label:
Introducing: Dad Jokes
Artist: Dad Jokes
Song: Bad Friends
Composer: Dad Jokes
Album: Bad Friends
Label: Muzai
Bohemian Nights Session
Artist: Bohemian Nights
Song: Freylach #5
Composer: Trad Klezmer
Album: RNZ Recording
Label: RNZ Recording
Artist: Bohemian Nights
Song: Reine De Musette/Amelie/La Seine
Composer: J Peyronin/Y Tierson/Trad
Album: RNZ Recording
Label: RNZ Recording
 
The Sampler: Vashti Bunyan- Heartleap
Artist: Vashti Bunyan
Songs: Across The Water, Shell, Holy Smoke, Mother, Heartleap
Composer: Bunyan
Album: Heartleap
Label: FatCat
Artist:Ernest Ranglin
Song: More and More Amore
Composer: Ranglin
Album: A Mod Mod Ranglin
Label: Dub Store Records